---
In the wake of a severe chickenpox outbreak in Kentucky, a Catholic high school student was barred from playing on the school basketball team when officials discovered he was not vaccinated against the disease.
Now 18-year-old Jerome Kunkel is claiming he was discriminated against based on his religious beliefs. Both Kunkel and his parents have declined the Varicella vaccine on account of their conservative Catholic faith something the state of Kentucky allows if a sworn statement is provided.
But the school decided public safety took precedence over this legal protection and banned Kunkel from participating in school activities. He now plans to sue the Northern Kentucky Health Department.
Cracking Down on Anti-Vax**
The Health Department responded to the lawsuit by claiming its actions were "an appropriate and necessary response to prevent further spread of this contagious illness."
Following the first reported case of chickenpox at the elementary school, the Health Department informed the parish its students could not take part in extracurricular activities unless they were vaccinated. It eventually announced that all students lacking proof of vaccination or immunity would be barred from both school and afterschool games and events until 21 days after the last person was infected.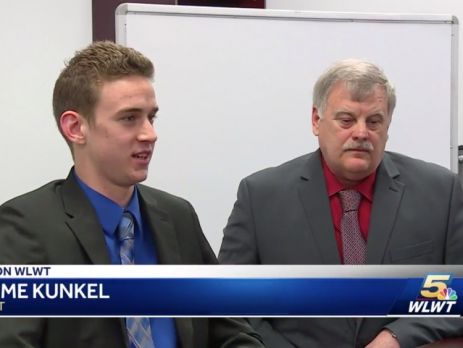 Fighting Back
Kunkel says he was devastated after learning the news. "The fact that I can't finish my senior year of basketball, like our last couple games is pretty devastating," he fumed to CNN. "I mean you go through four years of high school, playing basketball, but you look forward to your senior year." 
The lawsuit filed in Boone County Circuit Court alleges the health department's epidemiology manager attacked Kunkel's faith, banned him with specific religious animus, and infringed on his right to freedom of religion and expression. As part of this argument in favor of religious exemptions, lawyers cited the use of fetal tissue in the creation of the original chickenpox vaccine:
"Among other fundamental and deeply held religious beliefs of Mr. Kunkel, and the beliefs of his family, is that the use of any vaccine that is derived from aborted fetal cells is immoral, illegal and sinful," the lawsuit reads.
Do Vaccines Contain Fetal Cells?
Although the modern chickenpox vaccine does not contain any fetal tissue, it was developed back in the 1960s using cell lines derived from a pair of aborted fetuses. Those same fibroblast cells (and no others) are still used today to make five different vaccines: rubella, hepatitis A, varicella, shingles, and rabies.
So although the technical answer is yes, it's a minute amount from just two sources collected many, many years ago. However, that fact doesn't stop those with religious convictions against vaccines from misrepresenting the issue.
Should You Be Able to Refuse Vaccines?
Despite well-funded public education campaigns explaining the dangers of not getting vaccinated against infectious diseases, strong anti-vaccination sentiments persist. These beliefs aren't confined to religious groups either - a vicious outbreak of measles recently hit secular communities in Washington State.
That said, Catholics in particular have a history of abstaining from vaccinations due to anti-abortion views. In 2005, the Pontifical Academy for Life concluded that while Catholics should push for the development of new vaccines with higher moral origins, "this important battle cannot and must not fall on innocent children and on the health situation of the population especially with regard to pregnant women." Pope Benedict XVI even insisted it was morally acceptable for parents to vaccinate their children because Catholics believe in protecting children from suffering, harm and death.
However, this message clearly hasn't been adopted by all Catholics. In their view, so long as fetal tissue is involved in any way, vaccines should be resisted.
Where do you stand on the issue of religious exemptions for vaccinations? Is the ability to "opt out" an important part of maintaining a free society, or should staying unvaccinated be considered an endangerment to public health and safety?