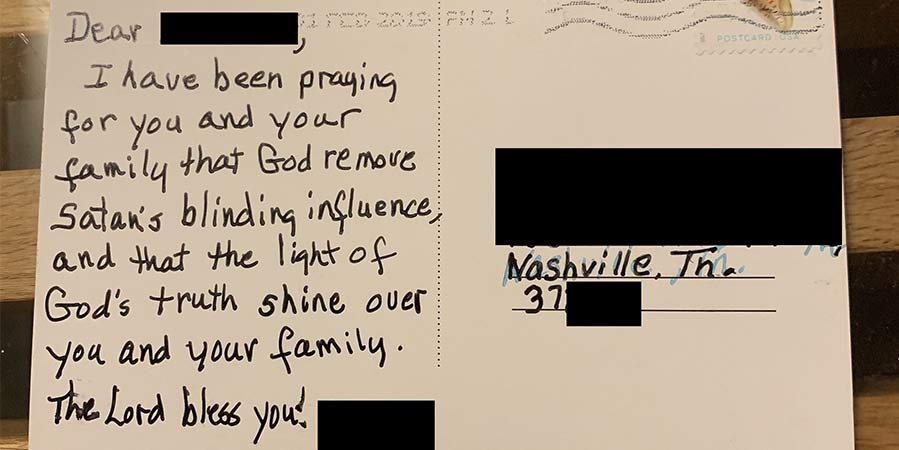 ---
It has become a tradition over at Nashville-based Ethos Church to fast and pray for the city during the month of February. This year, church staffers decided to do the 'Buckle of the Bible Belt' one better. In the 30-day prayer focus known as Awaken Nashville, Ethos Church partnered with some 350 other congregations and decided to pray for every Nashville resident by name.
In the program, volunteers were given a list of 15 random names and addresses- Nashvillians- and told to pray for them throughout the month and then mail each of them a personalized postcard informing the recipient they've been prayed for. All told, tens of thousands of outgoing postcards were mailed.
Ethos Pastor Dave Clayton explained that the postcards were born out of love. "I love this city, and it's a great time to be here, but we just had this conviction that despite all the good things that were going on, there's still a lot of pain." He continued, "we started wrestling with how we could love and care for the city. I think there are a lot of answers to that, but for us the starting place was prayer."
Misgivin' on a Prayer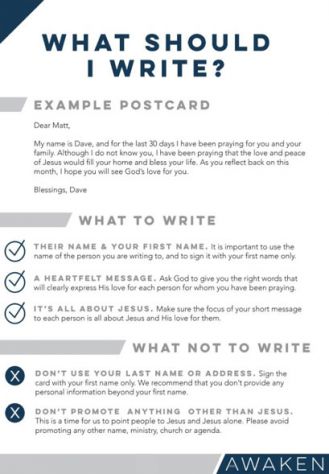 Intercessory prayer, or the act of praying on behalf of others, has been a common type of prayer in Christianity since the early days. But some view this as a bridge too far.
"I just couldn't believe that some creepy guy I don't even know was taking time out of his day to tell me how to live my life," expressed Nashville resident Cory Johnson. "I genuinely believe the project is a form of trespassing and a huge invasion of privacy."
One resident was left wondering how the church had even managed to glean her personal address and info. "In the card, an anonymous person indicated that for nearly a month, they had been praying for me to let Jesus Christ into my heart. What creeped me out was not just that the person was sending well wishes my way, but instead praying for me to make a religious conversion." Nonreligious Americans might be thinking, Jesus gets shoved down my throat every day. Now he's getting shoved in my mailbox?
One can imagine that's not the reaction church leaders had in mind. Cross Point Church pastor Kevin Queen insists the postcards were simply meant to encourage those who received them, nothing more. "When I pray for my kids, I pray for them by name. When I pray for my wife, I pray for her by name. When things are personal, it just increases love." Some, at least, appreciated the gesture. Nashville resident Andrew Brumel was glad somebody had been thinking of him: "I had been going through some things right about the time I got the postcard, so when I got it, it was almost like a sign from God that things would all work out."
Postal Disservice?
It's easy to see why specifically being prayed for without knowledge or consent by a perfect stranger might rub some people the wrong way. Still, many Christians view proselytizing as their biblical duty. In a piece for CNN, pastor Ed Stetzer explains that "we proselytize because we deeply believe what we are sharing is important enough to expend our energy and enthusiasm. For Christians, they share because they truly believe the founder of the faith told them to, and that his message changes people." For true believers, evangelism is a Christ-given command that cannot be ignored.
Still, all of the time, money and effort spent on this might have been better used elsewhere. The tens of thousands of dollars spent on postage alone might have gone to local homeless shelters. The countless hours spent praying for faceless strangers could have been spent in soup kitchens instead.
Although, many may argue that time spent praying is never time spent wasted.
What do you think? Was the Awaken Nashville program a soul-saving success, or did the whole ordeal give prospective converts the heebie-jeebies?