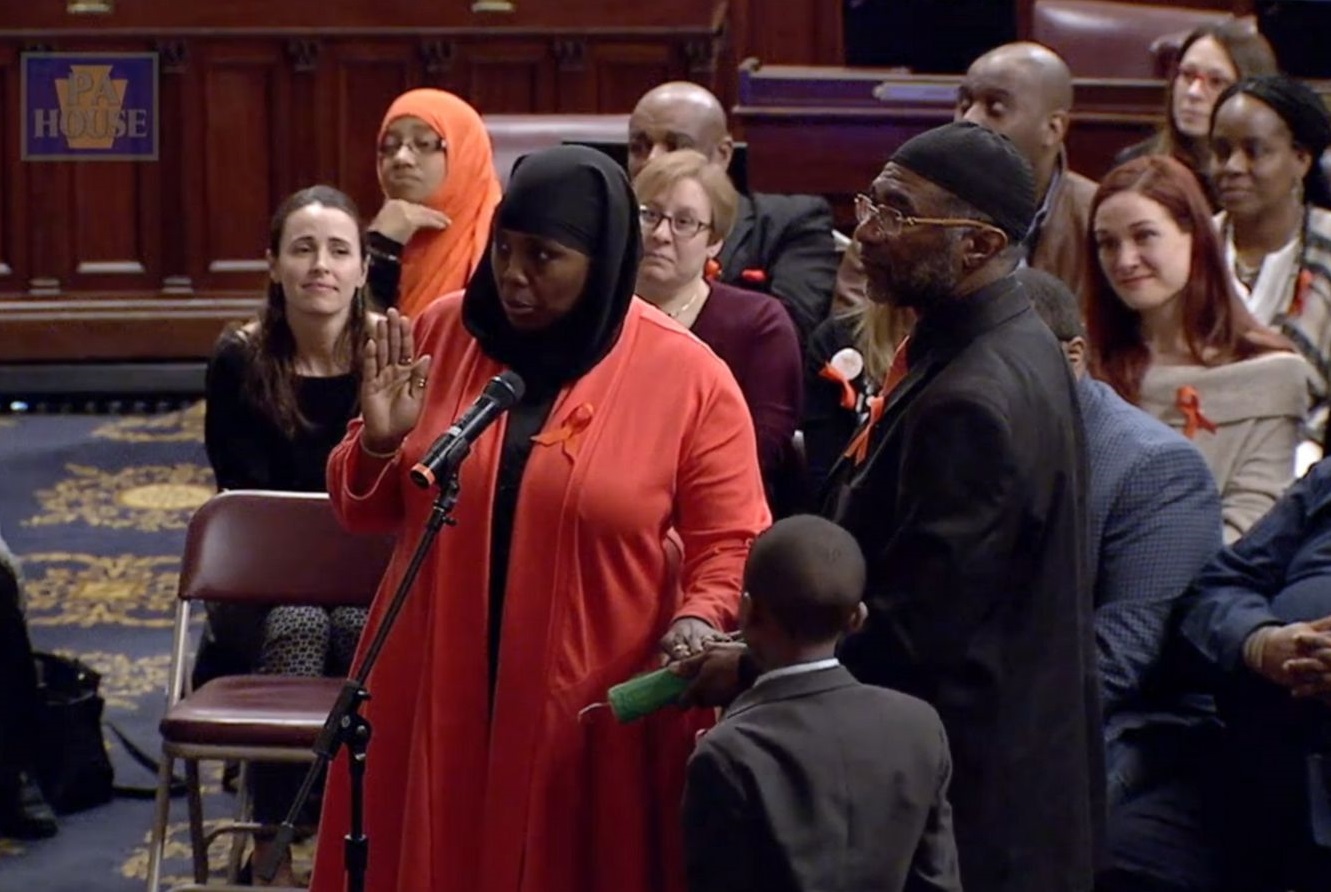 ---
It was supposed to be an exciting moment for Movita Johnson-Harrell, the first Muslim woman to be elected to the Pennsylvania state legislature. But the swearing-in ceremony was overshadowed by a peculiar introduction given by Rep. Stephanie Borowicz, who used her opening comments to give a long-winded prayer asking Jesus for forgiveness.
"God forgive us Jesus we've lost sight of you, we've forgotten you, God, in our country, and we're asking you to forgive us," Borowicz said. She then quoted a Bible verse imploring God's followers to "turn from their wicked ways."
As the invocation dragged on, Borowicz's colleagues in the House became noticeably uncomfortable. Finally, after more than a minute and a half of intense prayer, they were finally able to nudge her away from the microphone:
The incident left many shaking their heads in disgust. Critics called it an "Islamophobic display" that was clearly directed at Rep. Johnson-Harrell.
Using Jesus as a Weapon
The intent behind this rhetoric was not lost on Johnson-Harrell, who had invited 55 guests - 32 of whom were Muslim - to witness her swearing-in. "(It was) highly offensive to me, my guests, and other members of the House," she later told the Pennsylvania Capital-Star. "It blatantly represented the Islamophobia that exists among some leaders leaders that are supposed to represent the people."
Johnson-Harrell was not the only person to take umbrage with Borowicz' emotional and rambling address, which also included numerous references to "evil" and praised Jesus for President Trump and his standing "beside Israel unequivocally."
House Minority Whip Jordan Harris didn't mince words, insisting Borowicz had used her religion to "intimidate, demean and degrade" Johnson-Harrell. He continued:
"Let me be clear. I am a Christian. I spend my Sunday mornings in church worshiping and being thankful for all that I have. But in no way does that mean I would flaunt my religion at those who worship differently than I do. There is no room in our Capitol building for actions such as this, and it's incredibly disappointing that today's opening prayer was so divisive."
Claims of Innocence
However, Borowicz claims she did nothing wrong. "That's how I pray everyday," she said. When asked if an apology was in order, she replied: "Oh no, I don't apologize ever for praying."
Her defenders argue that Borowicz simply has a strong faith and that she honestly didn't mean to offend by evangelizing on the floor of the state legislature. She is the wife of a pastor, they point out.
But critics assert that she intentionally weaponized her faith in opposition to a Muslim woman joining the legislature a carefully calculated move intended to remind everyone that Christianity is the "correct" religion in Pennsylvania.
What is your reaction?