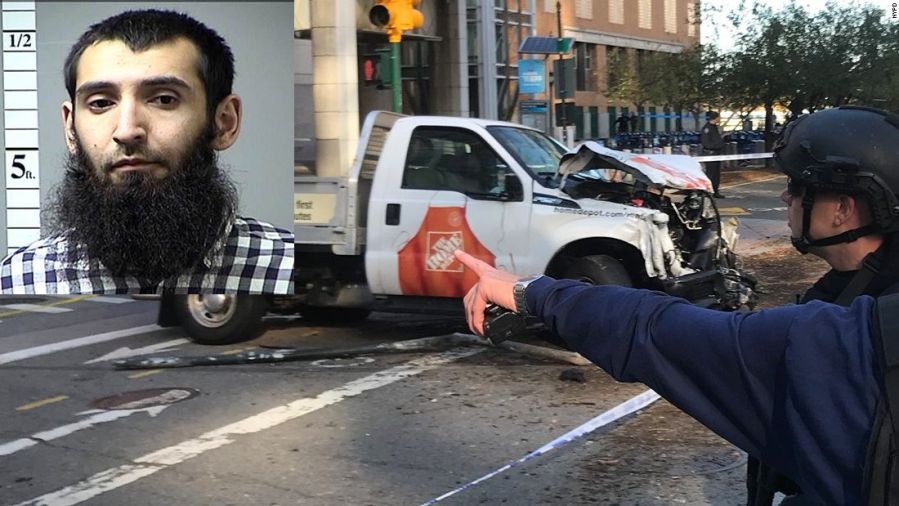 ---
In the latest terrorist attack committed in the name of radical Islam, 8 people were killed and 12 more injured during a murderous truck rampage in New York City. The suspect, a 29-year-old immigrant from Uzbekistan, was captured and taken to the hospital. He has reportedly demanded that an ISIS flag be hung in the hospital room where he is being detained.
Before being apprehended, the attacker leapt out of his truck shouting "Allahu akbar" a common Arabic phrase that translates to "God is greatest." Although used in its original intent by millions of peaceful Muslims each day, the phrase is now carries a dark connotation.
"Allahu akbar" has been co-opted by terrorist groups such as ISIS and turned into a sort of war cry used during violent attacks carried out in the name of Allah.
"Strike Fear in Their Hearts"
Instances of terrorists yelling "Allahu akbar" have been well documented.
Earlier this year in Paris, for example, a man wielding a knife attacked a French soldier outside the Louvre while screaming, "Allahu akbar." Ditto for the London Bridge attack back in June. The attackers were heard yelling "Allahu akbar" and "this is for Allah" after mowing down dozens of people in a van. The Pulse Massacre in 2015? Same thing.
So how did this now-infamous phrase become linked to terrorism in the first place?
As it turns out, the phrase was first linked to terrorism after the 9/11 attacks. Documents found in the luggage of one of the hijackers contained instructions urging them to "shout 'Allahu Akbar' because this strikes fear in the hearts of the non-believers."
Safe to say they accomplished their goal.
A Complex Religious Expression
Along those lines, if you asked your average American, they'd probably guess "Allahu akbar" means something to the effect of "kill them all." Based on the media hysteria that occurs after every terror attack, this is practically an excusable offense. Rarely does the phrase receive appropriate context in the media. Apparently, some reporters can't even be bothered to pronounce it correctly:



I just saw a TV reporter pronouncing it as 'aloo akbar' which literally translates to 'potatoes are the greatest' https://t.co/6qLi52fU2y


Aisha Sultan (@AishaS) October 31, 2017
That gave us a good laugh.
Anyway, it's also worth noting that while the phrase may have been co-opted and made notorious by jihadists, it's actually quite popular among peaceful Muslims and is used widely throughout the Muslim world. Similar to how Christians say "God is good," many Muslims use "Allahu akbar" as a peaceful expression of their commitment to the Islamic faith.
But it can mean a lot of different things. "I say it like a hundred times a day," explains writer Wajahat Ali. It's a "lexical Swiss Army knife," as he puts it a way to express congratulations, gratitude, appreciation, or anything really. As another Muslim explains: "You see a really beautiful woman and you go, 'Allahu Akbar.'"
Interestingly, a representative from the Council on American-Islamic Relations points out that Muslim terrorists who've stolen the phrase to use as a battle cry are actually responsible for a grave sin: "That is the biggest act of heresy is to shout God's glorious name when committing the worst crime against God."
No Going Back
However innocent its intent may be in 99% of cases, the unfortunate reality is that "Allahu akbar" has become permanently associated with Islamic terrorism.
Is there any way for regular Muslims to "take back" this phrase from extremists? Perhaps, but it's a tall order. With each successive attack, their cause will be dealt another setback.