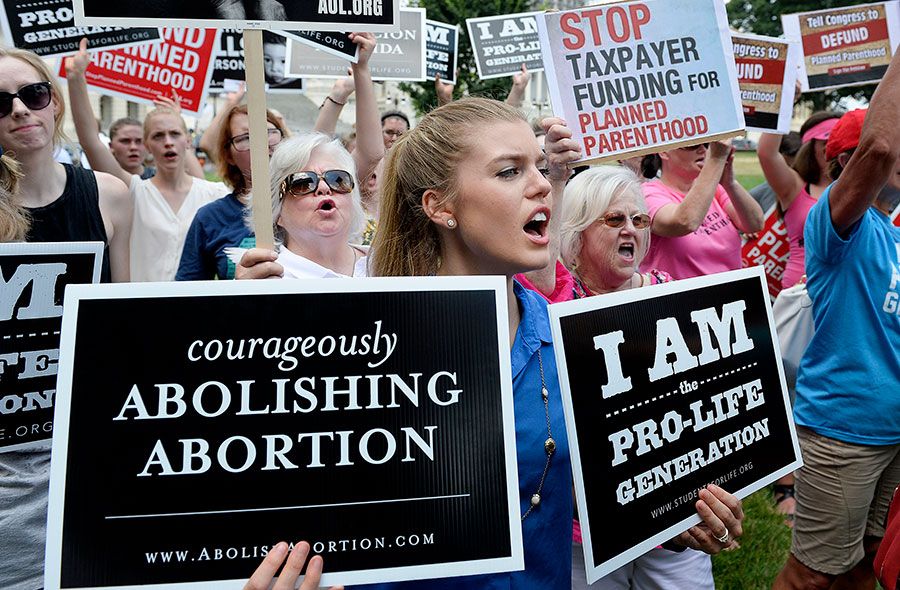 ---
It's been 44 years since the U.S. Supreme Court decided to extend a woman's right to privacy to include the decision to have an abortion. However, the issue only seems to have become more divisive over time. Every year since the 1973 decision, opponents of abortion have marched in protest of the court's ruling and attempted to pass regulations restricting the practice. In certain extreme cases, anti-abortion activists have even murdered doctors and employees of clinics that provide the service.
This brings us to 2017, where abortion sits atop the list of controversial political issues.
Abortion for Immigrants?
Earlier this month, a 17-year-old undocumented immigrant made headlines when she was granted the right to receive an abortion. The teen, who was being held in a Texas detention facility by immigration authorities, tried to schedule an abortion. Initially, however, the request was blocked by the Trump administration. Federal officials claimed that she had no right to an elective abortion in the United States because she was in the country illegally. Moreover, federal attorneys argued, it was in the government's interest to promote childbirth and fetal life.
Not ready to back down, the teen (going by the pseudonym Jane Doe) filed an appeal in federal court. The court eventually ruled in her favor, and she was given the go-ahead to terminate the pregnancy. Looking back, Jane Doe explained her decision to seek an abortion:
"When I was detained, I was placed in a shelter for children. It was there that I was told I was pregnant. I knew immediately what was best for me then, as I do now that I'm not ready to be a parent. I made my decision, and that is between me and God. Through all of this, I have never changed my mind."
Naturally, the story provoked a range of reactions. Pro-choice activists hailed it as an example of the law protecting women's privacy and giving them autonomy over their own bodies. Pro-life voices, on the other hand, expressed outrage that an immigrant was allowed to cross the border illegally and receive an abortion in the U.S.
New Rules Up North
Of course, abortion controversy isn't exclusive to the United States. In fact, earlier this week, the Canadian province of Ontario took a firm stance by banning protests outside of abortion clinics. The law specifies that clinics and pharmacies that offer pregnancy-ending pills must have a 50-meter "safe zone" not to be breached by protestors. What's more, the law extends further to include a safe zone around the homes of employees working at any Ontario clinic, and protects the individuals wherever they go. Violators of the new law could receive a fine of up to $3,000 Canadian dollars ($5,000 USD) and up to six months in prison for a first offense. Fines for second or third offenses could reach $10,000 ($7,800 USD) or more, and include up to a year in jail.
**The Heartbeat Question
**
Legislation seeking to restrict abortions or otherwise reduce access to abortion services has been a constant in U.S. politics over the years. The most recent example is a proposed bill called the Heartbeat Protection Act of 2017, which would ban all abortions once a fetal heartbeat can be detected (usually around the six weeks-mark).
Opponents of the bill are quick to point out that the term "heartbeat" is misleading because the heart is not developed at such an early stage, and the beat itself comes from motion within one side of the embryo's yolk sac. On top of this inaccuracy, the supposed "heartbeat" occurs before many women even know that they're pregnant effectively making it impossible to receive an abortion under such a policy.
Where Do We Go From Here?
There's no doubt abortion will remain controversial for years to come, but perhaps the above cases can provide some new angles in this ongoing debate. Should a detained immigrant be able to get an abortion in the United States or be forced to give birth? Do "safe zones" around clinics protect women and staff from harassment and potential violence, or do they take the freedom of speech away from those who are pro-life? And what about the Heartbeat Protection Act? Is it a deceptive bill meant to underhandedly outlaw abortion, or merely a good-faith attempt to lower abortion rates?
Sound off below!