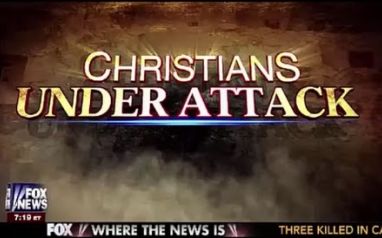 Since the Supreme Court ruled in favor of marriage equality, there has been pushback among conservatives. Some are claiming that the decision, which legally codifies that religious beliefs cannot be used to systematically oppress people, is oppressive. Fox News and other right-wing media are writing headlines about the "attack on Christianity."
Conservative public officials are balking at the ruling and refusing to issue marriage licenses to gay couples, process name-change paperwork, and recognize legal unions for adoptions. The problem with this is that gay people, like all citizens, pay taxes that buy these public services.
Louisiana governor Bobby Jindal (R) refused to respect the ruling until a lower appeals court affirmed it. The appeals court, however, is subject to the authority of the Supreme Court. When the appeals court did affirm it, Jindal refused to acknowledge it and said he would wait for the inevitable word from the District Court which is, again, under the authority of the Supreme Court (Jindal is seeking the Republican nomination for President and hopes that his attempts to disenfranchise gay people will boost his low polling numbers among the party base).
In Tennessee, an entire county clerk's office has resigned in opposition to the ruling. "It's for the glory of God. He's going to get all the glory," said Decatur County Clerk Gwen Pope. Many people on both sides of the issue praised their decision; some because of the conviction of their beliefs, and others for their realization that refusing to do your job makes you wholly unqualified to have it.
Texas Attorney General Ken Paxton tried to tell county clerks that they can refuse to serve same-sex couples on the basis of religious liberty. He warned that they may be sued for doing so, but claimed that plenty of lawyers would defend them in court pro-bono.
What's Wrong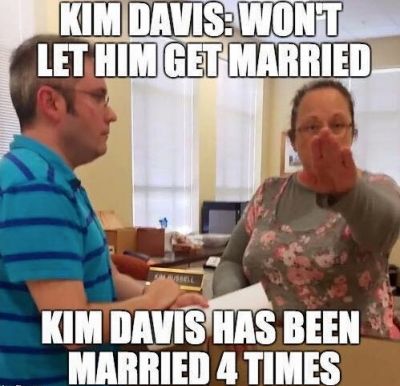 The same clerks that deny service to gay couples on religious grounds issue licenses on a regular basis to adulterers, divorcees, people that do not observe the Sabbath, who take the Lord's name in vain, consume pork and shrimp, steal, and lie. Yet in their minds, their religious liberty conveniently hinges solely on denying same-sex couples a license.
The fact that some clerks have a belief about what marriage is that is contradictory to the actual legal definition is completely beside the point. You have the freedom to believe whatever you want; you can believe that elephants are 200ft. tall or that snakes talk it doesn't change any facts of the matter.
There have also been some churches and religious leaders going out of their way to try and play the victim. Two ministers in Idaho filed a lawsuit against the city of Coeur d'Alene alleging they would face 180 years in jail for refusing to perform a wedding for a gay couple.
The problem with that is clergy cannot be sentenced to jail time or even fined for refusing to marry anyone for any reason. Since they registered their wedding chapel as a religious corporation, their business cannot face a penalty.
"We have never threatened them. We have never sent them a letter warning them. There was no 'we're going to throw you in jail' kind of stuff. So we were mildly surprised, well, totally surprised by the lawsuit," said Mike Gridley, attorney for the city.
The suite garnered so much attention from paranoid "marriage traditionalists" that Presidential candidate Mike Huckabee weighed in on the issue. "Remember when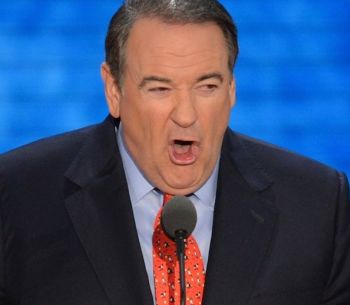 same-sex marriage activists used to claim that it would never infringe on other people's religious beliefs? Well, that was a lie." That is certainly an ironic choice of words.
The Jubilee Christian Center in San Jose, California suspended all weddings for the irrational fear of being forced to cater to gay couples. "I am not a religious bigot," said Pastor Dick Bernal, "it's just what I believe."
There are similar stories all around the country. While researching this very article, I came across several blogs with their comments sections teeming with impassioned misconception and false victimhood. It is as if some Christians try to be Christ-like not in being charitable and loving, but by attempting to emulate the fact that Jesus was a victim of society. Unfortunately for them, that's just not how it works. Jesus went so far as to instruct his followers to abide by the laws of their government, saying "Give unto Caesar what is Caesar's, and to God what is God's." [Mark 12:17]
The Supreme Court ruling is certainly a victory for the gay community, religious believers of equality, and the 14th Amendment, but for gay people, there is still a long way to go. In many locations you can be fired for no reason related to your ability to do your job, but simply because you are gay. You can lose your housing at the whim of a bigot. It is important that conservatives stop imagining that they are the real victims here and have their false beliefs about repercussions for "traditional marriage" ministers corrected. It is selfish, paranoid, and takes focus away from righting the other wrongs still left.
Sources: BBC, Christian Broadcasting Network, Breitbart