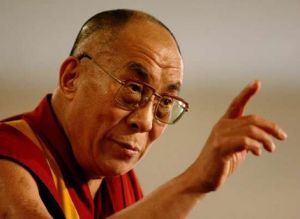 The Dalai Lama has announced he approves of a woman taking his place when he dies. The leader of Tibetan Buddhism revealed his thoughts on a female successor during an interview with Cathy Newman, a newscaster for Britain's Channel 4 News. While this nod to the progression on gender equality is welcome news for Universal Life Church ministers, the Dalai Lama's reasoning deserves critical reflection.
When Newman asked the world-renowned peace advocate if he would be happy with a woman successor, he answered, "I think [it would be] good because you see, biologically, female[s] have more potential to develop affection or love to other [sic]", and pointed out that "some scientists, they tested two person, one male, one female looking at one sort of movie. Female [was] more sensitive: response is much stronger. So therefore now we are 21st century female have more potential so should take more active role regarding promotion of human compassion [all sic]."
One problem with this argument is the assumption that the participants' responses were a product of biological hardwiring of their genders and discounts the possibility of idiosyncrasies. For example, just because Jane responds more strongly than John to images of a car crash does not mean Jane is hardwired to be more sensitive it might simply mean she experienced a car crash once, which is not a product of hardwiring. Similarly, just because a woman responds to a scene in a movie more strongly than a man does not mean she is more sensitive than he it might simply mean that she has been encouraged to show her feelings while the man has been trained to hide his. This is not a product of biological hardwiring either. Additionally, two participants hardly constitute a representative sample, and even if hardwiring could be proved, it does not make it right, since natural does not equal right.
Compassionate Men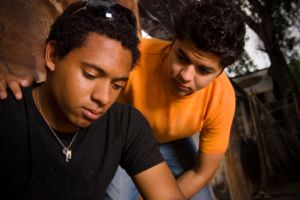 Besides, empirical research does challenge the Dalai Lama's assumptions about sex differences. In their book Same Difference: How Gender Myths are hurting Our Relationships, Our Children, and Our Jobs, Rosalind Barnett and Caryl Rivers explain how, when playing a computer game of "bomb the enemy", women showed as much aggression as men when they knew they were not being observed (p. 136-7); Barnett and Rivers also cite national survey data and their own study of dual-earner couples which showed that men are spending more time with their children, giving them cough medicine, taking them to soccer practice and daycare, etc. (p. 207). In her book Delusions of Gender: How Our Minds, Society, and Neurosexism Create Difference, neuropsychologist Cordelia Fine shows that there is no significant sex difference in how amniotic testosterone affects capacity for empathy (p. 108-9); furthermore, testosterone levels do not appear to lessen nurturing instincts in male primates (which include humans); rather, local social attitudes do ( p. 126-7). This should not be happening if, as His Holiness suggests, males are naturally more caring than females.
The Universal Life Church Monastery is happy to learn the Dalai Lama approves of a female successor, but should it be for the reason he gives? Compassion is a key component of our humanity, so arguing that a woman should be Dalai Lama because women are more compassionate than men implies that women are essentially more humane than men. It sends the message that kindness is good, but you should expect less of it from men.