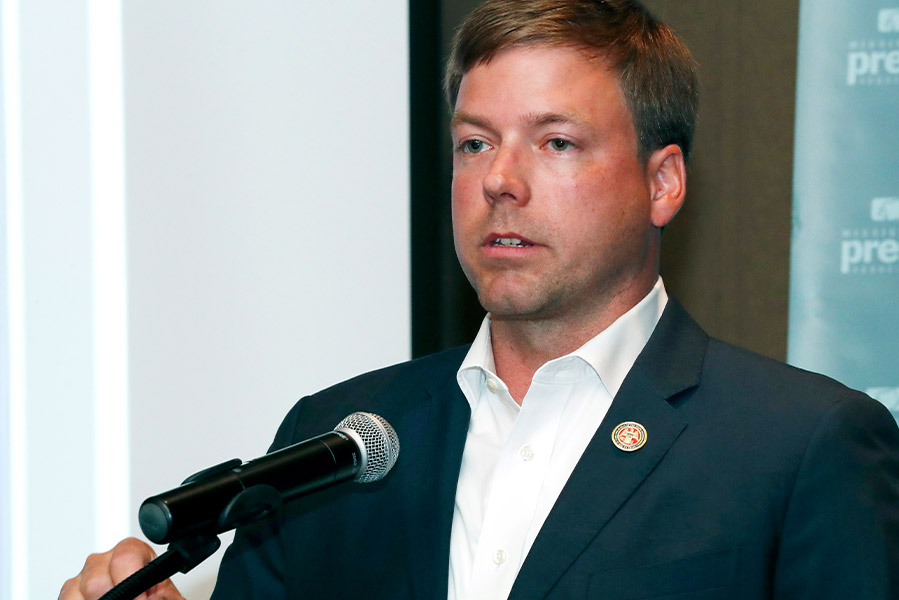 ---
Mississippi gubernatorial candidate Robert Foster insisted Mississippi Today reporter Larrison Campbell bring along a male colleague if she had any intention of following him on a 15-hour campaign "ride-along" in his truck, ahead of next month's primaries. The GOP candidate, considered a long shot by pollsters, is invoking what has come to be known as "the Billy Graham rule" - no traveling with, dining alone with, or being alone with a woman that is not his wife under any circumstances.
Foster's campaign director Colton Robison reasoned the two couldn't be seen in a vehicle alone because "they believed the optics of the candidate with a woman, even a working reporter, could be used in a smear campaign to insinuate an extramarital affair."
We just "can't risk it", the campaign told her.
Foster took to Twitter to justify his request. "Before our decision to run, my wife and I made a commitment to follow the 'Billy Graham Rule,' which is to avoid any situation that may evoke suspicion or compromise of our marriage. I am sorry Ms. Campbell doesn't share these views, but my decision was out of respect of my wife."
Campbell, who is a lesbian, had a pretty forceful response on Twitter: "Why, you ask, would this guy not see the absurdity of demanding I bring in the reinforcements he requires? Uh... probably because at the end of the day, he doesn't see me as someone who belongs there."
Origins of the Billy Graham Rule
Famed evangelist Billy Graham created the 'rule' in 1948. At that point in time, Graham was on his meteoric ascent in the Evangelical movement. Graham and his team sought to re-earn the public's trust for evangelical preachers after previous evangelical leaders squandered public trust with scandal after scandal. So to avoid the appearance of any sort of impropriety, Graham and his team instituted the rule that would eventually bear his name.
Graham is not the only significant male figure to avoid alone time with women. Vice President Mike Pence also follows the rule religiously. He has followed the rule since at least 2002, when The Hill reported that he never eats alone with any women who aren't his wife Karen. He also told the publication that he does not attend social events in which alcohol is present without his wife. As he explained back then, "I don't think it's a predatory town, but I think you can inadvertently send the wrong message by being in [certain] situations." The Atlantic gives context to Pence's reasoning. Pence came to Congress in 2001, a few years after prominent congressmen saw their marriages in trouble or dissolve completely after infidelity allegations. As Pence put it back then, "I've seen friends lose their families. I'd rather lose an election."
Sexist and Demeaning?
The rule is not without its detractors. Critics believe it only props up outdated gender roles and demeans women in the process.
"They just presume that your marriage vows are so flimsy that you can't be trusted to uphold them unless a babysitter monitors you," said Washington Post columnist Monica Hesse. "It's rather like a thief sanctimoniously announcing that he brings a parole officer every time he goes to the bank to make sure he doesn't rob it. Good for you, dude, for knowing your own limitations but it doesn't make you better than the rest of us, who manage to regularly not steal things even when we're completely alone."
Chicago Tribune columnist Heidi Stevens took that rationale a step further, wondering how Foster would govern effectively if elected to office. "The risk of being photographed in the presence of a woman would multiply exponentially were he tasked with leading his state," she wrote. "Would Foster simply refuse to meet with them? Would he request male escorts?" Stevens also wondered if Foster would even accept political guidance or advice from women at all.
"My truck, my rules"
Foster eventually appeared on CNN's "New Day" to defend himself in front of Campbell herself, insisting that "in my truck, we go by my rules."
He denied viewing women as sexual objects first and professionals second, pointing out that while he fully trusted himself to act appropriately if left alone with any woman, "I don't trust the perception that the world puts on people when they see things and they don't ask the questions and they don't look to find out the truth."
Foster later tweeted "the liberal left lost their minds. They can't believe, that even in 2019, someone still values their relationship with their wife and upholds their Christian Faith." Franklin Graham, the late Billy Graham's son and the President of the Billy Graham Evangelistic Association, came to Foster's defense on Twitter, saying he appreciates Foster's "desire to honor his wife."
What do you think? Was Foster right to ban women from riding alone with him in his truck? In the post-#MeToo era of social media, can one ever be too careful? Or is the self-implemented rule simply a demeaning and sexist relic of the past?