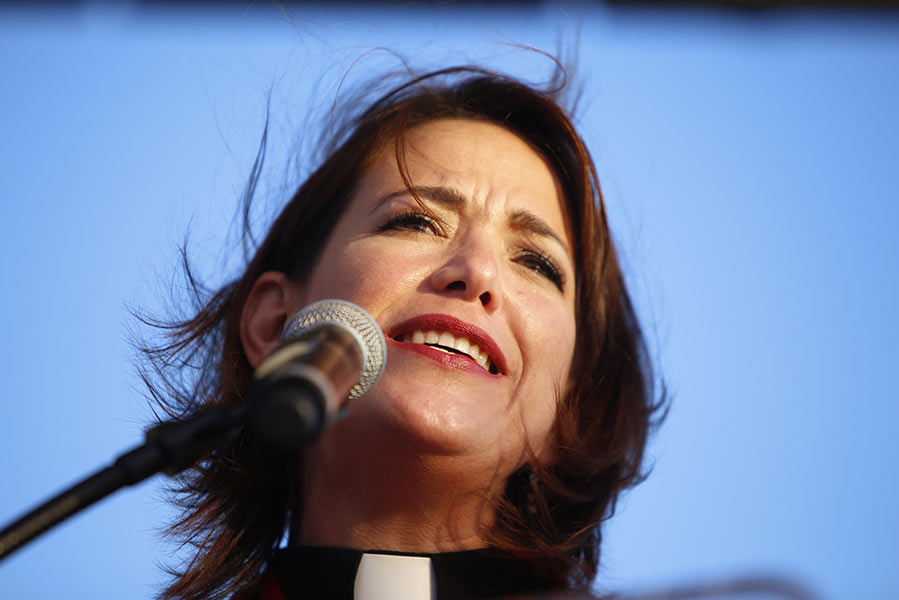 ---
Manhattan's famed Riverside Church has let Pastor Amy Butler go after she took a group of fellow ministers sex-toy shopping. Pastor Amy was the church's first senior minister in history.
In May, Pastor Amy, two assistant ministers, and a female congregant were in Minneapolis to attend the Festival of Homiletics. During a break in the conference, Pastor Amy sought to see the Minneapolis sights. Apparently not a Mall of America fan, Pastor Amy opted instead to show her companions a different side of the City of Lakes: the Smitten Kitten sex shop. Once inside, the pastor dropped $200 on a bunny-shaped 'Beaded Rabbit' vibrator for the first minister, a single mother celebrating her 40th birthday. She then offered the second - a gay man in a committed relationship - the same. When he politely refused, Pastor Amy settled on purchasing a bounty of pleasure-bringing gadgets for the congregant and herself.
At the checkout counter, Pastor Amy quipped "Is this a church business expense?" to her captive audience as she pulled out the church credit card. However, it is unclear if that was just a joke or if the 'Beaded Rabbit' vibrator was actually charged to the church.
Although Pastor Amy was in high spirits, not everyone was feeling the good vibrations. Both ministers repeatedly expressed how uncomfortable the raunchy outing made them. And sources insist they "felt pressured" to play along, fearing professional retaliation. They eventually filed a formal harassment claim. And church lawyers even hired a third-party investigator to substantiate the various accusations.
More Than Meets the Eye
For Pastor Amy Butler, these harassment charges present particular irony.
Last year, Butler published "From #MeToo to #ChurchToo to #NeverAtChurch." In the article, she claimed a male "lay leader" at Riverside had acted "inappropriately" toward both her and other female staffers. Forbes reported that the church leader Pastor Amy reported was Dr. Ed Lowe. An outside investigation found that he acted inappropriately, gifting Pastor Amy with a bottle of wine and a t-shirt with a vulgar slur printed on it and that he had sent unseemly texts to women in the church.
"Harmful and abusive behavior must be exposed and confronted; this means disciplining employees and community leaders who violate those policies," she wrote.
Still, Pastor Amy's supporters claim Riverside let her go for speaking out against harassment and sexism at the church in the first place.
However, sources close to the investigation maintain that Pastor Amy's position at the church was untenable. They said that the sex-toy incident was just one of "several concerns that the Riverside Church Council had about Amy's judgment."
Misguided Minister?
Butler was the seventh senior minister to serve at Riverside Church, a massive Gothic cathedral renowned for its deep coffers and inter-denominational liberalism. Documents obtained by The Post reveal a cushy five-year contract signed in 2014 and expiring in July. Included were a $250,000 salary, an $8,000 monthly housing allowance and over $55,000 in yearly pension contributions. And now that she's departing, Pastor Amy's severance includes a full year's salary and a number of additional payments for a total nearing $600,000.
Michael Livingston, Riverside's interim minister, broke the news of Pastor Amy's departure during a Sunday sermon on July 7. Several biblical readings, particularly Galatians 6:7, seemed to allude to the incident. "Do not be deceived, God is not mocked; for whatever a man sows, this he will also reap."
Now the church, which has hosted guest speakers as luminous as Martin Luther King, Jr. and Nelson Mandela to preach from their pulpit, is on the look for a new permanent pastor.
Both Pastor Amy and the Riverside Church are being tightlipped on the situation. Was Pastor Amy let go because she crossed the line by taking her assistant pastors sex-toy shopping? Or was it, as her supporters say, because she previously spoke out on sexual harassment within the church?