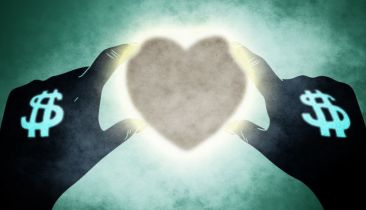 People's needs can vary greatly; some might need money while others simply need someone to talk to. You have probably found yourself in situations where you needed to help someone. Once you helped the person, you likely had a feeling of accomplishment and fulfillment. This feeling is a natural response to knowing we have done something good. Not only do those you are helping benefit, you can benefit yourself from being a giving person.
It Can Lower Stress Levels
We are all stressed in one way or another. Whether it's because of finances, relationship troubles, or a health concern, it seems there is always something causing significant amounts of stress in our lives. Did you know that being giving can actually help lower stress levels? People with financial difficulties may think that holding onto every penny they have will help them pay their bills, but being stingy with your money tends to make people more stressed out.
While there is always going to be some stress in your life, too much can be hard on the body and affect your immune system. Giving away even a small amount of money to someone in need can help lower your stress levels. This may include something like buying a meal for a homeless person, loaning a friend a few bucks for gas money, or making a small contribution to a charity near and dear to your heart.
It Helps the World Go 'Round
Of course, generous people are what helps the world go around. If everyone held onto what they had and never helped anyone out, we would live in a very dark and lonely place. Thanks to people who are willing to give someone a ride when they need it, loan some money to a family member, or contribute to a food bank, people who are in need are often helped.
Sure, there are always going to be homeless people and charities that need money, but so many things have been made possible thanks to generous people. Perhaps you have been one of those generous people. No matter how big or small your action may have seemed to you, it may have been enough to turn a person's life around.
You May Live Longer
Did you know that generous people are more likely to live a long and healthy life than those who are more selfish with their money and time? This is likely because of the positive outlook generous people tend to have. Emotions and physical health are tied closely together, so if you are a positive person, you are more likely to stay alive and healthy. Donating time or money can help change your perspective on life, making you a more positive person.
Help When You Need It
There will likely come a time in your life when you need some help. Maybe it's that you have just lost your job and don't have a way to pay your mortgage this month. Perhaps you have just been diagnosed with a health condition and need someone who can take you to and from your many appointments. If you have been generous with your time and money in the past, people are more likely to want to help you.
Smart Giving
Now that you know some of the reasons why giving is good for you, you might be wondering how you should go about being generous. There are many different ways you can do this. It's important to realize that while your heart will be in the right place, there are more and less effective ways to give.
Donating cans to a food banks is great, but they also need to be sorted, shipped, and aren't always nutritious. However, if you give them money, they can use it to buy food at bulk pricing. The amount you spend on 1 can of food can actually buy the food bank plenty of fresh and healthy fruits, vegetables, meats, and bread.
When working with a charity, make sure they are a legitimate operation. There are several scams out there preying on your desire to help others. You can always double check the group's credentials at the Charity Navigator.
Some charities are more effective than others. Look up exactly how much of the money and resources actually go to helping their cause as opposed to paying a massive salary for the CEO.
Find a way to donate your skills and not just money. If you know about marketing or finance for example, a charity might love to take advantage of that. Anything that you can give is a win-win for all involved.