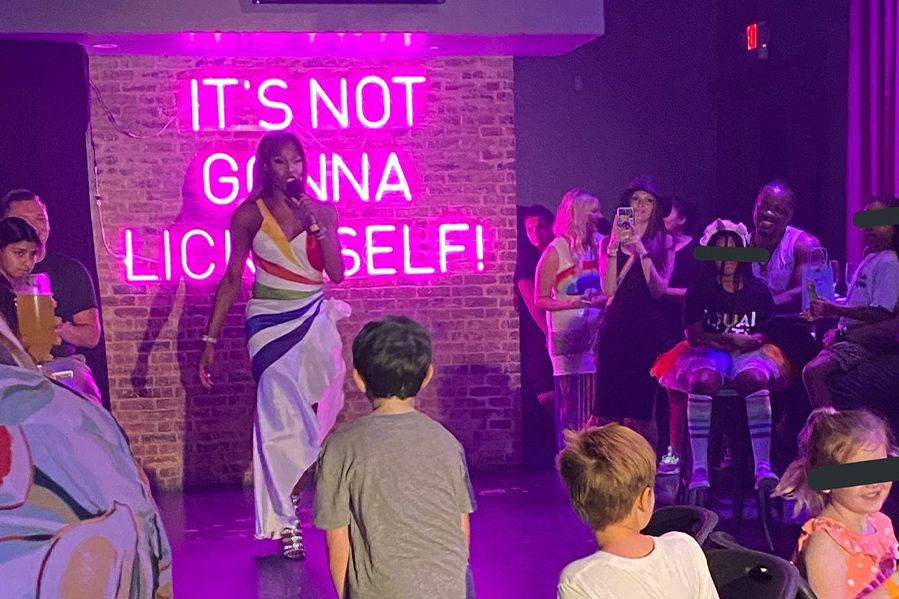 A Texas legislator is trying to ban children from attending drag shows following a controversial Pride event in Dallas. 
Video of the event, which was billed as a "family friendly" drag show at a Dallas gay bar soon went viral. The footage shows kids front and center as drag queens dance on stage in front of them, and some children were reportedly tipping the drag queens with dollar bills. Behind the drag queens is a neon sign that says "IT'S NOT GONNA LICK ITSELF!"
Concerned activists caught wind of the event beforehand, and were outside to protest what they allege is "grooming" of children into the LGBTQ lifestyle.
LGBTQ advocates, however, say the event was all in good fun, and that children are exposed to far more sexually charged straight imagery on a daily basis.
Now, state legislators may attempt to ban children from events like these in the future.
The incident raises an interesting question: do kids belong at drag shows?
Drag the Kids to Pride
"The Ultimate Family Friendly Pride Experience!" read the Eventbrite listing for the "Drag the Kids to Pride" show. Inviting kids to "come hangout with the Queens and enjoy this unique pride experience," the bar even offered "limited spots for young performers to take the stage solo, or with a queen of their choosing!"
Meanwhile, protesters gathered outside the bar, holding signs with sentiments like "STOP GROOMERS" and "Children are born of a man & woman."
One group that helped organize the protest stated that events like these represent an "ongoing assault that has been ruthlessly waged against our children's identities, core development, and traditional values."
Many took issue with the "It's Not Gonna Lick Itself" sign behind the drag performers, arguing the obvious innuendo is hardly age-appropriate.
But others fought back against the criticism. They say that introducing children to the LGBTQ community is crucial to fighting bigotry at a young age and normalizing acceptance of queer people. 
And at its essence, drag is just a more elaborate form of dress up, advocates point out. They ask: is that really so dangerous?
Plus, supporters say, children see sexually charged heterosexual imagery on a near-daily basis. 
Legislate the Gay Away
While the debate continues to rage online, in Texas, lawmakers are taking action; drag shows in the Lone Star state could soon be off-limits to kids entirely. 
State Representative Bryan Slaton announced he will be sponsoring a bill banning minors from drag shows in Texas. 
"The events of this past weekend were horrifying and show a disturbing trend in which perverted adults are obsessed with sexualizing young children," Slaton said in a statement. "Protecting our own children isn't enough and our responsibility as lawmakers extends to the sexualization that is happening across Texas."
What do you think? Is introducing children to parts of LGBTQ culture an important step in fighting bigotry? Or are drag shows an inherently sexual performance, and by definition inappropriate for young eyes?