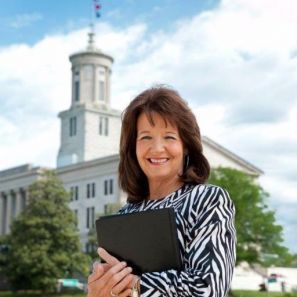 A Tennessee state lawmaker is introducing a bill to ban the teaching of "religious doctrine" in public schools until at least the 10th grade. Representative Sheila Butt's proposal was created in response to a number of complaints from parents about the social studies curriculum being taught to their children.
Rep. Butt (R.) explains that the rationale behind her bill stems from the fact that students can feel conflicted if something they are taught in school differs from what they are learning at home. Children's minds are being shaped and taking in a great deal of information. She feels that sorting it all out is perhaps something that they are not equipped to do before high school.
Therefore, she proposes that any religious lessons, or any study of religion, be restricted to grades 10, 11, and 12, and done only in the context of a course on comparative religion wherein no emphasis is placed on any one religion over another. If any teacher for grades 9 or under wishes to mention any religion or religious belief, they must first submit it to the State Board of Education for approval.
The Real Complaint: Islam
The objections from parents that compelled Butt to act consisted in children learning about Islam as part of a comparative religions section in the 10th grade social studies curriculum. Students learned the histories and basic belief sets of Christianity, Judaism, Shintoism, Hinduism, Buddhism and other major faiths. No complaints were known to have been brought forth in regards to anything other than the section on Islam.
The unrest was exacerbated when Greg Locke, pastor of the local Global Vision Bible Church, filmed a video and posted it on the Parents of Wilson County Schools webpage. In it, he claimed that the lesson taught on Christianity was "watered down," while the section on Islam amounted to what he considered "nothing more than absolute brainwashing". The county school director called Locke's claims blatantly false and offered that his video was made with the intent of inciting parents.
Rep. Butt asserts that many students cannot tell if they are simply learning about what a religion teaches or if they are the victims of a scheme to convert them. US Rep. Marsha Blackburn (R.-Tenn.) pointed out that "there is a big difference between education and indoctrination" when asked about the situation, and she is correct. There is such a difference, it begs the question as to what the lawmakers like Butt think is actually going on.
Tennessee has a fairly high population of conservative Christians, many of whom oversee and implement the state standardized curriculum. Indoctrination isn't the sort of thing that happens by accident. Are Butt and Locke supposing that there is a conspiracy among local educators to bolster the ranks of Muslims in the state? Perhaps.
The website called Conservative HQ praises Butt's bill as saving America. The group feels it addresses their concerns of the Muslim concept of Al-Taqiyah, which they say "is variously translated as infiltration, subversion or deception, but from a political perspective it means to disguise one's true self in order to win the war against the enemy." The fear is that secret evil agents of Islam are disseminating the notion of "a non-existent peaceful Islam in Tennessee's schools" to blind the public awareness of a coming takeover. While Butt has been praised by those that agree with these sentiments, she hasn't expressly voiced agreement with the specifics of their worries.
The Possible Effects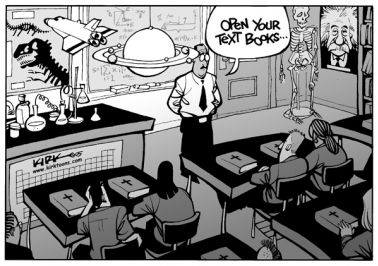 Most of us would agree that actual religious indoctrination should have no part in public schools. If passed, this law could have some notable changes to how subjects are taught in Tennessee, but perhaps not in the way Butt thinks.
Her bill demands that the curriculum of a subject stick to facts and omit any religious dogma. This, however, might include the "teach the controversy" additions to science lessons codified into state law in 2012. These were designed to encourage students to question the validity of agreed upon science as a means of opening the door for religious beliefs. Of course, previous bills allowing the overt teaching of creationism, and another for Intelligent Design were already shot down by federal courts.
It might also be argued that "abstinence-only until marriage" sex education would fail to abide by Butt's rules. These lessons have been found to teach inaccurate information, not reduce student sexual activity at all, and have a negative impact on pregnancy and STI rates due to students never learning safe sex practices. All of this harmful and counterfactual teaching is done in accordance with a religious notion that puts a woman's virginity on her wedding day as paramount to her value as a mate. It will be interesting to see if passed, whether the law would be used to target only Islam or if it would actually cover all faiths as it purports to do so in its wording.
A Non-Issue
Many academic or politically liberal websites are charging Butts and the parents that took issue with the curriculum as being needlessly biased. They point out that parents had no issues with kids learning about any other religion in the lessons and that many that support the bill seem to even explicitly admit having a dislike and/or fear of Islam and Muslims.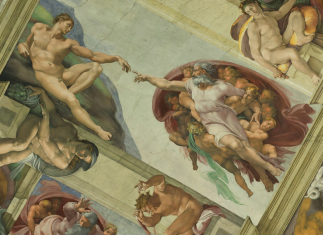 In defense, Butt hoped to clarify her position to reporters. She considers the curriculum on Islam to be indoctrinating because the amount of information learned is more than some parents would like. Essentially in her view, this goes beyond learning about Islam, because kids learn a lot about Islam. This doesn't really answer detractors and isn't internally consistent.
It also seeks to revise history for the students. Religions has always been a major factor in world history. It was used to justify slavery and segregation, suppression of women voting, and emigration, including the very founding of the United States as well as politics today. It's important to look at everything involved in shaping historical events so we can learn from them.
The restriction of lessons on religion to just one class could negatively impact other subjects. Religion factors into more curriculum than is appropriate to teach in a comparative religion class. Would kids in choir not be allowed to sing Handel's Messiah? Or art students barred from studying Michelangelo's David statue? So much of our art and science involves religion and wouldn't fit nicely into a social studies lesson. Students should study these things in the context of their own subjects.
"The reality is the Muslim world brought us algebra, 'One Thousand and One Nights,' and some can argue it helped bring about the Renaissance," explained Nashville Public School social studies teacher Kyle Alexander. "There is a lot of influence that that part of the world had on world history."
Sources:
SheilaButt.com
The Tennessean
ConservativeHQ.com