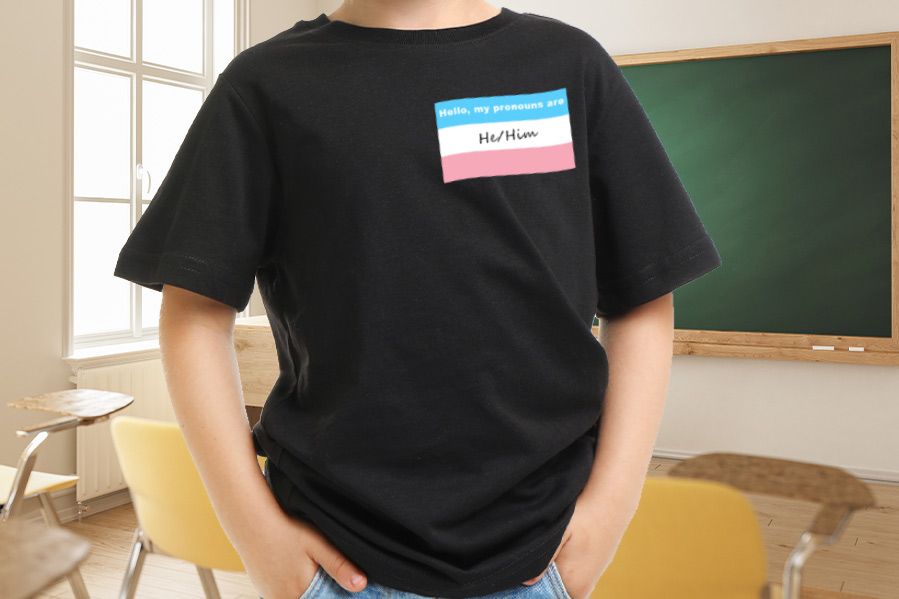 A Virginia teacher is on paid leave after objecting to a new policy in his school district requiring teachers to use the correct pronouns for trans students.
Byron Tanner Cross, a gym teacher at Leesburg Elementary School, voiced his opposition to the gender-affirming language policy at a school board meeting:
"I love all of my students but I will never lie to them regardless of the consequences. I'm a teacher, but I serve God first, and I will not affirm that a biological boy can be a girl and vice versa, because it's against my religion."
Cross is now suing the school district, arguing that he's being punished for voicing his sincerely held religious beliefs.
Common Courtesy or Child Abuse?
The particular proposal Cross opposes is draft policy 8040, which would allow transgender students to use their preferred pronouns and a name that better reflects their gender identity.
School staff would be required to use those pronouns when referring to a student, and staff (or students) who intentionally and repeatedly misgender students would face disciplinary measures. 
The policy would also allow transgender athletes to participate in the athletics department that is consistent with their gender identity.
"It will damage children, it will defile the holy image of God," Cross insisted. "It's lying to a child. It's abuse to a child. And it's sinning against our God."
Just a few short days after making those comments, Cross found himself called into the superintendent's office, where he was suspended (with pay) for "disruptive conduct" following complaints from several parents who didn't want him to have any contact with their children. 
A Boy Named 'Sue'
The recently filed 45-page lawsuit against the Loudoun County School District alleges that school officials are retaliating against Cross because of his moral and religious views.
In the suit, attorneys claim the issue is not about pronouns in schools, but rather that Cross's right to free speech and free exercise of his religion have been violated:
"[This] is about whether public schools can punish a teacher for objecting, as a private citizen, to a proposed policy, in a forum designed for the purpose of considering whether to implement such policies, where the policy would force him to express ideas about human nature, unrelated to the school's curriculum, that he believes are false."
The lawsuit includes several pages detailing Cross' religious views, including that "God immutably creates each person as male or female; these two distinct, complementary sexes reflect the image of God; and rejection of one's biological sex is a rejection of the image of God within that person."
It also states that affirming a transgender child's gender identity "would violate biblical commands against dishonesty and lying." The suit demands Cross be reinstated and that he cannot be punished moving forward for "expressing his views on gender-identity education policy."
Critics have a different view, however. They argue that not only is using a person's preferred pronouns a basic sign of respect, but that a public school teacher should not be invoking God as an excuse for offensive behavior in the first place. 
What is your reaction?