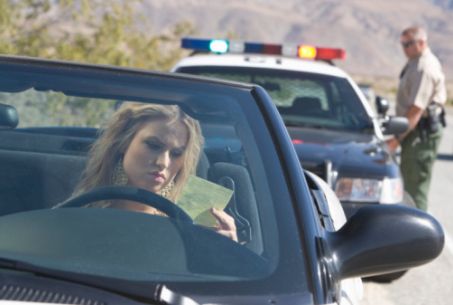 Let's face it, nobody likes being proselytized to. When a Jehovah's Witness comes knocking people aren't tripping over themselves to get to the door. A child isn't thrilled when she empties her bag of Halloween candy to find a religious tract. Even so, these methods of sharing faith are fairly easy to ignore but what if someone in a position of power corners you and tries to convert you?
That's exactly what happened in Indiana earlier this year. A woman is suing a state trooper who pulled her over, issued her a warning ticket, then proceeded to ask about her beliefs and her church-going habits.
According to an attorney with the ACLU, Wendy Pyle was pulled over by Officer Brian Hamilton in January for speeding. He then asked her if she had "been saved" and invited her to his church, providing her driving directions to it even though she never expressed any interest.
"Ms. Pyle was extremely uncomfortable with these questions," reads the lawsuit, adding that she felt intimidated and obligated to answer these very personal questions that were wholly unrelated to the traffic violation. In an effort to end the awkward interaction, Wendy stated that she was indeed "saved" and attended church regularly but things didn't end there. Officer Hamilton went as far as adding her to his church's prayer list by which other church members later contacted her.
Previous Incidents
As it turns out, this isn't the first time Officer Hamilton has gotten into trouble for proselytizing on the job. The January incident was a violation of a 2014 order that he not "question others regarding their religious beliefs nor provide religious pamphlets or similar advertisements" while on duty.
Due to his multiple violations, the Indiana State Police fired him after an internal investigation. The department superintendent, Doug Carter, commented that "while all of us citizen and police officer enjoy the right to freedom of religion and freedom of speech, there are appropriate and proper restrictions placed on agents of the State related to their actions while engaged in their official duties While I respect Mr. Hamilton's religious views, I am also charged to respect every citizen's rights, and the best way forward for the citizens of Indiana, and for Mr. Hamilton, was to end his employment as a state police officer."
Was there any real harm done? No. And some are complaining that this violates Mr. Hamilton's religious liberty since he wasn't coercing anyone, he was simply following a tenet of his faith by sharing the good word. It's better that someone be enthused about their faith than to be a lukewarm believer.
Wherein Lies the Harm
There are, however, a few problems with incidents like this. First off, it's just plain annoying. If you disagree, you should prove it and sign up here to invite some Mormon missionaries to your house to try and convert you and see how that goes. Secondly, keep in mind that Officer Hamilton was on the clock during these incidents. Citizens were paying him to keep the peace, protect and serve. Every minute he was talking about his religion he was neglecting his job duties. Thirdly, a state trooper is, while on the job, a representative of the state. The Constitution doesn't allow for the state to have a religious preference.
This would be a completely different story if he were Muslim. Tennessee almost implemented a statewide ban on certain school subjects because parents were upset that their childrens' Comparative Religions class included a chapter on Islam for goodness sake. Imagine how much stronger the reaction would be if a cop was trying to convert citizens to join the Muslim faith. Instead of people coming to his defense, there would likely be town hall meetings about how to deal with the Sharia Law Cop.
Would you feel differently if a cop pulled you over to proselytize to you if he was Christian versus Muslim? And if so, should they be treated differently from a legal stance? Whose freedom of religion is being infringed upon in these circumstances: the cop's for his being fired, the citizens' for being pressured to discuss religion with an officer of the state, or the taxpayers' for having their money spent to promote Christianity regardless of what their beliefs are? Let us know what you think.