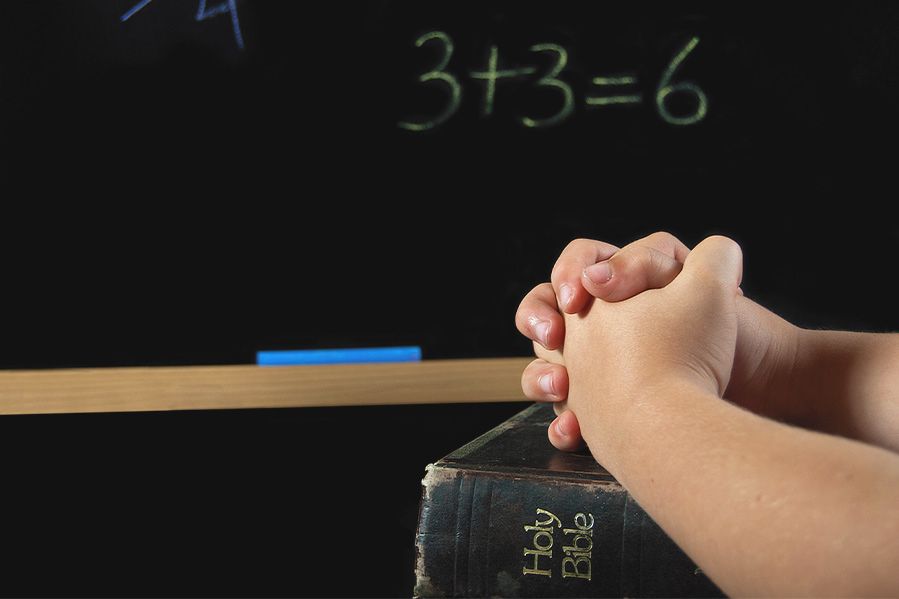 Schools across the country are closed to stop the spread of COVID-19. As a result, school-age children are transitioning from the traditional classroom to something more akin to homeschooling for the rest of the school year (and, potentially, beyond). Parents are suddenly trusted with the new responsibility of being the sole source of their children's education, and specialists are concerned about what this may mean for children's' education - particularly children in evangelical families, whose parents might be reticent to teach science or history and more likely to teach the Bible.
Do Parents Know Best?
Parents choose to homeschool their children for a variety of reasons. Some may choose homeschooling for the flexibility it gives the student to pursue high-level athletics, others may simply not be satisfied with the educational standards of their local public schools. But most (upwards of 90%) choose to do so because they want to give their children a conservative, Christian education, and remove them from mainstream, often secular, culture. Most notable are "Quiverfull" families, who homeschool their children and teach biblical patriarchy in the classroom at home.
When parents homeschool their kids, they often have free reign to teach the lessons that they see fit. In homeschooling, there are rules and guidelines about what you can teach - but rarely are they enforced. Only about a dozen states have regulations on the level of education needed by parents to homeschool their children. In some states you don't even have to register your child as being homeschooled - you can simply keep them at home.
Experts worry this opens the door for potential issues. Can parents be trusted to provide a comprehensive history or science education if their religious view conflicts with the facts?
A new article by Harvard Professor Elizabeth Bartholet titled "The Risks of Homeschooling" says no. She calls for a ban on homeschooling because of the "threat it poses to children and society." Bartholet believes that religious families - "extreme religious idealogues" - cannot be trusted to properly educate their children, and that their own personal religious views will bias their teachings.
Due to the quarantine, many parents are with their children 24 hours a day, and are finishing out their education for the school year. And with often lax regulations, that means they can choose any lesson plans they want - even ones with extreme or inaccurate views.
Homeschoolers Respond
There was a quick push back from many in the homeschooling community to the article above. They argue that children fundamentally belong to parents, not the state. "Unlike teachers and school administrators, parents are the most permanent adults in a child's life," said Katy Faust, founder of Them Before Us, a children's rights organization. "The permanent nature of the parent-child relationship means parents are the adults most invested in children's long-term success. That's why parents, not the government, are the primary educators of their children."
She argues the whole system is backwards, and that schools should have to make an argument to parents that they should opt-in to public education, rather than homeschooling parents having to opt-out. "That out of touch elites fail to grasp these simple, self-evident truths should make us even more weary to trust them with control over our children's education."
And homeschooling has long been a cause championed by Christian leadership, who often view public schools with a skeptical eye at best. Al Mohler, president of the Southern Baptist Theological Seminary, says that public schools were designed as a "socializing agent" with an "ideological component as well."
As he said on a recent broadcast, progressives view the "indomitable strength of the natural family" as their "greatest obstacle." Progressives "have seen the public schools as the great ally and you'll understand why they've been so successful in reshaping the public schools into incubators for this kind of ideological experiment."
Who Do Children Belong To?
With homeschooling the new norm in many parts of the country, and no news yet on when our national quarantine might lift, the questions will likely continue about the effectiveness of homeschooling, and whether children belong exclusively to parents or society at large.
Yet as religious fundamentalists maintain their sizable political influence, it seems unlikely that those laws will be examined any time soon. And some fear that religious families who didn't previously homeschool may start now, and simply refuse to put their children back into the public school system once the quarantine lifts.
What do you think? Do we all have a responsibility to mold good citizens with democratic values for the greater good, or does this unequivocally fall under the purview of the parents?