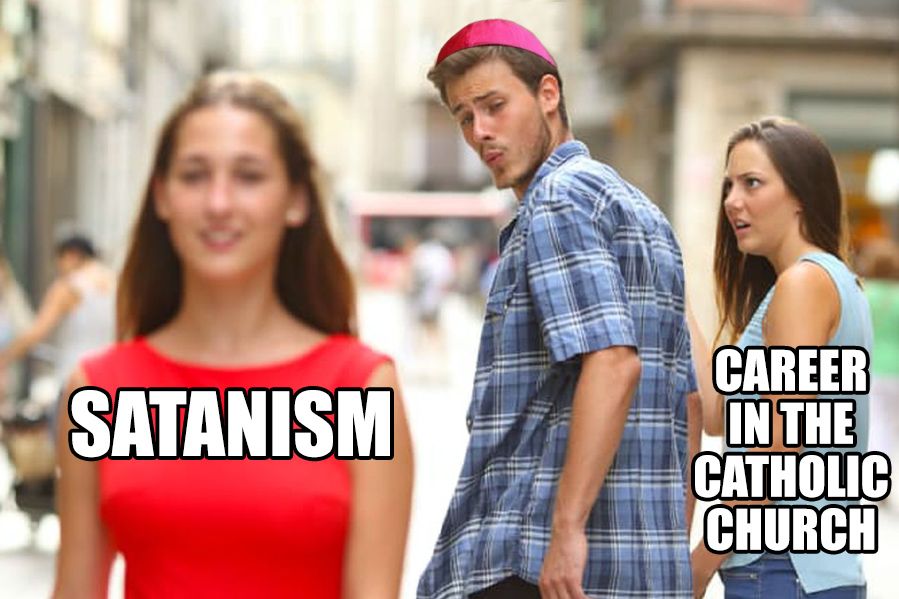 You've heard of a match made in heaven… but what about a match made in hell? That's what some might call a relationship between a (now former) Catholic bishop and a fiction writer who specializes in Satanic-themed erotica.
Xavier Novell was on his way up the ranks within the Catholic Church, becoming Spain's youngest bishop at age 41 in 2010, despite his somewhat controversial conservative views – even for the Catholic Church.
Novell has been an enthusiastic advocate of conversion therapy for gay people, suggested that homosexuality is linked to lack of a father figure, and has called abortion "the most serious and terrible genocide in humanity."
He was also the church's go-to exorcist in the Catalonia region. Even though his views are controversial and he's relatively young, he was viewed as a man on the ascent, and reportedly met with Pope Francis a handful of times already.
But apparently, none of this compared to the allure of a life filled with Satanic erotica. The former bishop has essentially thrown his career out the window to take up with author Silvia Caballol.
Love at First Rite
Novell's resignation last month, which followed many meetings with his fellow bishops as well as a reported meeting with the Pope himself, came as a surprise. Initially, Novell, now 52, claimed that he was quitting for "personal reasons" following "a period of reflection, discernment and prayer." 
But new reports give more insight into just what Bishop Novell was reflecting on: Satanism.
Novell met his new partner at a demonology workshop in 2015 (she was presumably there researching for one of her novels). The 38-year-old Caballol is a prolific writer, specializing in Satanic-themed erotica. Her most popular novel is 2017's The Hell of Gabriel's Lust, a book about "a journey into sadism, madness, and lust and a struggle between good and evil, God and Satan with a plot to shake one's values and religious beliefs."
One might describe it as the Catholic 50 Shades of Grey. A short excerpt:
"As if possessed by the demon of lust, I begin to suck and kiss her neck, her lips, her breasts and her shoulders. Our bodies were incandescent and excited, and our sex was inflamed and palpitating."
Bishop Novell presumably found both her prose and her personality irresistible. The couple is now reportedly living together in Catalonia.
Get Thee to an Exorcist
For Bishop Novell, his resignation was an attempt to do the right thing. "I have fallen in love with a woman for the first time in my life, and I want to do things right," he's quoted as saying. But his sudden resignation wasn't taken well by some of his colleagues. Ironically, the former exorcist's former employers believed he was in need of an exorcism.
Reports indicate that Pope Francis himself asked Novell at least twice to get an exorcism, believing him not to be in love, or even lust, but possessed by Satan himself. Novell's other colleagues have repeated that sentiment.
"The issue is not a problem of celibacy, but of infestation," one of his fellow faith leaders stated. 
Whether Novell is simply in love or actually possessed by Satan is a theological question we're not equipped to answer. But one thing's for sure: a young bishop's promising career with the Catholic Church is now dead in the water.
The incident also marks a fascinating new chapter in the age-old battle between the Catholic Church and the power of Satan. 
Safe to say Satan won this round?