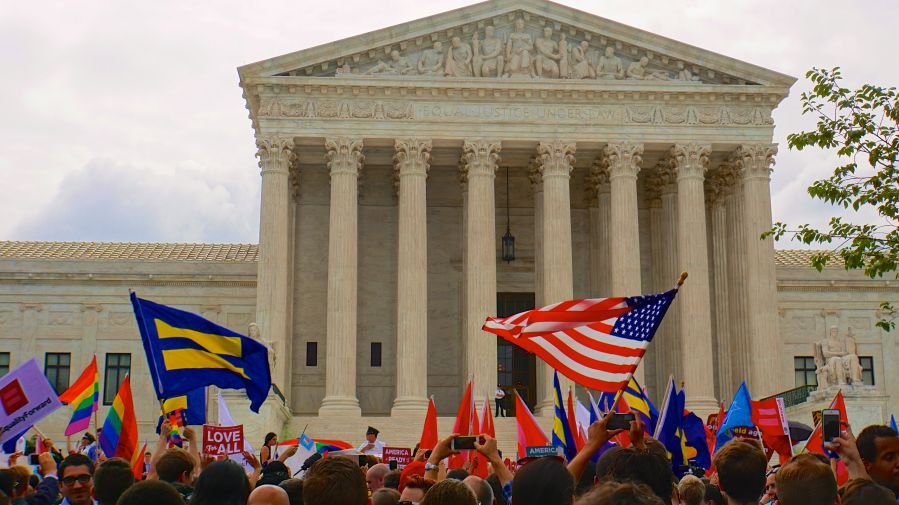 ---
It's June 26, 2015: All eyes are fixed on the front steps of the Supreme Court in Washington D.C. Suddenly, several people burst out of the doors, come bounding down the steps, and break into a sprint across the courtyard in front of the building. They are press interns, carrying with them copies of the Supreme Court's pivotal decision in the case of Obergefell v. Hodges.
Just like that, the result was delivered in a landmark 5-4 ruling, the court declared that same-sex couples throughout the United States have a fundamental right to marry. On Sunday, legal same-sex marriage celebrates its one-year anniversary!
History of Same-Sex Marriage
Just a quick note: this piece will focus on the impact of the Obergefell v. Hodges decision and the current climate regarding LGBT rights in America. However, we've also been doing extensive research on the history of same-sex marriage itself. Contrary to the beliefs of some, it's a fascinating story that reaches back thousands of years. In fact, there was so much information that we decided to create a separate page in order to fit everything in. Click here to check it out!
Looking Back: One Year Later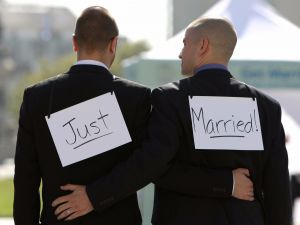 Obviously, a lot of good came out of Obergefell v. Hodges. Suddenly, same-sex relationships were no longer relegated to second-class status under the law. After a long and arduous battle, gay couples across the United States were given a right which had been denied to them for so many years. A recent Gallup survey indicates that since the ruling, nearly 125,000 same-sex couples across the country have tied the knot!
While it was certainly a victory for marriage equality, Obergefell generated significant backlash from opponents of same-sex marriage. Having officially lost the legal battle, they found themselves backed into a corner. In many states, certain county clerks remained hostile to gay couples, illegally refusing to issue them marriage licenses. The most notorious of these detractors was Kim Davis, a county clerk from Kentucky who became the face of resistance to same-sex marriage. Davis was jailed for her actions, making her a hero in the eyes of some social conservatives, many of whom were influenced by their faith, who were unwilling to admit defeat.
The decision also spawned a new batch of anti-LGBT legislation. The ACLU reported that as of early May, almost 200 separate anti-LGBT bills had been introduced in 32 different states. They come in all different forms: some are related to transgender bathroom rights, some attempt to prohibit same-sex marriages in certain circumstances, and others let businesses deny services to gay people. While very little of this reactionary legislation is likely to stick, it indicates that there remain plenty of anti-LGBT sentiments across the country.
Ongoing Discrimination
In the adulation following the Supreme Court's decision, some people impulsively declared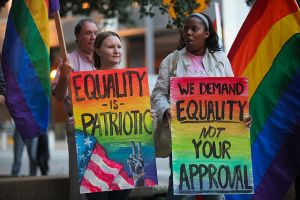 that the battle for equality had finally been won. However, full equality across the United States remains an unrealized goal. While things have certainly gotten better, LGBT individuals continue to face significant discrimination in their everyday lives. For example, it may come as a surprise to learn that only 21 U.S. states have passed laws which specifically prohibit housing discrimination based on sexual orientation.
Equally disturbing is the fact that many states still have zero legal protections for LGBT employees. So although gay people can now get married in all fifty states, depending on where they live, they can still be legally fired if their boss discovers their sexual orientation. Often this information is hard to keep secret it's a bitter irony that those same marriage benefits gay couples fought so hard for now have the potential to get them fired (when, for example, they have to disclose their spouse's information in order to apply for health insurance through work). If that doesn't strike a chord, consider this:
Florida is one of the many states that doesn't have laws to protect LGBT employees this means that survivors of the Pulse shooting who were interviewed or had their names published in the paper could lose their jobs because of it. Is that justice?
Moving Forward
Although federal judges across the country have consistently followed the Supreme Court's lead in protecting LGBT rights, that hasn't stopped certain states from continuing to pursue discriminatory legislation. This list includes: Mississippi, North Carolina, Georgia, Florida, Michigan, Kentucky, Tennessee, South Dakota, and Virginia.
Clearly, we still have a long way to go. Despite what the constitution says, LGBT individuals are not fully equal under the law. The amount of continued discrimination in areas such as housing and employment are symptomatic of a larger hurdle that must be crossed: acceptance. With this in mind, it's clear that achieving full equality involves more than just changing laws, it requires changing minds. Being gay in America is still a radical act and can place a person at a significant disadvantage on multiple fronts. This is a longer battle, and one that won't be won overnight. However, the progress made so far provides an encouraging sign that we are on the right track.
Stonewall Declaration
On a final note, today President Obama declared the area near New York City's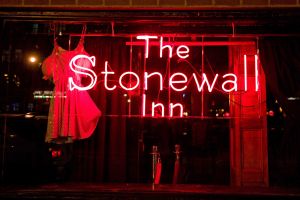 Stonewall Inn as the first national monument dedicated to the struggle for LGBT rights. On the night of June 28, 1969, in response to a series of raids and discriminatory violence, the LGBT crowd which frequented the Stonewall rioted. The riots quickly turned into protests, and after years of hiding their identities members of the LGBT community started openly marching in the streets. This event is widely recognized as the birth of gay Pride and the modern LGBT civil rights movement. In a video announcing the monument (which is technically a national park), President Obama shared his thoughts, saying "I believe our national parks should reflect the full story of our country, the richness and diversity and uniquely American spirit that has always defined us".