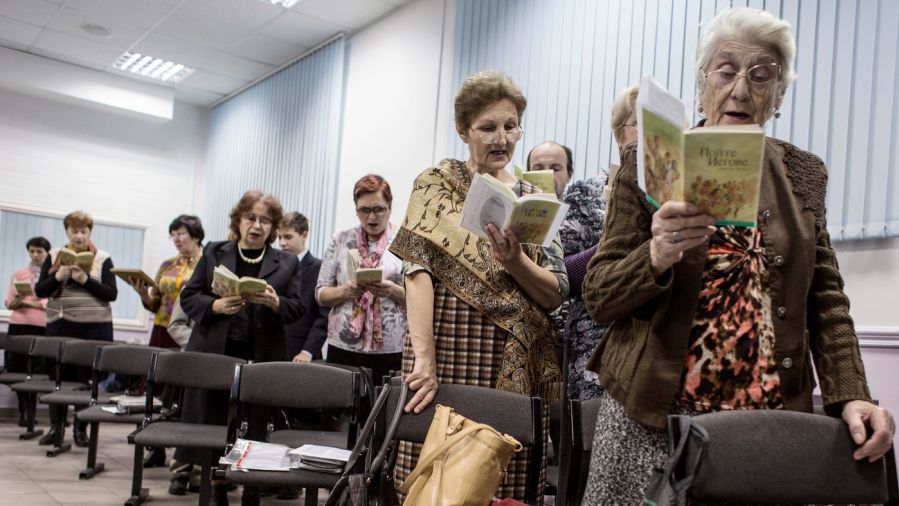 ---
It's a bad time to be a Jehovah's Witness in Russia. The Russian Supreme Court has just upheld a law that effectively bans the faith nationwide. The ruling classifies Jehovah's Witnesses as an "extremist group" that is a "threat to public security." Faith leaders were locked out of their offices, and 395 churches along with all of their assets are at risk of being seized and liquidated by the government. The Kremlin has threatened large fines and jail time for anyone who defies the ruling.
The news shocked the country's 170,000 Jehovah's Witnesses, and sparked fiery criticism from religious freedom advocates. Human Rights Watch called the decision a "terrible blow to freedom of religion and association in Russia."
JW Extremism: A Real Threat?
According to journalists familiar with the issue, this decision has been a long time coming. Over the years, many Jehovah's Witness publications have been flagged by authorities as extremist literature. Prosecutors have long attempted to portray Jehovah's Witnesses as an organization that destroys families, fosters hatred and threatens lives. This has helped to galvanize public opinion against the religion.
While Jehovah's Witnesses are often criticized for being overzealous and treating ex-members poorly, they are not known for committing terrorist acts. In fact, JW's argue that other faith systems are objectively more dangerous than theirs.
Why Would a Government Ban a Religion?
The Soviet Union was notoriously anti-religion (Karl Marx famously called it the "opiate of the masses"). And while the Soviet regime has since become a chapter in history books, hostile attitudes toward certain religions endure.
In reality, though, there may be another force at work beyond a general dislike of religion. Experts say that Jehovah's Witness ban could be politically motivated. In a piece earlier this month, the Washington Post offered some insight into the situation:
The church's 170,000 Russian members don't vote, won't serve in the military and refuse to attend national celebrations that glorify violence. That means they often avoid state-sponsored rallies celebrating, say, the annexation of Crimea. That's a problem for Russian President Vladimir Putin, who is naturally suspicious of groups with pro-Western sympathies (the sect is based in the United States). It's also a way for him to show support to the Russian Orthodox Church.
Fighting Back
Jehovah's Witnesses, for their part, say the Russian government's claims are completely unfounded and are being used as an excuse to outlaw their religion. It doesn't appear the group will be going down without a fight.
"We will appeal this decision, and we hope that our legal rights and protections as a peaceful religious group will be fully restored as soon as possible", said a spokesman.
Turbulence Ahead
Although they are putting on a brave face, many Jehovah's Witnesses throughout the country are afraid for what the future may bring. Not only will they be refused the right to practice their religion going forward, but any church members who defy the order will likely be thrown in jail.
However, Russia's Jehovah's Witnesses are nothing if not resilient. As historian Emily Baran notes:
When the Soviet Union barred religious literature from crossing its borders, Witnesses set up underground bunkers to print illegal magazines for their congregations. When Soviet officials prohibited Witnesses from hosting religious services, they gathered in small groups in their apartments, often in the middle of the night When these actions landed them in labor camps, Witnesses sought out converts among their fellow prisoners.
Takeaways
Ultimately, Russia's actions highlight the fragility of religious freedom. Perhaps the government really does have good reason to believe that JWs present a threat to public safety. However, another scenario is that since church members refuse to exercise blind patriotism, the authoritarian regime has decided they are better off banning the religion entirely. Many are concerned that this may lead to a slippery slope. Are other religions in danger? Only time will tell.
What do you think? Are Jehovah's Witnesses an extremist group?