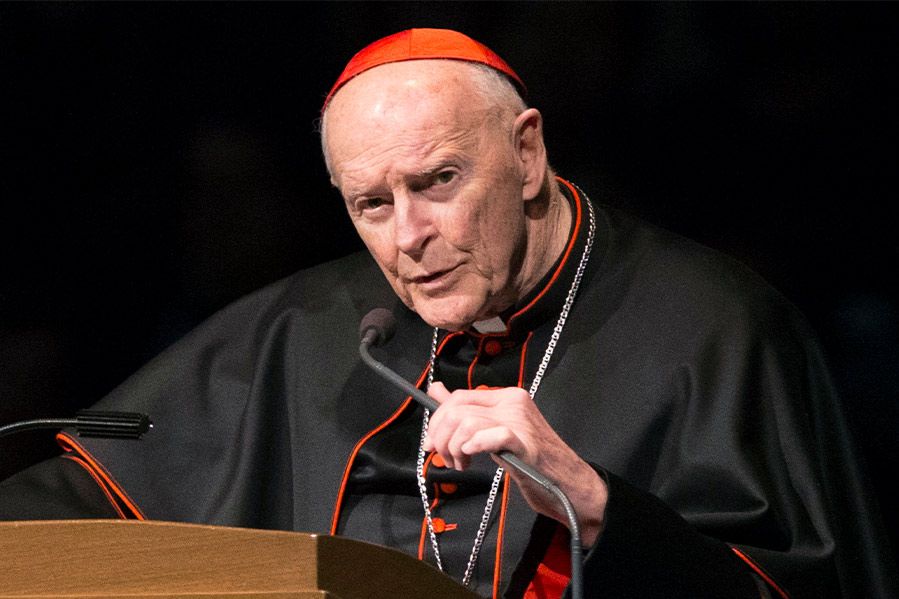 A long-awaited report from the Vatican has just been released, which details serial sexual abuse from a high-ranking cardinal, and a church culture which turned a blind eye. The report was commissioned with the intent of explaining just how the now-disgraced Cardinal Theodore McCarrick ascended to his high rank within the Catholic Church, and one of its most visible figures in the United States, despite decades of credible sex abuse claims.
Their analysis? A shameful series of systemic failures, cronyism, and unwillingness to believe victims that lasted decades.
A Long Awaited Report
The "Report on the Holy See's Institutional Knowledge and Decision Making related to Former Cardinal Theodore Edgar McCarrick" was ordered by Pope Francis two years ago. More than 90 witnesses were interviewed over a two year period, and dozens of documents from the Vatican.
McCarrick's rise through the ranks of the Catholic Church in the United States was ascendant. He was ordained into the priesthood in 1958, and served as president of the Catholic University of Puerto Rico during the late 1960s.
Throughout the 70s and 80s, he received a number of increasingly important appointments; From the Auxiliary Bishop of New York, to the Bishop of the Diocese of Metuchen, New Jersey, to Archbishop of Newark. Finally, he was installed by Pope John Paul II as Archbishop of Washington D.C. in 2000, and finally given the rank of cardinal in 2001.
And every step along the way, abuse allegations were made - and ignored.
Disturbing Allegations
The report details that as late as 1986, well into his rise within the church, the Vatican had no "credible information" regarding misconduct by McCarrick. But in 1992 and 1993, the U.S. Conference of Catholic Bishops received anonymous letters accusing McCarrick of pedophilia.
There were reports of a 'sex ring' at his New Jersey beach house. And he was also the subject of numerous complaints about unwanted touching of pre- and post-pubescent boys throughout the 1990s, as well as holding inappropriate sleeping arrangements with his subordinates in the church, who felt pressured to acquiesce to his demands lest they lose their job.
The report says that Pope John Paul II received a letter from the Archbishop of New York, Cardinal John O'Connor, in 1999, detailing the various allegations against McCarrick, as the pontiff considered McCarrick for the position of Archbishop of Washington.
O'Connor implored the pontiff to reject McCarrick. Pope John Paul II initially declined McCarrick for that position, but then reneged after receiving a letter from McCarrick himself emphatically denying the claims. Of course, Pope John Paul II and McCarrick had known each other since the 70s, and "McCarrick's direct relationship with John Paul II also likely had an impact on the Pope's decision-making," per the report.
Pope Benedict XVI was also aware of the allegations against McCarrick, but dismissive of them, in part because McCarrick swore on his "oath as a bishop" that he'd engaged in no wrongdoing. But later Benedict requested McCarrick retire "for the good of the Church" after learning of a 1994 letter detailing abuse, opting not to hold a very public canonical trial as some suggested.
Instead, McCarrick quietly retired, but maintained his lofty status within the church and acted in a number of roles post-retirement.
The report largely absolves Pope Francis of any responsibility, but even that is in dispute. Archbishop Carlo Maria Viganò says that he personally spoke to Pope Francis in 2013 and informed him of Cardinal McCarrick's serial abuse, and yet Francis made McCarrick his "trusted counselor" despite knowing "from at least June 23, 2013 that McCarrick was a serial predator. He knew that he was a corrupt man, he covered for him to the bitter end."
Plenty of Blame to Go Around
At best, the report paints a picture of a Vatican bureaucracy that is completely unwilling to investigate claims of abuse against high-ranking officials, with blind eyes at every turn. At worst, it could be argued that by not removing or otherwise investigating McCarrick, those at the top are complicit in his heinous crimes.
McCarrick was dismissed from the clergy in 2019 after yet another abuse allegation, this one dating back to the 1970s. He remains the most senior church official to be laicized in the church's modern history.
Yet, one question remains: Why? Why were allegations ignored for decades?
Some critics allege that it comes down to money. McCarrick helped found the Papal Foundation, a major fundraising arm of the Vatican. He was well known as a talented fundraiser for the church and the papacy, and was close with many top donors.
The report claims that McCarrick's great skill for fundraising "weighed heavily," on his upward trajectory, but it didn't determine it outright.
What didn't weigh heavily, apparently, was his documented history of sex abuse.