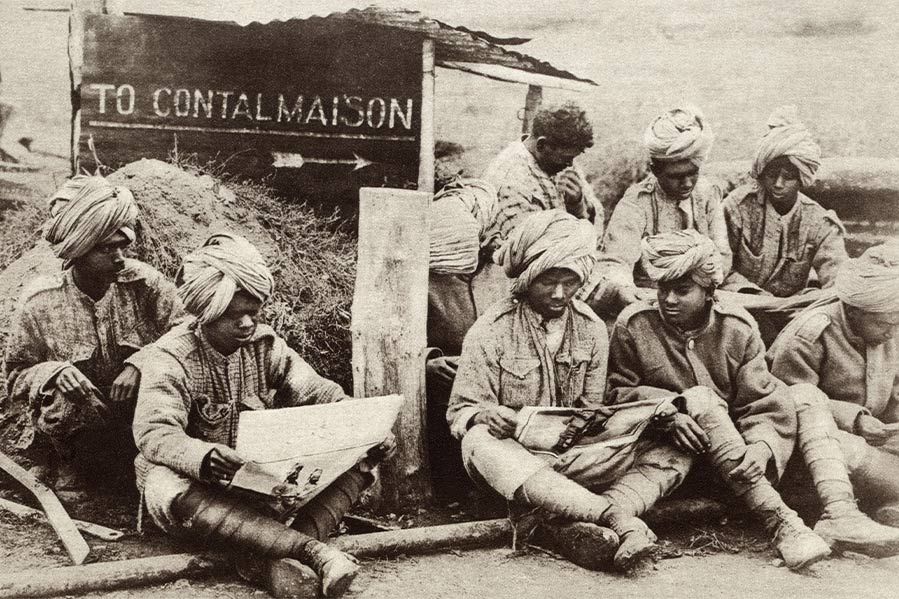 Today is Armistice Day (now known as Veterans Day), which was originally created to mark the end of World War 1.
Over 100 years after the Great War's end, as America and other countries honor their veterans, some faith groups are still battling for recognition that they too fought and died for Europe and America. And historians believe that a more thorough understanding of the faith makeup of WWI soldiers can help battle modern prejudices.
One group fighting for acknowledgment of Muslim contributions towards the war effort is Forgotten Heroes 14-19 Foundation. Through extensive research of primary sources like letters and field reports, they've put together as thorough a record as possible of the Muslim effort for the Allies.
They found that more than four million Muslims around the globe either fought or worked as laborers in World War I.
There are also numerous firsthand accounts of Christians, Jews, Muslims and other faith groups sharing their beliefs and culture in the trenches. And the efforts of "chaplains, priests, rabbis and imams went out of their way to learn, Arabic, Hebrew, English and French, in order to accommodate religious burials of the dead on the battlefront."
100 years later, they hope that highlighting the great effort of Muslims across the globe can help tear down barriers today. The report notes that "Many far-right activists and sympathisers in Europe say, and believe, 'Muslims have never done anything for us.' The truth is one which they can't deny. They (Muslim soldiers) made the greatest sacrifice. They died for you too. Hundreds of thousands of them."
Forgotten Soldiers
Individuals of all faith backgrounds fought for the Allies during WWI. Sikhs, for example, fought bravely in both World War I and II for the British Indian Army. Known as the 'Lions of the Great War', they made up about 35,000 of the roughly 161,000 troops of the Indian Army, despite being only about 2% of the population.
Sikhs bravery in battle and penchant for heroics proved to be a major boon for the British, so much so that they went out of their way to set up Sikh Temples on the battlefield. Sikhs also faced difficulties other faith groups didn't. They "fought disease, filth, [and] gas attacks... with only their turbans to protect them from head wounds and their unshorn hair and long beards, as prescribed by their religious faith, in disease infested, muddy trenches."
And in the Great War, hundreds of thousands of Jewish people fought for the Allies. Roughly 250,000, in fact, fought for the United States, double that in the Russian Army, and about 40,000 for the British.
Jewish diplomats and organizations played critical roles in peace negotiations. Their participation and sacrifice also helped grant them a wider acceptance within American culture. "Before World War I, most Americans saw Jews as an alien population," JewishBoston writes. Their participation in the war brought them from "immigrants" to "Americans".
A Global Faith Effort
As the 14-19 Foundation hopes to show, 20th-century warfare was not fought just by Christians. Hundreds of thousands of non-Christian American and European men and women fought and died for their respective countries. And yet, their contributions to the war effort have largely been ignored or forgotten by history.
"The way [World War I] is taught currently is very European-centric," says Hayyan Bhabha. "The history that is taught doesn't show the true diversity of everyone that took part in the First World War."
They're fighting to change that.
In 1919, the first Armistice Day was observed, celebrating the end of World War I. In 1954, President Eisenhower signed a bill into law that officially made November 11 a federal holiday to honor all veterans - and thus the holiday was renamed Veteran's Day.
This Veteran's Day, let's make sure we honor the sacrifice of all soldiers who lost their lives.