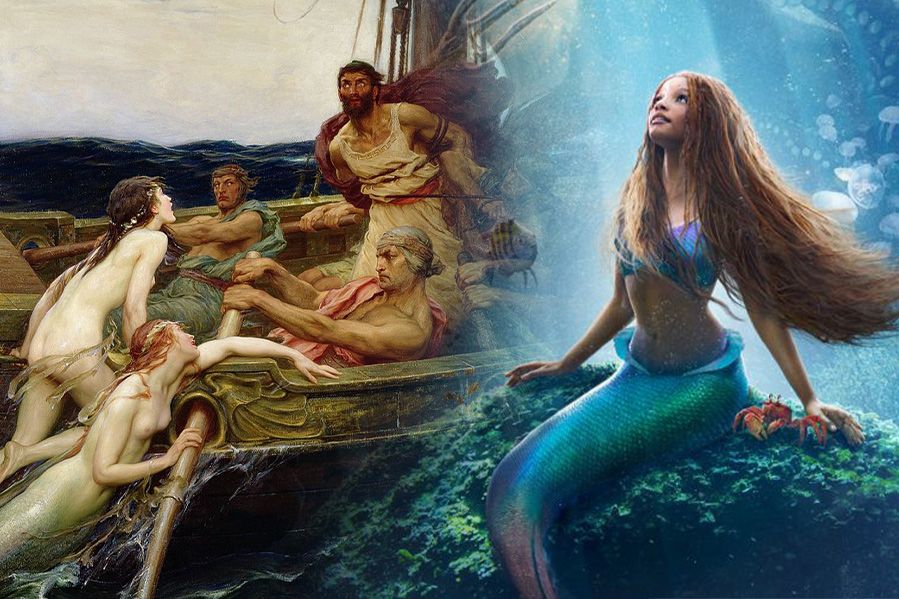 A new version of The Little Mermaid debuts in theaters this weekend, amid ongoing controversy over the choice to cast a black actress as Ariel.
Halle Bailey stars in Disney's live-action remake of their animated 1989 classic of the same name. After a teaser trailer was released in September 2022, many fans expressed excitement over a new version of the popular film.
However, the reaction from some fans was extremely negative. The trailer alone received over a million "dislikes" on YouTube.
What Color Should a Mermaid Be?
Many critics seemed upset about Bailey's casting, calling it a sort of "blackwashing" of the original film, which featured a white Ariel. 
"Disney should of (sic) just left the little mermaid alone. Stop being lazy and come up with new characters instead of messing with beloved original movies. There was no need to change Ariel's identity," wrote one online reviewer.
Other reviewers took a different approach, calling it an illogical depiction of mermaids.
Radio host Matt Walsh argued that it's simply not scientifically possible for a mermaid who lives under the sea to have black skin. Realistically, he said, the creature should be completely translucent. 
(Fans of the movie note that this is a musical about singing sea creatures performing choreographed song and dance routines, which, by most accounts, is also not based strongly in scientific reality).
Other critics point out that a black mermaid is simply not accurate to the original 1837 fairy tale penned by Danish author Hans Christian Andersen.
In the original story, the young mermaid is described by Andersen as having "skin as soft and tender as a rose petal, and her eyes were as blue as the deep sea," which most have interpreted as white.
So that's where the story originates. But what about mermaids themselves? Where do they come from?
It turns out the legend of mermaids goes back much further.
All Greek To Us
Many experts say mermaids can be traced back to ancient Greek mythology. The ancient Greeks wrote of figures called sirens – seductive but dangerous creatures who lured unwitting sailors to their doom.
Sirens first appeared in Homer's Odyssey as mysterious island figures who sing beautiful songs intended to bring sailors off their chosen course and into their trap. In The Odyssey, Odysseus has his crew plug their ears with beeswax in order to resist their siren song.
Although their physical appearance went undescribed in The Odyssey, ancient Greeks later depicted them as creatures having the body of a bird and the head (and sometimes torso) of a beautiful woman. These enticing figures, it was said, perched upon rocks offshore, and sang their song to lure sailors into fatally smashing their ships on the crags.
Over time, the sirens slowly transformed in myth from birdlike creatures into beautiful women with the tail of a fish in place of legs.
Mermaids Around the World
So did ancient Greeks create the mermaid? Not so fast – some historians say the origins of mermaids can be traced back even further than the Greeks.
They point to an ancient Assyrian myth where a goddess named Atargatis flings herself into a lake over her shame over an illicit love, only to emerge with her face and head unchanged but now with the body of a fish. 
But that's not all. Similar tales of mermaids can be found in various cultures and religions around the world. 
Africa
West, Central and Southern African peoples recognized a water spirit known as Mami Wata (Water Mother). Mami Wata is often depicted as a mermaid-like figure with a woman's upper body, and the lower body of a fish or a snake. 
East Asia
Legends in some Japanese and Chinese cultures tell of sea-dragons and their dragon-wives, which are sometimes depicted as a figure similar to a mermaid. Meanwhile, in Polynesian mythology there exists a god named Vatea who was believed to be half human and half porpoise. 
India
Meanwhile, Hindu and Buddhist cultures in India worshiped a group of water-gods called the Asparas – commonly described as water-nymphs that played musical instruments. 
A Mermaid in the Bible?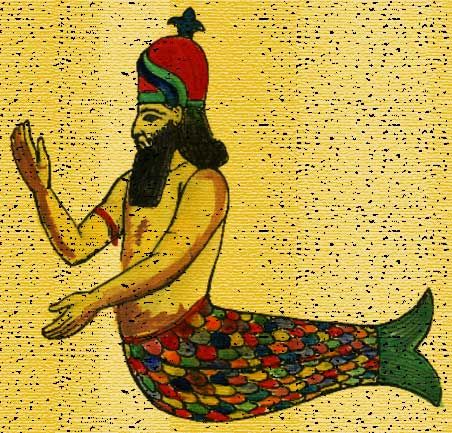 You may be wondering if mermaids ever made their way into the Bible. The answer is... well, sorta. The word "mermaid" appears zero times in the Bible's text. However, if you look to the story of Samson in the book of Judges, you'll find reference to Dagon, the chief god of the Philistines.
The Philistine leaders bring Samson to a temple to sacrifice him to Dagon, only for Samson to regain his strength through prayer and destroys the temple, killing himself and the thousands of Philistines inside.
Interestingly, Dagon, a fertility god who is oft-described as a provider of both wheat and fish was regularly depicted in art as half-man and half-fish... a veritable merman! 
Whale of a Tale
Whatever their true origins, mermaids have remained an enduring myth into the modern era, showing up time and again in historical writings and entertainment.
Christopher Columbus himself reported sighting mermaids on his sailing journeys in the Caribbean.
Later, 19th century hoaxter P.T. Barnum prominently featured the "Fiji mermaid" in his sideshows across America. It was totally a real mermaid, he reassured audiences, and definitely not a dried out monkey carcass hastily sewn to a salmon's torso (spoiler: it was the latter).
Many historical mermaid sightings were likely manatees or seals, experts say. But even into the present day, sailors around the world continue to report mermaid sightings on the open ocean. 
Do you believe mermaids (in some form) ever could have really existed? What do you make of the controversy over the new film?