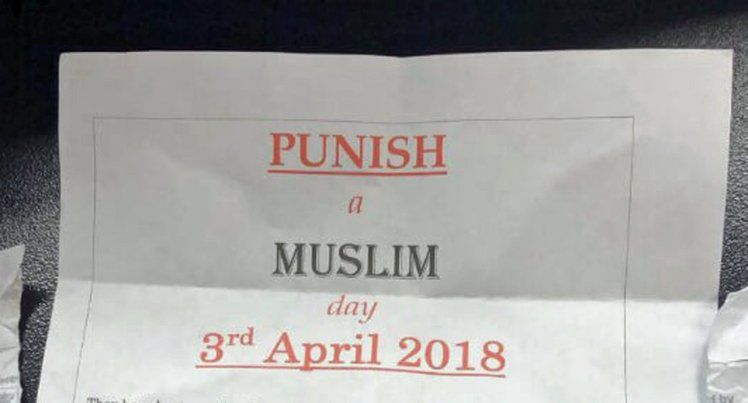 ---
Copies of an anonymous letter declaring April 3 "Punish a Muslim Day" have generated waves of anxiety in Muslim communities throughout the United Kingdom.
Arriving on doorstops and in mailboxes of numerous Muslim homes, the letters rant against lax European immigration policies and warn of the dangers posed by Muslim immigrants:
"They have hurt you, they have made your loved ones suffer. They have caused you pain and heartache. What are you going to do about it? Are you a 'sheep' like the vast majority of the population? Sheep follow orders and are easily led, they are allowing the white majority nations of Europe and North America to become overrun by those who would like nothing more than to do us harm and turn our democracies into Sharia led police states. Only you can help turn this thing around, only you have the power. Do not be a sheep!"
Even more shocking, the letters also include a table awarding point values for specific acts of violence against Muslims: 25 points for pulling off a woman's head scarf, 500 for killing a Muslim person, and 1,000 for bombing a mosque:



"Punish A Muslim Day" letters are being sent to families in East London. The letter details a point system for each action & a reward. For example pulling a Muslim women's hijab is 25 points, throwing acid is 50 points and burning or bombing a mosque is a whole 1,000 points. pic.twitter.com/6kmCrDrXt0


Rowaida Abdelaziz (@Rowaida_Abdel) March 9, 2018
Standing Up to Hostility
The letters have stoked fear amongst Muslims in the U.K., many of whom say they're worried about the safety of their families. The London Metropolitan Police have warned all citizens to be vigilant while counterterrorism officials investigate.
However, not everyone is worried about the threats.
Riaz Ahmed, a politician from Bradford, West Yorkshire County, received one of these unmarked letters in a plain white envelope at his business address.
"My guess is that the letter was meant to terrorize and cause discord within the various communities," he explained. "But we tend to rise above that in Bradford; we are very, very proud. I came to this country when I was 12 years old from Pakistan. I've seen far worse."
Bradford was one of six communities in England on the receiving end of what appears to be the coordinated effort of white supremacists looking to exploit a rising wave of anti-Muslim sentiment. Individuals in Birmingham, Cardiff, Leicester,Londonand Sheffield all reported receiving identical copies.
'Love A Muslim' Response
Shahab Adris, a Muslim man living in the U.K., was disheartened by the show of hate and decided to craft a creative response. He penned his own letter declaring April 3 "Love a Muslim Day," even including point values for uplifting acts like "smile at a Muslim" and "invite a Muslim into your home."



On the 3rd April, don't listen to the bigots and their "Punish a Muslim" day, instead let's show that our communities won't be divided, that hope is better than fear and we have more in common. #LoveAMuslimDay https://t.co/YhPXBMb403


Thelma Walker MP (@Thelma_WalkerMP) March 12, 2018
"As a Muslim, we're always wanting to bring people together and love everyone regardless of their background - it could be love a Jew day, love a Christian day, love an atheist day, love a human day," Adris said.
Hate Crimes on The Rise
According to recent crime statistics, not everyone views Islam in such a positive light. Though Muslims make up just 4.4 percent of the population in the U.K., they are victims of a disproportionate amount of hate crime. In fact, the number of hate crimes directed toward Muslims rose 29 percent in past year alone.
Perhaps partly due to an uptick in Islamic terrorist attacks, the situation in the U.K. has become increasingly fraught. Far right anti-immigrant groups have seized the opportunity to spread fears of an impending Muslim takeover.
Similar issues are popping up in the U.S., too. According to the FBI, hate crimes against Muslims soared in 2016, surpassing the previous record set in 2001.
Even world leaders have been unable to avoid controversy surrounding the issue. In a now-infamous incident late last year, President Trump re-circulated a video that purportedly showed a Muslim teen assaulting another individual. Ironically, however, it turned out to be fake news.