On Tuesday, Pope Francis arrived for his first-ever visit to the United States. The popular pontiff has a number of events scheduled during his five-day stay, which includes stops in Washington D.C., New York, and Philadelphia. Pope Francis made history on Thursday by becoming the first pope to make a speech in front of a joint session of Congress. Even more notable, however, are the issues on which he spoke and the stances he took. The pontiff touched on a number of controversial issues, including advocating for liberal immigration policies, pleading for an end to the death penalty, and urging action on climate change. His powerful message was not lost on Congress he received rousing applause at times, and even brought Speaker of the House John Boehner to tears.
A Divisive "People's Pope"
However, his message underscored an ongoing conflict between the religious right and the increasingly liberal head of the Catholic Church. Widely dubbed the "people's pope", Pope Francis has become famous for his departure from rigid Catholicism and his penchant for voicing progressive views on social and economic issues. This papal departure from the norm has forced many republicans in the U.S. to reevaluate their views on Vatican-endorsed policies. The complexity of the clash between religious and political values was clear during the Pope's address on Thursday. Caught between admiration for the most prominent figure in the Christian world and adherence to their deep-seated conservative ideology, many republican members of Congress had mixed reactions to Pope Francis' address, especially the section of his speech relating to climate change.
Pope Francis Brings Heat to Conservatives on Environmental Policy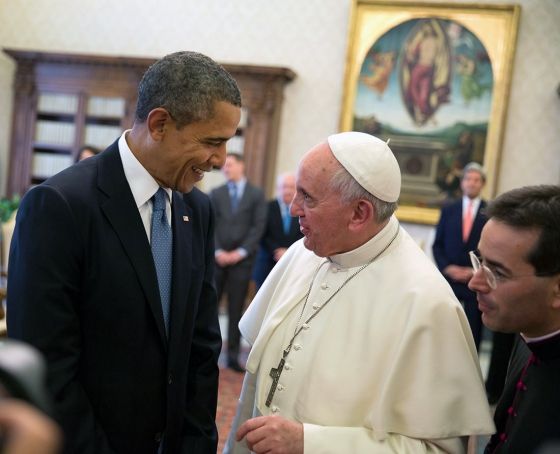 The conflict over environmental policy came to a head back in June, after Vatican leaders released Pope Francis' encyclical calling for action on climate change. Since that release, a number of republicans have issued public statements disagreeing with the pope's environmental policies. Among the most notable was Jeb Bush, who in June stated that "I don't get economic policies from my bishops, my cardinals, or my pope". The strongest reaction from Thursday's address may actually have been from Republican Senator Ted Cruz, who blatantly told POLITICO that the pope is wrong about abolishing the death penalty. What do you think? Are republicans right to disagree with the pope?
Should the Pope Put His Money Where His Mouth Is?
As for economic issues, Pope Francis has continuously made headlines by denouncing exorbitant wealth, interacting with the poor, and advocating for their well-being. However, some people view Pope Francis' calls for economic justice as hypocritical. It is well known that the Vatican is immensely wealthy; bankers estimate its assets to be worth at least $8 billion dollars. However, these are just estimates. In fact, it's nearly impossible to know just how rich the Vatican is. While the pope has publically urged world leaders to enact policies to stem the accumulation of wealth at the very top, the Vatican itself is sitting on an untold number of assets, including gold reserves, real estate holdings, and a myriad of profitable investments. With this vast treasury at its disposal, the Vatican has more than enough money to cover its expenses and then some. Yet, there has been zero effort to distribute any of this extra wealth to the poor. Surely Pope Francis has good intentions, but the question must be asked: why doesn't the Vatican put its money where its mouth is?