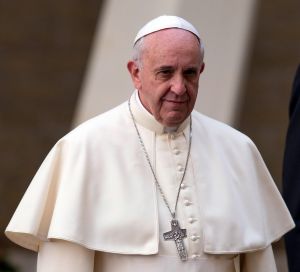 In an age where society's attitudes are constantly evolving, traditional institutions such as the Catholic Church are struggling to keep up. Last Friday, Pope Francis published a highly-anticipated paper about Catholic values. Based on over two years of discussions among higher-ups in the Church, the document touches on various important family and social issues. In the lead-up to the publication, Vatican insiders released several small leaks indicating that a "more open" stance was likely to be outlined. Rumors swirled that Francis would take a more progressive stance on same-sex marriage, as well as make some exceptions toward the use of artificial birth control (perhaps in response to the Zika virus outbreak). However, these rumors turned out to be entirely false. If anything, the release of this paper only showcased the Catholic Church's inability to evolve quickly enough.
Divorce? Understandable. Gay Marriage? Not On Our Watch.
In his writing, Pope Francis urged pastors to remember that family relationships are incredibly complex, and to exercise grace when dealing with divorce (which is a sin according to Catholic teaching). The paper also declared that people who remarry after divorce should be "more fully integrated" back into their communities of faith. As for gay marriage, however, Pope Francis went on to reaffirm that under no circumstances does the Catholic Church support marriage equality. Although he asserted that everyone should be treated with dignity and respect, the pope made his position clear, stating that gay marriage is not even "remotely analogous to God's plan".
Attempting to Grow

Despite the hard-line stance taken on same-sex marriage, for the most part Pope Francis called for less judgment and more love. The Church recognizes that it must become more inclusive and accepting of contrasting viewpoints. Pope Francis specifically noted that "by thinking that everything is black and white, we sometimes close off the way of grace and of growth". While conservatives appeared content with the overall message, liberals around the world voiced their disappointment that Pope Francis did not offer a more sweeping message of inclusion. Every organization needs strategies for growth but is the Church doing enough to encourage new membership?
Keeping Up With the Times
Statistics show that fewer and fewer people are attending regular church services these days and the pope's tone indicates that the Vatican has taken notice. There are a variety of factors involved in declining church attendance, of course. However, many of the complaints volleyed at the Church center around it being stuck in the past and unwilling to compromise on its traditional values. No matter what side of the issue you fall on, it's hard to deny that there are significant barriers to acceptance in the Catholic Church and not everyone perceives these barriers to be morally fair. For example, both divorce and homosexuality are considered sins under traditional Catholic teaching. However, in his paper Pope Francis decided to make a significant concession to divorced people, while offering nothing to gay couples hoping to have their marriages recognized in the eyes of the Church.
Hard Questions
Such a message inspires tough questions for the Church, such as: how is a toxic heterosexual relationship that ends in divorce more "analogous to God's plan" than a happy, long-term homosexual relationship? Procreation is certainly important, but its difficult to defend the notion that a broken home is better for society than a home built on a healthy relationship. And yet, the Church refuses to acknowledge this idea. It's obviously a touchy subject, but history (and polling) indicates that same-sex marriage will only become more widely accepted as we move into the future. So, what do you think? Should the Catholic Church stick by its traditional values and risk being on the wrong side of history, or should it try to become more inclusive?