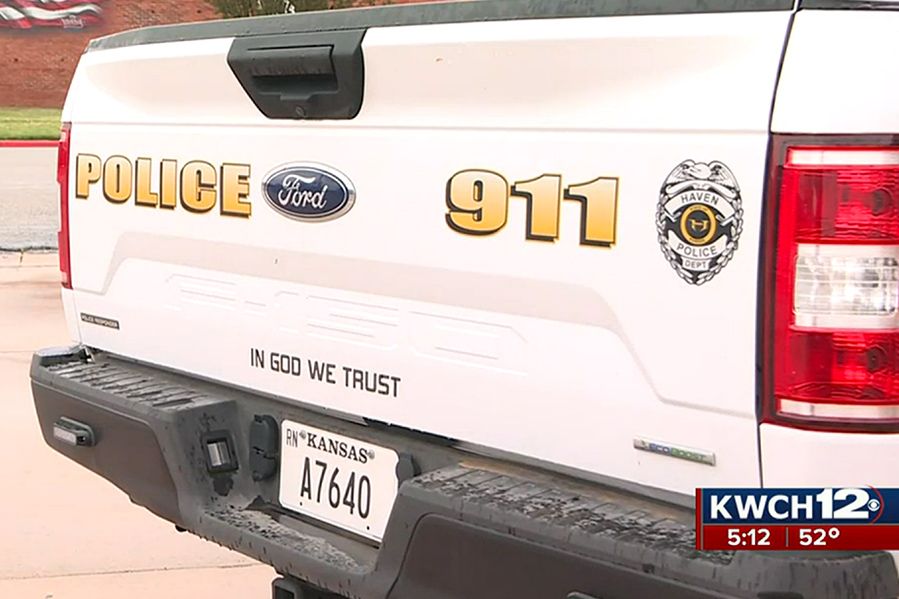 Earlier this month, the city council in Haven, Kansas politely asked their local police department to remove 'In God We Trust' decals from their police vehicles.
The request came courtesy of city council member Sandra Williams, who said a concerned citizen brought the decals to her attention. She also insisted that the department stop posting scripture on their social media channels.
Police Chief Stephen Schaffer honored the request, and removed the decals from the vehicles as asked.
But then, the community revolted. And in a bizarre turn, the city's now re-applying the removed 'In God We Trust' decals to police vehicles – so long as those of other faiths (or no faith) can get their own decal on police vehicles, too.
As you might imagine, everyone from atheist activists to Satanists are chomping at the bit to get in on the action.
Could 'In Atheism We Trust' be coming to Kansas cop cars?
To Protect and Serve... Who?
The controversy centers around whether religious messages should be displayed on government vehicles – particularly public servants with as much community interaction as police have.
Police cars are not "the forum to be talking about God," argued Councilwoman Williams in a May 2nd meeting, kicking off a unanimous vote to remove the decals that would turn out to be a very controversial move.
But the local community revolted, and a city council meeting just weeks later was packed with angry citizens.
Mayor Adam Wright almost immediately backtracked the decision, telling a local paper that "there should have been probably a little more discussion." He said he personally agrees with the decals, and that police "have to put their trust in something else besides human aspects."
According to a local reporter, the fallout from removing the 'In God We Trust' decals was so massive that community members even expected some council members to resign.
After what was undoubtedly a lively debate, the council voted 3-2 to reinstate the Christian decals. But the three 'yea' votes were conditional on one term: any faith (and groups with no faith at all) can apply to get their own decals put on police cars. 
With those three votes, the floodgates are potentially open.
In ______ We Trust
Activists say the original decals could be construed to mean that the local police department is there to protect and serve only Christians – and they've got an idea for how to change that. 
The group American Atheists has already said it intends to send the city pro-atheism decals.
Similarly, the Freedom From Religion Foundation will also be sending atheist decals to Haven.
A Satanist group said they're currently deciding on which eye-catching 'Hail Satan' decal they'd like to see emblazoned on this rural Kansas town's police cars.
But that is potentially only the beginning. As the story takes off, other religious groups around the country might just decide to get in on the action.
Will Haven police cars soon be looking like Nascar vehicles, but with religious symbols instead of company brands? It's possible.
On one hand, it seems only fair that if the government promotes one faith on public property, it should be prepared to promote all faiths and no faith at all too – even if the local community is overwhelmingly Christian.
On the other hand, 'In God We Trust' is the official motto of the United States, and is emblazoned on our currency. Is there an argument to be made that that particular phrase is baked into the fabric of American life itself, and thus enjoys greater privileges than other religious sentiments?
What do you think?