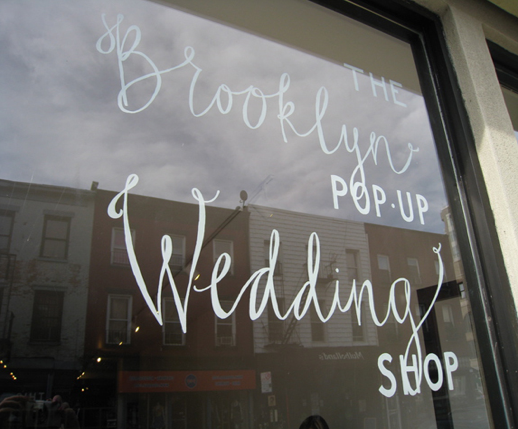 "It's Vegas -- the New York way."
It is a pop-up wedding shop hosted by 303Grand; a unique Brooklyn, New York retail space that caters to artists and organizations wishing to create a pop-up store or experience with "minimal time or budget commitment."
The retail property 303Grand is operated by Street Attack, a digital marketing agency which is proud to announce the June Wedding Series located at the 303Grand retail property.
A similar pop-up shop, Wedding Chapel is being funded by bookings, donations and sponsors who must raise $3000.00 dollars by July 1st to guarantee a successful venture. Each of these month long events will be back to back, from June through July; given Wedding Chapel reaches their fundraiser goal.
The 303Grand and Wedding Chapel will provide a live internet stream from the event, Universal Life Church wedding officiants, seating for up to 20 people, staff photographer, karaoke and even a rent-a-bride or groom!
In partnership with Martha Stewart Weddings and The Wedding Library, 303Grand has already begun their part of the wedding series. They are hosting wedding themed events such as; a wedding photography exhibit sponsored by The Wedding Library, as well as "The Look"; which is a showcase and retail pop-up shop featuring custom wedding accessories, dresses, lingerie, free manicures and make-up trials in addition to special Martha Stewart Weddings.
If you too are looking to conduct an affordable wedding ceremony, we too offer many recession-proof services for your family, friends and loved ones.
Please take advantage of the following:
Free Minister Ordination
ULC Guide to Performing a Wedding
ULC Certificate of Marriage
Baker's Wedding Hand Book
Be sure to share your wedding story with us by submitting photos and video footage!