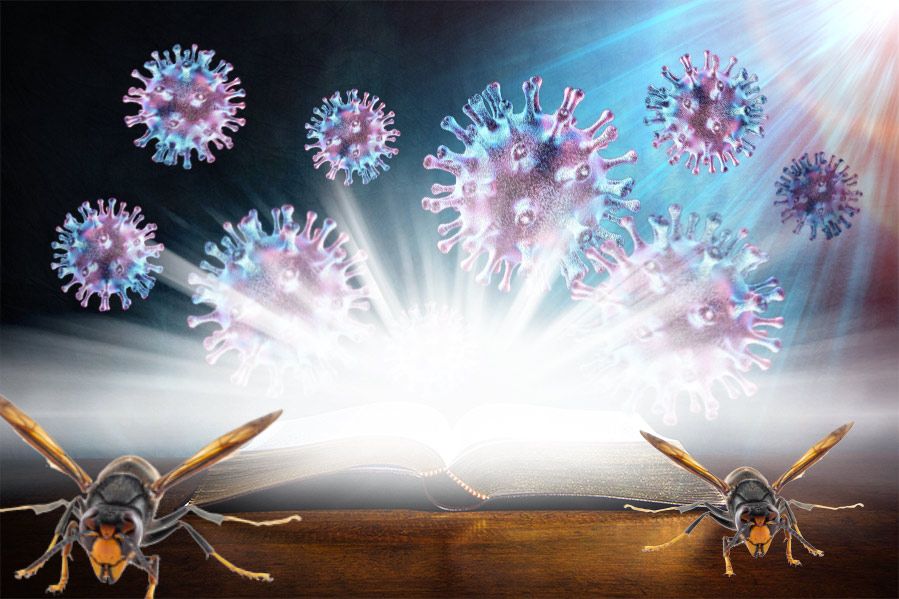 Between a global pandemic, economies on the brink of collapse, and Netflix introducing the world to Joe Exotic and Carole Baskin on Tiger King, we thought 2020 couldn't get any worse. And yet, now we're hearing reports of so-called 'murder hornets' reaching US shores. All this modern misfortune is very reminiscent of some very old biblical punishments.
The Old Testament tells the story of ten plagues set upon the Egyptians by God as retribution for enslaving the Israelites. And as the world tries to make sense of the ongoing coronavirus outbreak, some religious leaders have drawn comparisons to this biblical tale, arguing that Covid-19 is no ordinary disease – but instead part of a larger divine punishment for humanity's sins.
Adding fuel to that fire, over the weekend researchers announced a frightening discovery: the arrival of Asian giant hornets in the United States, a deadly insect plague for the modern era. These nightmare-inducing insects can grow up to 2 inches long and are better known by the name "murder hornets". 
A "Plague of Locusts" for a New Age
Researchers are baffled as to how, exactly, the murder hornets made their way to the west coast of the United States. Several different colonies have already popped up in Washington State, and experts warn the hornets could soon spread to other areas.
Their alarming nickname comes from their incredibly painful (and sometimes deadly) sting that kills up to 50 people a year in Japan. And their stingers - longer than your average bee's - can even pierce through beekeeper's suits.
The hornets also prey on honeybee populations, leaving scientists worried they could decimate fragile ecosystems that rely on bee pollination. They can decimate a hive in a matter of hours as they behead the adults and eat the pupae.
Their sudden arrival has researchers worried about the massive threat they pose to both bee colonies and to human beings.
Insect plague out of nowhere, deadly pandemic… it's all starting to sound a bit biblical. And some are saying that's not coincidence.
Heaven-Sent Punishment
Many prominent religious leaders have already said that coronavirus is a punishment from God for sin.
Pastor Perry Stone of Voice of Evangelism ministries recently said that coronavirus was a punishment from God for legalized abortion and legalized gay marriage.
Rick Wiles, senior pastor at Flowing Springs Church in Vero Beach, California said that "God is about to purge a lot of sin off of this planet" with coronavirus. According to Wiles, coronavirus is heaven-sent punishment for "transgendering little children," "sexual immorality," and "the filth on our TV and movies." Wiles' online webshow has repeatedly received press credentials from the Trump Administration.
And Robert Jeffress, who is on President Trump's Evangelical Advisory Board, said that coronavirus isn't explicitly an end-times plague, but that "all natural disasters can ultimately be traced back to sin." So not the end-of-days wrath of God, just your run-of-the-mill, everyday type of wrath of God.
Angry God or Just Coincidence?
So with a host of prominent pastors claiming God is punishing us with coronavirus, it's not hard to see how a plague of giant murder hornets might be interpreted as the 2020 version of a plague of locusts (after all, the sequel's always got to be bigger and better). And that will undoubtedly give more ammo to those who insist that 2020 is more than simple misfortune.
And given that we've only just hit May, there's a whole lot of year left for even more terrible things to happen.
What do you think? Are we just really, really unlucky in 2020, or did we anger a higher power?