The gender you ascribe to God might reflect your attitude about women and sexual minorities, a new study suggests. In particular, it appears that belief in a male god correlates with greater opposition to same-sex marriage, since the latter conflicts with traditional religious assumptions about the natural order of things. Women who work outside the home and seek reproductive health services are also more likely to face opposition from people who believe in a male god, according to the study. But is it really necessary to ascribe God a gender in the first place?
How Beliefs about God's Gender Shape Social Attitudes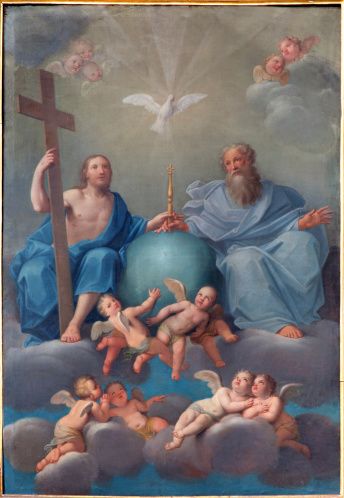 The study was recently published in the Journal of the Scientific Study of Religion and boasts the provocative title "Male and Female He Created Them: Gender Traditionalism, Masculine Images of God, and Attitudes toward Same-Sex Unions". According to the study's findings, "[t]hose who believe God is masculine also hold very traditional views of gender roles", says author Andrew L. Whitehead, a sociologist at Clemson University. Whitehead added that people "who ascribe to a masculine image of God are much more likely to espouse traditional gender ideologies compared to those who do not view God as masculine".
To explore the relationship between "father" gods and social attitudes, Whitehead looked at findings from a 2007 Baylor Religion Survey of 1,648 Americans conducted by the Gallup organization. To define the concept "traditional", he created a gender roles index which measured people's level of agreement with various statements about gender roles. Among these statements were, "A husband should earn a larger salary than his wife", "It is God's will that women care for children", "A preschool child is likely to suffer if his or her mother works", and "Most men are better suited emotionally for politics than most women".
Does God Need a Gender?
Whitehead's findings will confirm the suspicions of many who criticize the heteronormative worldview of patriarchal theologies. He found that people who believe in traditional gender roles created by a male god hold less favorable attitudes to same-sex unions, because they see same-sex couples as subverting these "divinely-ordained" gender roles. This attitude toward same-sex unions is rooted in male domination of women, he explains: "Because God is masculine, and men are a direct representation of God and so receive a certain amount of authority in family life, women are to submit to that authority. Therefore, same-sex unions clash with this understanding of the 'traditional' family and threaten a stable social order, which should, again, comply with the underlying gendered nature of all reality".
In essence, opposition to same-sex marriage, as well as women exercising control over their own destinies, seems to be rooted in patriarchal conceptions of God, Whitehead's study suggests. One might offer that belief in a Goddess would soothe these prejudices against women and LGBT people. Whitehead argues that while research on the effects of belief in a Goddess are scant, it would likely move society in a more "egalitarian direction". Another possibility, though, is to refrain from ascribing God any gender to begin with. That, too, might prove conducive to moving society in a more egalitarian direction, breaking down barriers for women as well as LGBT people. After all, isn't gender a human construct we assign to supernal beings who exist beyond the scope of the human imagination?
It goes without saying that the Universal Life Church Monastery strongly promotes the full equality of women and LGBT people, but we want your thoughts. How much do you think belief in a male god has affected attitudes about the rights of women and sexual minorities? Would a Goddess culture solve the problem, or should we avoid assigning God any gender if we want to live in a truly egalitarian society?
Sources:
Journal of the Scientific Study of Religion
The Huffington Post