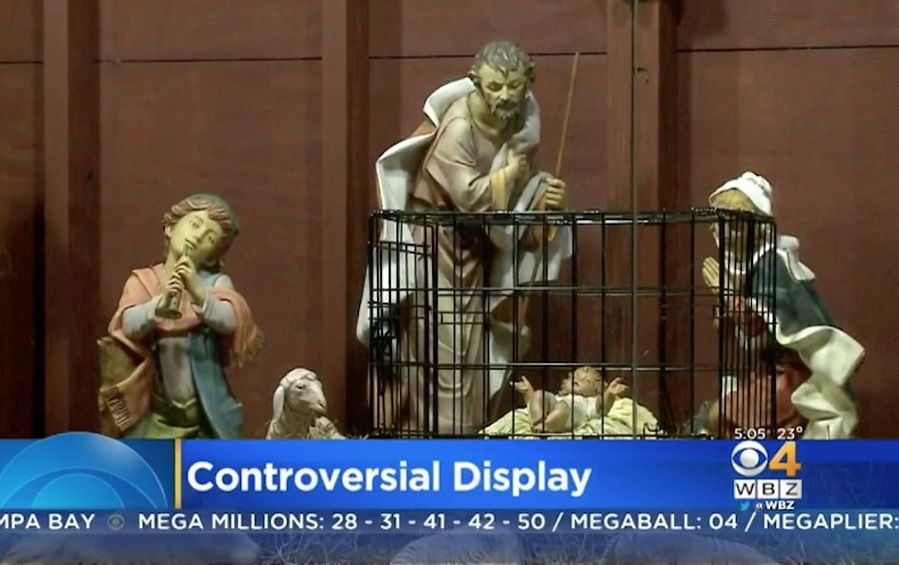 ---
This Christmas, a church in Massachusetts is not just displaying baby Jesus they're locking him up border patrol-style.
Leaders at the Roman CatholicSt. Susanna Parish have created a nativity scene featuring baby Jesus separated from his adoring parents by a black metal cage. They're hoping the unique design will shed some Christian light on America's controversial policy of child separation at the U.S.-Mexico border.
Conservative religious groups soon took issue with the display, arguing it was an unfair parallel to draw and an affront to the spirit of Christmas. But parish priest Steven Josoma was unapologetic in defending the decision. "People think children in diapers getting tear-gassed is OK, but this [Nativity scene] is totally sacrilegious? All we're trying to do is put the two together," he said. "What you do to somebody else is what you do to Christ. You can't separate the two."
Deeply disturbed by child separations at the border, Jomosa explained to reporters that they wanted to do a different take on the classic Nativity scene and "put a mirror image of the world into the stable."
Critics Lash Out
Church leaders say their alternative Nativity scene is more an "affirmation of gospel values" than an attack on President Trump. But not everyone sees it that way - word of the imprisoned baby Jesus spread nationally when it was featured on a popular Fox News program hosted by Sean Hannity. He notified his followers on Twitter about the segment using the headline "CHRISTMAS IS UNDER SIEGE."

The strong wording led some to mock Hannity's sensationalism:
How are you more upset by a church pointing out what's happening at the border than what's actually happening at the border?

jordan (@JordanUhl) December 6, 2018 Hannity eventually deleted the tweet, but the segment still aired on Fox, where it was watched by millions of people. Apparently, Hannity's viewers were equally alarmed by the decision to 'Lock Him Up,' as St. Susanna Parish was soon flooded with phone calls from around the country accusing the church of committing blasphemy. Two parishioners even announced that they were leaving the parish because of the controversy.
Impossible to Ignore
Josoma believes the classic Nativity image demonstrates how people from different countries and social classes can come together. This year's unique depiction - coupled with a blue banner that reads "Peace on Earth?" - is meant to showcase what happens when people find ways to build walls between each other.
And while Josoma agrees cages and walls are out of place in the Nativity scene, including them was precisely the point. It's easy to ignore what's going on hundreds of miles away to people you don't know, he notes. It's much harder when the separation policy is applied to a figure familiar to everyone: Jesus.