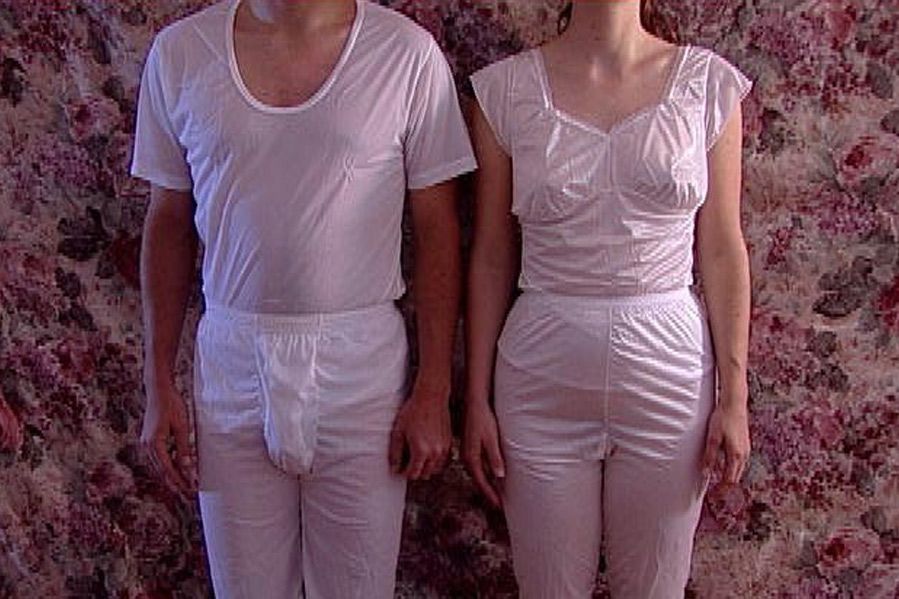 Plagued by everything from chafing, to rashes, to serious infections, Mormon women are finally speaking out about the undergarments they wear as part of their faith in the LDS Church.
Known as temple garments, church doctrine mandates that these holy outfits be worn by both men and women under their regular clothes "night and day." 
However, some women say the garments – manufactured and distributed by the LDS church – are incredibly uncomfortable and that they've been quietly suffering for years. 
Enter Sasha Piton, a Mormon influencer who's leading the charge on a redesign and a fabric change. She's also not mincing words, saying: "my vagina has to breathe."
The question is, will the Mormon Church listen?
A Brief History
Within Mormonism, the temple garments are a symbol of commitment to the church and to Jesus Christ nearly as old as the LDS church itself. Early church president Joseph F. Smith (nephew of founder Joseph Smith) declared Mormons hold the undergarments as "the most sacred of all things in the world, next to their own virtue, next to their own purity of life."
Modern Mormons have lost none of that early zeal for these garments, which have gone functionally unchanged since the 19th century. A 2016 poll found that just 14% of Millennial Mormons believed it acceptable to remove the temple garments if they were uncomfortable.
Designed and manufactured by the church, the temple garments are a simple white two piece cotton or synthetic blend. 
The temple garments, which consist of a white two-piece cotton or synthetic blend, have been derisively referred to by non-Mormons as "magic underwear."
While many LDS church members believe the garments bring them closer to God and provide at least some element of "spiritual protection," few report thinking that their underwear provides any sort of magical benefit. Rather, they can be compared to garments in, well, basically every other faith tradition: a holy tradition that helps one feel closer to one's faith. 
A Prayer For New Underwear
It's clear that Mormon women take the garments seriously. Is it time the LDS church take their complaints seriously in return?
Sasha Piton lists a few changes she'd like to see: "buttery soft, seamless, thick waistband that's not cutting into my spleen, breathable fabric."
Her campaign began after a low-impact hike that nonetheless left Piton with a rash courtesy of her temple garments. She decided then to use her following to hopefully directly influence the church's 96-year-old male president.
The posts have drawn thousands of responses and DMs from Mormon women who reported the garments routinely cause them rashes, pain around the waist, and even chronic yeast infections. Many women also reported wearing traditional underwear underneath their temple garments during their period, because the temple garments can't accommodate something as simple as a pad.
Will They Listen?
Now it's time to wait and see if the church will seriously consider a redesign. As one doctor put it, "How the church responds to this movement is a really interesting litmus test for how much the church is starting to trust women." 
Still, not all Mormon women are super attached to keeping the garments at all. As one woman explains it, "People are scared to be brutally honest, to say: 'This isn't working for me. It isn't bringing me closer to Christ, it's giving me U.T.I.s.'"
These side effects of wearing temple garments virtually 24/7 have led some to question the necessity of these outfits in the first place. They ask: how can someone connect with their faith if one of the requirements is being constantly uncomfortable?
What do you think? Will church leadership listen to the scores of women who say the garments need a redesign to accommodate basic female anatomical needs? And if they don't listen, should women leave the temple garments behind until they do?