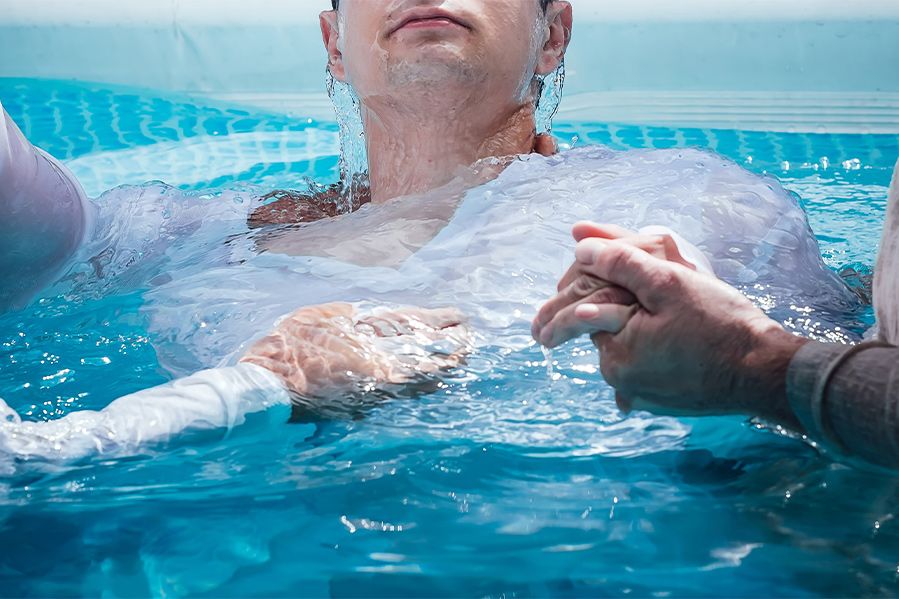 Is it okay to posthumously baptize the dead? What if they don't share your faith?
The Church of Latter Day Saints (commonly referred to as the Mormon Church) apparently sees nothing wrong with it. In fact, they have reportedly been secretly baptizing everyone from Holocaust victims to long-dead celebrities. 
Critics say that these "baptisms" – which occur without the individual present – are incredibly offensive to the dead and their families.
It's particulary insenstive, opponents say, when those selected were known to share very different belief systems during their time on earth.
But LDS leadership says its members are only trying to give the deceased a chance to enter the Kingdom of God, in accordance with the church's beliefs. 
So, is it ethical to baptize the dead?
How Does Posthumous Baptism Work?
Ex-Mormon Helen Radkey is an LDS watchdog, and keeps an eye on the Church's genealogy database. She also reports on posthumous baptisms that she believes don't pass the sniff test.
Per the Church's own policies, they're only supposed to posthumously baptize descendants of living Mormons, but Radkey says they've lapsed in that policy numerous times. 
These baptisms are called "proxy baptisms," where a living Mormon of the same gender as the deceased is baptized in their place.
This proxy baptism then gives the dead the option to enter the Kingdom of Heaven in the afterlife, according to Mormon beliefs.
LDS members view baptizing the dead as a display of love for one's ancestors, and not at all disrespectful or disregarding of the dead's own religious beliefs.
How Long Have These Baptisms Been Going On?
Nonetheless, the practice has proved controversial.
The Mormon Church publicly stopped proxy baptisms for Holocaust victims in the mid-1990s following outrage from the Jewish community. Now, only direct ancestors of current members of the LDS Church can be baptized by proxy... or that's how it's supposed to work, anyway.
In 2012, the Church faced backlash when it was discovered that they had posthumously baptized Anne Frank, re-opening the dialogue on the ethics of posthumous baptism and raising questions about how sincere the LDS Church is about ending this controversial tradition.
According to Radkey, the church has been violating its own policies in the years since, and that it has even resumed proxy baptisms for Holocaust victims who have no direct descendants involved in the Church.
She counts at least 20 Holocaust victims without direct Mormon descendants who were baptized in recent years.
Harmless or Offensive?
LDS leaders say they're doing their best to stop unauthorized baptisms, but with more than 100 temples around the world, some slip through the cracks.
Still, they underline that official policy is not to perform a proxy baptism unless the individual has living relatives in the Church: "Without exception," they wrote, "church members must not submit for proxy temple ordinances any names from unauthorized groups, such as celebrities and Jewish Holocaust victims."
For many Jews, the idea of posthumous baptism of Jewish Holocaust victims is wildly offensive. To many, it recalls old threats in Nazi-era Germany that Jews should convert to Christianity – or else. 
"It smacks of a certain sense of proselytism," explains Rabbi Moshe Waldoks. "If you can't get them while they're alive, you'll get them while they're dead."
All Celebrities Go to Heaven
Holocaust victims weren't the only ones getting baptized by the LDS Church. Celebrities like Marilyn Monroe and Humphrey Bogart were also baptized by the Mormon Church. So were world leaders, such as Queen Elizabeth II. 
Baptisms were even proposed – but ultimately declined – for mass murderers like Charles Manson and Stephen Paddock, the gunman who killed dozens in Las Vegas in 2017.
"It's important to say that in some ways it's meaningless," Rabbi Laura Baum says. "But it's also religiously arrogant. I think words matter. Their doing their rituals could be insulting to the families of people whose relatives are being baptized. In the case of people who died during the Holocaust, they were killed because of their religious identity, and now another group is confusing the story."
Some say posthumous baptism is simply a religious tradition meant to show respect to the dead. And after all… they are dead. How much harm can it do?
But many find the idea of baptizing someone – especially an individual not of that faith – an offensive and arrogant display of moral superiority by a religious organization.
What is your take?