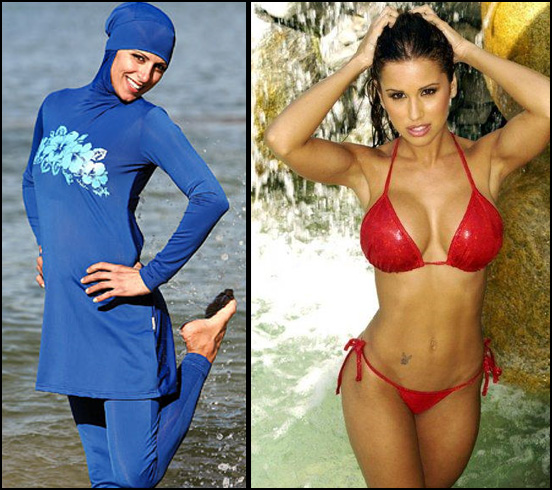 ---
Women's fashion has a complicated history. Traditionally, until about the 1920s, the norm was for women to be very modest. When the flappers started showing much more of their legs than previous generations, their parents and grandparents were shocked. Then came the rise of the mini-skirt during the 60s, which was also met with astonishment. Throughout history, women have worn every length of skirt imaginable yet society never fails to take issue with some aspect of their attire. We tend to judge a woman's modesty based on her clothing choices, but nobody can agree on what is "acceptable" and what is not. Even in 2016, debates abound on what women ought to wear when at school, at work, or even on the beach. Let's look at a few examples.
School Dress Codes
Dress codes are strictly enforced in our schools. In the classroom, school administrators regularly scold female students regarding their attire, claiming that it's a distraction to the male students. Many schools have a policy of taking girls out of class to make them change their clothes if their outfit is deemed to be indecent. Critics oppose this policy, arguing it sends a message that modesty is more important than education.
Prom season is another source of discontent; every year there are reports about female students admonished over their revealing prom dresses. Girls deemed in violation of school policy are forced to wear their date's jacket, or, in some cases, are even turned away at the door undoubtedly a humiliating experience.
In the schools' defense, it's clearly necessary to establish some set of rules regarding dress. Unfortunately, the standards for appropriate attire are, by nature, highly subjective. Beyond that, the policies appear to be quite one-sided. As it has throughout history, the burden of modesty again falls on women. You don't hear anyone talk about how men should men control themselves. Instead, we always hold women responsible for not becoming "a distraction" to others. Is this right?
The Burkini Conundrum
While schools want girls to cover up, on the beaches of France the opposite is happening. The French are well known for their nude beaches, and their society has a very different attitude toward exposed skin than we do in the U.S. In fact, problems have arisen in France because women are being too modest. Recently, a specific item of beachwear has come under fire: the burkini. A type of full body swimsuit worn by Muslim women seeking to cover their skin at the beach, the burkini has been banned by a number of French cities in just the past week. These aren't isolated cases, either. The majority of French citizens, when polled, support the burkini ban. Even the Prime Minister, Manuel Valls, has endorsed it.
In reality, the objection to Muslim beachwear is not a modesty issue. Instead, it stems from traditional French attitudes toward religion. France has a long history of being fiercely secular, a societal trait that has resulted in numerous controversial laws most notably one that bans head-coverings in public places. This has led some to believe that Muslims are being specifically targeted by French legislators. However, there is little evidence that France is singling out Muslims in particular; the country has strict laws against any public display of religion. And it just so happens that adherence to Islamic custom involves highly recognizable pieces of attire.
It's worth noting, though, that the political atmosphere in Europe has been significantly impacted by the recent wave of terrorist attacks. French citizens are feeling vulnerable and more on edge these days. They may view the burkini as a symbol of the ideology which has driven some individuals to commit horrific acts of violence. However, the main motivation is likely to preserve France's cultural identity, which is characterized by a secular society free from religious symbols in the public sphere.
Criticism
While the ban does have significant support, it also has its critics. Some have argued that burkinis are hardly distinguishable from the wetsuits worn by surfers and divers the only difference being the hood which covers the woman's head. Others say that despite the French belief that a secular society is superior, burkinis don't cause anyone harm. In fact, they point out, the ban really just hurts Muslim women who will likely stay home instead of violating their religious beliefs just to enjoy the water.
Then there was the mayor of one French town, who justified his support of the ban using a bizarre claim. He argued that the burkini itself was "unhygienic", and thus shouldn't be allowed at the beach. He decided not to elaborate on what he meant by that.
What's a Woman to Do?
Maybe it's time to rethink our attitudes toward women's dress. School dress codes expect women to restrict their attire in order to avoid distracting men. Would a better solution involve teaching men not to focus on how women dress? Take a moment to reflect on your own beliefs about modesty and women's fashion. Do women need to be modest in order to not be a distraction? Or should we, as a society, allow women the freedom to dress as they choose?
Regarding the burkini ban in France do you think it's justified? Obviously people have strong feelings on this issue, as it involves both women's rights and national identity. But when compared with school dress code policies, it would seem that sometimes women just can't win. Do societies have the right to reprimand women for wearing too little, and too much? We'd like to hear your opinions.
Update (9/2/16):
A court in Nice, France has overturned the city's ban on burkinis, explaining that the full-body swimsuits do not "pose a risk to public order". However, burkini bans remain in place in many other cities along the French coastline. It's yet to be seen if these controversial policies will face a challenge in federal courts.