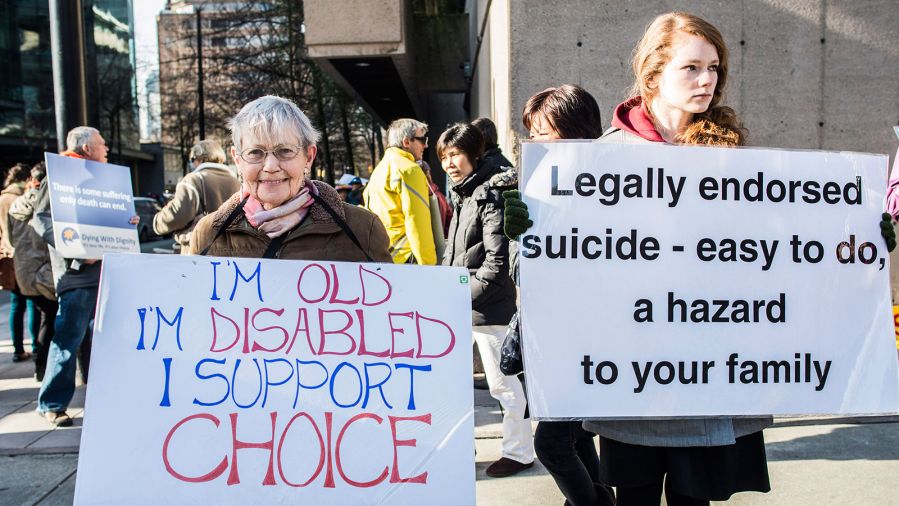 ---
In 1998, Oregon passed the Death With Dignity Act, becoming the first state to allow people with terminal illnesses to voluntarily end their lives. The process works like this: the patient consults a physician, who can then choose to write them a prescription for a lethal dose of medication. The patient takes the medication home, and can then choose to ingest the drug if their suffering becomes too much to bear. When it was first passed, there was great concern surrounding the application of the law. However, there has been no reported abuse, nor any major controversies. The most recent report from the Oregon Health Authority shows that in 2015, just 218 people received a prescription for lethal medication, and an even smaller number 132 actually chose to use it.
Since 1998, three more states have passed similar laws: Washington, California, and Vermont. Despite the increase, a fierce debate continues over the morality of the practice. In fact, it's so controversial that people can't even agree on what to call it supporters prefer the terms "death with dignity" and "physician-assisted dying", while opponents insist it be referred to as "assisted suicide". This disagreement is central to the debate itself, for it illustrates two different ways of looking at death.
Note: For the purposes of this article, we'll use the term "assisted suicide". Just to be clear, we're not taking a stance on the issue it's simply the most widely-recognized term.
Support for the Law
Supporters argue that assisted suicide is not only an ethical practice, but that we have a moral obligation to present this option to terminally-ill patients. Many supporters have personal experience caring for a sick family member often someone who was in a lot of pain, and thus suffered greatly during a long, drawn-out period before finally passing away. It's not surprising that they advocate for assisted suicide these people have seen the traditional hospice method firsthand, and know that it can be traumatizing for everyone involved. Once death is imminent, they argue, a person should have the right to end their own suffering. That's why they call it "death with dignity" death comes on the patient's terms, before they become a shell of their former selves. Supporters shun the term "suicide" because it carries a negative connotation. Which also begs the question: should it still be considered suicide if you have a terminal illness?
A Growing Trend
The U.S. Supreme Court has ruled that the issue should be decided by the individual states, not by the federal government. While only four states have legalized assisted suicide, the legislation is under review in a handful of other states. This means we'll probably see some hard-fought political campaigns in the near future.
In June, Canada codified a law outlining physician-assisted suicide at the federal level. As with the laws in the United States, the Canadian law is very detailed about who can apply for the medication. Only adults who are fully informed about the law and the legalities of an assisted suicide are allowed to receive prescriptions. Unsurprisingly, it's been fairly controversial no everyone agrees that the policy is ethical.
Why It's Not So Simple
Opponents acknowledge the suffering people go through, but they offer a different argument: that assisted-suicide laws create a slippery slope. Although they currently only apply to terminally-ill patients, opponents envision a future where the laws are extended to include people with severe disabilities or other conditions that affect quality of life. In fact, many of the law's harshest critics are disabled people. They explain that the idea behind assisted suicide is incredibly demeaning to them, and all other people battling illnesses or disabilities. Essentially, they say, assisted suicide devalues human life. By passing laws that allow some people to commit suicide, it sends a message to others that perhaps their life is not worth living, either.
Church Beliefs and Assisted Suicide

Most faiths oppose assisted suicide based on the belief that life is a gift from God. Notable exceptions include two Christian groups: The United Church of Christ and the Unitarian Universalist Association both support the rights of terminally ill patients to make their own end-of-life choices. It's worth noting, too, that doctors have a choice whether or not to help patients with assisted suicide. In California, entire networks of doctors have decided not to participate. Faith-based healthcare providers were some of the first to opt-out.
No matter what a person's faith dictates, the reality of a terminal disease can be a powerful force. Suffering from a long-term illness can change the way a person views things. Sometimes those with strong religious beliefs decide to get the life-ending medication. This puts ministers and other family members in a tough position either disavow the decision, or accept that putting an end to the suffering may be the best outcome. What would you do? How can you offer support if you believe the decision is immoral?
**"On My Own Terms"
**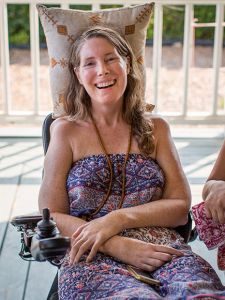 Ultimately, supporters argue, the issue of assisted suicide comes down to personal freedom. When someone gets diagnosed with a terminal illness, they should have every option available to them. If they choose to fight the disease to the very end, they can only be admired for doing so. Often though, the last days can be quite ugly. They take a heavy toll on friends and family who will be burdened by the painful memories. If that person instead decides they want to end things on their own terms, peacefully, can anyone blame them?
Perhaps nobody better exemplifies this sentiment than Betsy Davis. The 41-year-old artist had been diagnosed with ALS in 2013, and her condition was rapidly deteriorating. So, this past July, she decided to end her life on her own terms with a social occasion. She invited all her friends and family over and spent the day with them. The only rule, she said, was "no crying". That evening, after watching one last California sunset, she took the life-ending medication. Betsy died shortly afterward.
Takeaways
This is obviously a difficult topic. Supporters of assisted suicide tell heart-wrenching stories, while opponents raise some valid moral objections. It's possible that assisted suicide is a slippery slope. However, it also seems unfair to make judgments if you haven't experienced such a situation personally. Times of grief and hardship strongly affect our opinions, and occasionally change them entirely.
There is an old Buddhist saying which goes: "without health life is not life; it is only a state of languor and suffering - an image of death".
Is there some truth to that statement? We'd like to hear your thoughts. Do terminally ill patients have the right to plan their own deaths? Is assisted suicide an ethical practice, or should it be outlawed?