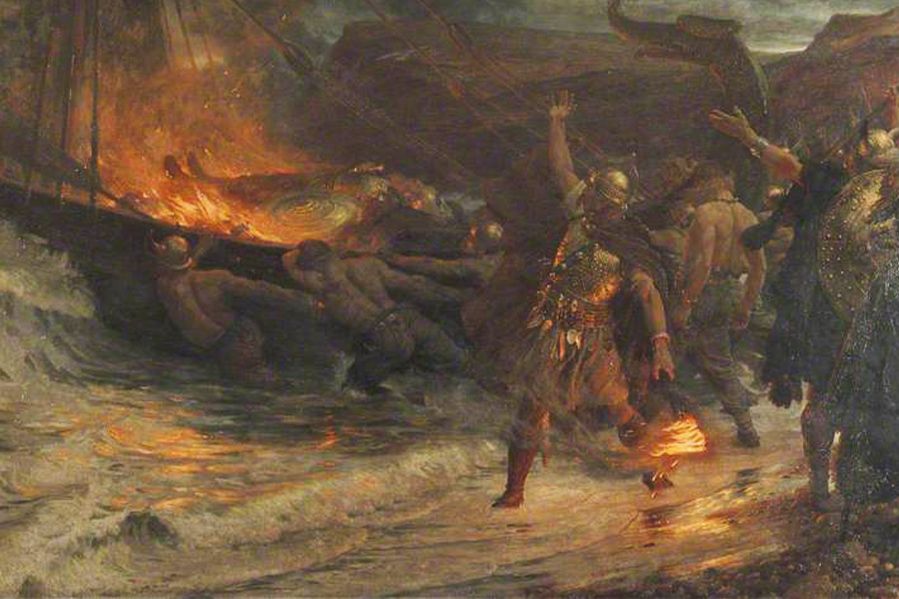 The state of Maine is considering a measure that would allow residents to forgo a traditional casket burial and instead opt for an "open air cremation" – also known as a funeral pyre.
If you've seen "Game of Thrones", you're familiar with the concept: Lay the honored dead out on a stone slab and light them ablaze.
Typically reserved for kings, great warriors, and, yes, Jedi Knights (which you can become), it's a tradition nearly as old as time itself. However, it is currently outlawed in most of the United States (only some place in Colorado allow it).
Who's pushing for this, and will Maine residents really be able get a Viking-style send off to the next world?
Blaze of Glory
It all started with a nonprofit cemetery called Good Ground Great Beyond. They want to turn their 63-acre estate into the state's first location for funeral pyres.
The group's founder, Angela Lutzenberger, says that open-air cremations can help us think about death in whole new ways:
"It allows a different kind of deep and acute contemplation of what death is, and what it means to let go... Good Ground Great Beyond is this very natural intersection of earth and sky, seen and unseen."
Advocates for funeral pyres just want people to have options. If someone wants to go out in a (safely monitored) blaze of glory, why shouldn't they be able to? 
The law up for debate would allow any local nonprofit with at least 20 private acres to carry out the ceremonial outdoor burnings, so long as the ashes are scattered on the property.
A Growing Movement
Maine isn't the first state to consider funeral pyres in recent years. Missouri lawmakers actually passed a measure in 2019 legalizing open-air cremation, only for it to be vetoed by Governor Michael Parson.
"Without more thorough vetting to ensure that outdoor cremations can be conducted in a manner that fully disposes of the entire remains while also addressing the health and safety concerns of individuals who may be impacted nearby, I am not comfortable with allowing these types of ceremonies to be conducted in our state," he stated.
Those concerns may be entirely unfounded. A report commissioned by the UK's Ministry of Justice found that the safety hazards are no more than one would expect from a bonfire and that there would be "negligible health risks" to the public.
Burials Fit For a Viking
There may be a religious reason to allow funeral pyres as well. Open-air cremation is still practiced among some faith groups, primarily amongst some Buddhist and Hindu cultures.
But in popular culture, it is probably most closely associated with the traditional Viking 'burial'. Pyres were common for early Vikings, who were Pagan. They built funeral pyres as large as possible, believing that the smoke would carry the deceased to the afterlife. Certainly some modern Pagans would consider the option, were it legally available to them.
Given the negligible environmental impact and religious significance in some faith groups, it's hard to see an argument against allowing funeral pyres, so long as they follow certain environmental and safety regulations. Still, given that it's currently only allowed at two sites in one state, it's still clearly a big cultural taboo in America.
What do you think? Should Maine allow these types of ceremonies? Would you consider a funeral pyre for yourself?