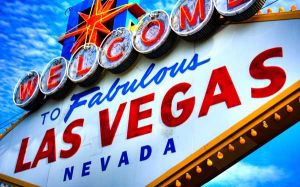 It was just earlier this year that Reverend Marklen Kennedy, director of VIP for marketing at Tao Beach nightclub in Las Vegas's Venetian Hotel and Resort, got ordained online for free as a minister of the Universal Life Church. On 15 August Kennedy finally got to fulfill his duty as wedding officiant when he performed the first wedding ceremony at Tao Beach. The ceremony not only highlights the growing trend of brides and grooms seeking unconventional ways to tie the knot, but also re-focuses attention on the festive, celebratory aspect of the wedding ceremony.
Rather than settle for a solemn wedding vow exchange in front of a church altar, Giuliano Scortecci and Heather Leigh Sosaman decided to celebrate their commitment to one another at the poolside of the Tao Beach bar, just after picking up their wedding license. Rather than recite their contemporary wedding vows in a black tuxedo and giant, fluffy white wedding gown, bride and groom donned bathing suits, cocktails still in hand. Meanwhile, the poolside lounge was hosting a special event called Beatport Beach Party headlined by a band called Manufactured Superstars. As if the party were not enough to bring the ceremony down-to-earth, reality T.V. star Stephanie Pratt served as a witness, posting an ecstatic message on her Twitter feed in which she described Reverend Markleen marrying the bride and groom inside her cabana.
Of course, Las Vegas has a renowned history as an unconventional wedding getaway. But it is no longer just a haven for drive-through wedding chapels or overnight romances it is now an emerging center of creative and alternative wedding ceremonies. Like retail weddings in big-box chain stores and thrill-seeking adventure weddings in which bride and groom recite their vows hand-in-hand in a parachute or at the end of a bungee cord, weddings can now be parties that take place in nighclubs, or at music festivals. Perhaps the most important trait of weddings like the one at Tao Beach, however, is how they blur the boundary between solemn religious ceremonies on one hand, and ecstatic celebrations and festivities full of dance and music on the other. No longer must ecclesiastical rituals be boxed up inside four stone walls in which a reserved and restrained congregation look onward from their pews at a distant priest bestowing a stern God's blessing on a loving couple hand-picked by an approving authority.
Reverend Kennedy has not yet received requests for services such as baptisms, christenings, and ablutions, or the pardoning of sins, but these are certainly possible in the foreseeable future. (The swimming pool turns out to be a convenient facility in this respect.) In addition, who is to say that sermons or the Christian Eucharist (not to mention the traditions of other major religions of the world) cannot one day be held on the premises of the Tao Beach nightclub? After all, Communion is a rite of blessing and sacrament just like marriage. So the nightclub is no longer necessarily a place of depravity and debauchery. The blending of places of worship with contemporary places of festivity and celebration is an inevitable step in the development of modern-day religion.
What do you think about the hosting of wedding ceremonies in bars and nightclubs? Does it make marriage more meaningful and relevant to modern-day lifestyles?
Source: