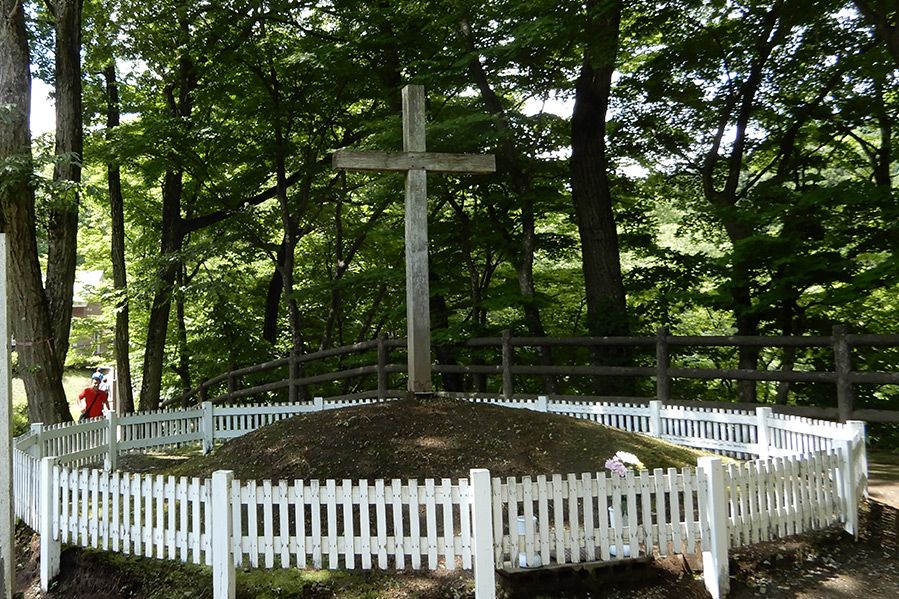 Thought you knew Jesus? Think again.
You might think that if you've read the gospels, you know quite a bit about the life of Jesus Christ. According to Christianity, Jesus was immaculately conceived, grew up in Nazareth, performed some pretty nifty miracles, and then died on the cross at Calvary, only to be resurrected three days later as the savior of humanity.
Christians, you might want to sit down for this one. According to one Japanese legend, that's wrong, wrong, wrong. In this alternative version of events, Jesus came to Japan when he was 21. And that wasn't him on the cross, that was his brother, Isukiri, taking one for the team. In fact, the real Jesus lived to the ripe old age of 106 and fathered three Japanese children. Oh, and he was actually named Daitenku Taro Jurai.
It's a lot to take in for Christians who might've thought they knew a lot about the king of kings. Here's the untold story of a strange local legend claiming Jesus Christ died in Japan.
Jesus Goes To Japan
Shingo, a small village in the snowy wilds of northern Japan, says it's the real final resting place of Jesus Christ. Erm, make that Daitenku Taro Jurai. 
According to local legends, Jesus of Nazareth came to Japan as a young man. He landed on the coast of the Sea of Japan, settling in the area that is now Toyama Prefecture.
Over the next twelve years, Jesus studied the Japanese language, literature, and philosophy under the tutelage of a wise master at the base of Mount Fuji. At age 33, he returned to Judea to share the wisdom of the East with his homeland.
That didn't go so well. The Japanese legend of Jesus and the generally accepted version of Christianity agree on one thing: The Roman authorities weren't buying what Jesus was selling. Jesus was convicted of heresy for preaching about the "sacred land" of Japan, and he was sentenced to death by crucifixion.
But in this version of Jesus' story, he escaped the crucifix, and his brother Isukiri took his place instead. Not much is known about Isukiri; Details on his life or even his motivation for taking Jesus's spot on the cross are long forgotten. 
Following Isukiri's death on the cross, Jesus fled back to Japan, with a lock of the Virgin Mary's hair and one of Isukiri's ears as mementos. As this story goes, Jesus embarked on a four-year trek from Judea through Siberia and Alaska, finally catching a boat from Alaska to the northern tip of Japan.
Exiled back in Japan, Jesus adopted the Japanese name Daitenku Taro Jurai and lived a humble life as a garlic farmer. He married a local woman, Miyuko, they had three daughters, and the savior formerly known as Jesus lived to be 106 years old. When he died, his body was left on a hilltop for four years, then buried.
Christ's Real Resting Place?
In Shingo, the grave of Jesus is marked with a cross atop a mound of dirt, alongside a twin grave housing his brother's ear and the lock of Mary's hair. A plaque describing Jesus's story can also be found at the site:
Many locals in Shingo insist that it's the real final resting place of Jesus. They say that in ancient times, Jesus's influence on the tiny Japanese hamlet was obvious, with men and women dressing in styles more Middle Eastern than Japanese. Some in Japan still claim to be the descendants of Jesus, despite being practicing Buddhists.
Others, however, aren't so convinced. Interviewed by Smithsonian, Junichiro Sawaguchi, the eldest of Jesus's alleged Japanese descendants and a Buddhist himself, says he's not certain he even believes the story. But perhaps literal belief isn't the point: "The Christ tomb has given Shingo a sense of identity," he claims.
Every small town has its local legends, but not many involve the king of kings. What do you think of this one? Is it possible that Jesus visited Japan, or is this local tale just a work of fiction?