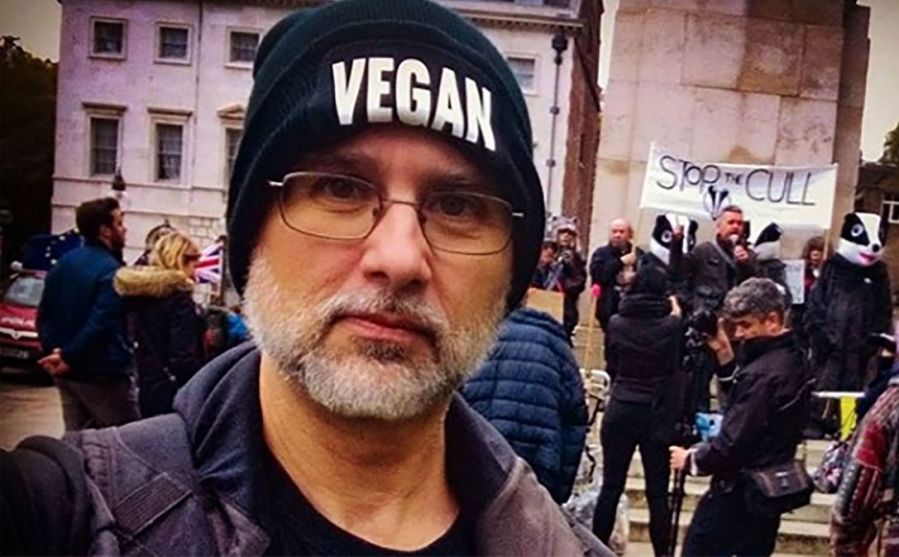 ---
Here's a question: what makes a religion? Does it require worshiping a deity and attending services, or is it enough to simply hold a particular set of beliefs about the world?
A more pointed question: does veganism fall under the definition of religion?
That's what a U.K. court is tasked with deciding after a man accused his former employer of religious discrimination. Jordi Casamitjana was fired from his position at a charity organization after objecting to his pension funds being invested in pharmaceutical companies that conduct animal testing, a practice that he says goes against the fundamental convictions of veganism.
And according to Casamitjana, it was these pro-animal beliefs not his workplace conduct that caused him to be let go. Although the U.K. doesn't have any anti-discrimination statutes that apply to veganism, the law does protect against religious discrimination in employment. Casamitjana is arguing that ethical veganism is a religion, and therefore he was wrongfully terminated. He insists his situation is no different than someone getting let go for being Muslim or Jewish.
Heading to Court
It's now up to an employment tribunal court to decide whether the organization discriminated against Casamtijana. To do so, the court must clarify if ethical veganism is indeed a belief protected by the U.K's sweeping anti-discrimination statute known as the Equality Act. If the tribunal determines that ethical veganism is protected by law, the claim moves to a full trial.
In a statement to reporters, Casamitjana's attorney said the lawsuit's goal is to secure the "protected status of ethical veganism" as a sincere religious philosophy thus proving his client was wrongfully terminated due to his beliefs. Legal experts say it's potentially a landmark case - a strong precedent could affect discrimination claims against vegans in education, employment and many other areas.
What Is Ethical Veganism?
Dietary vegans eat a plant-based diet, avoiding anything produced or gathered from animals such as honey, eggs, butter, and milk. Ethical veganism includes the same dietary restrictions, but it features an underlying philosophical component that informs other aspects of life. Within this movement is an activist faction that routinely organizes protests and other awareness-raising events.

Ethical vegans oppose the use animal products in all consumer products not just food. They vigorously oppose scientific testing on animals and the use of use leather or fur in clothing. Ethical veganism requires making choices every day about what type of clothes to wear, what personal products to use, and what hobbies to take part in. Above all, this philosophy is committed to ensuring the least amount of harm against animals as possible.
PETA Breaks the Internet
According to some ethical vegans, simply refusing to eat meat or use animal products is not enough. In their mind, society is still heavily prejudiced against animals in other ways. Perhaps nowhere is this sentiment better exemplified than in a recent tweet by PETA pleading for an end to routine linguistic microaggressions against members of the animal kingdom:
Words matter, and as our understanding of social justice evolves, our language evolves along with it. Here's how to remove speciesism from your daily conversations. pic.twitter.com/o67EbBA7H4

PETA: Bringing Home the Bagels Since 1980 (@peta) December 4, 2018 The tweet quickly went viral, generating no shortage of sarcastic responses mocking the organization for taking its animal advocacy campaign a bit too far (though come on, who wouldn't want to feed two birds with one scone?). Yet the message also generated over 30,000 likes proving that there is indeed an audience for the gospel of radical veganism.
How Do You Define Religion?
There are certainly some people who will scoff at the idea of veganism as a religion. But it's hard to deny that it at least has some religious elements. In fact, given the level of dedication and commitment it takes to live a full-on vegan lifestyle, one might even argue that vegans are more pious than many churchgoers out there.
But whether this merits special status protecting against discrimination is a much bigger question. With veganism on the rise in many countries, the issue doesn't seem likely to go away anytime soon.
Where do you stand?