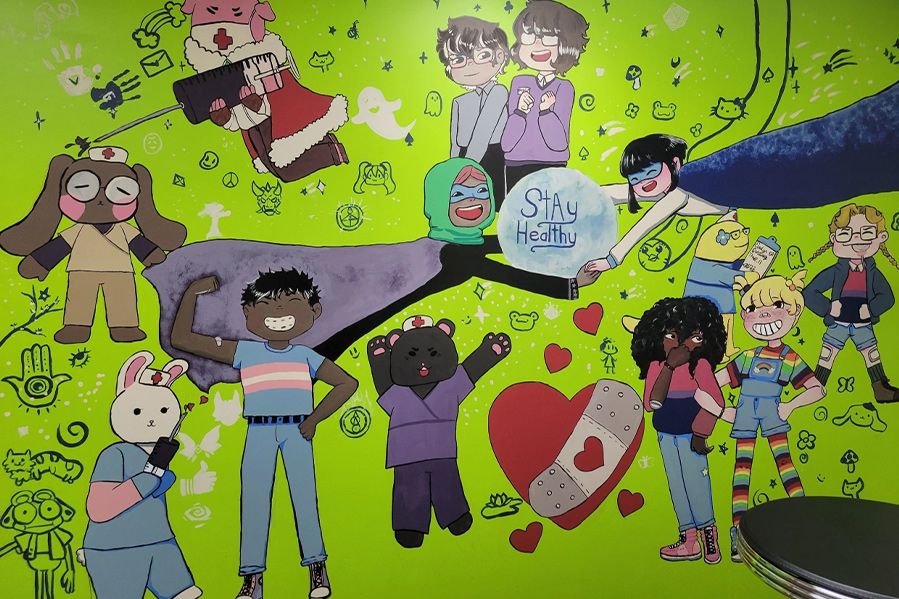 Is this mural promoting Satanism? You be the judge.
A high school sophomore in Grant, Michigan won a contest to design a mural for a local middle school health center.
The teen was instructed to include "smiling children" and to promote a "stay healthy" message. By all indications, she followed the prompt.
However, not everyone is a fan of the various artistic liberties she took.
Some local parents are outraged at what they claim is a pro-LGBTQ message that is discriminatory towards Christians… as well as some hidden demonic messages. Now, what was intended to be a simple and wholesome message of inclusion by the artist has turned into a flashpoint of controversy for this small Michigan town.
Spot the Satanism
"I put my art up there to make people feel welcome," explained the artist at a local school board meeting earlier this month.
But some say that the mural is inappropriate because it contains pro-LGBTQ symbols.
For example, one child on the mural is wearing a t-shirt with the transgender pride flag on it. Another student in the mural is in a shirt bearing the colors of the bisexual pride flag, and another is wearing rainbow leggings. 
Other critics turned their focus on something far darker: supposed symbols of Satanism that appear in the design.
Their two main concerns:
1) A demonic-looking face that is incorporated into the center-left of the mural (which the creator says is just a symbol from the popular video game Genshin Impact)
2) A Hamsa hand (a sign of spiritual protection in many cultures) that is tucked away on the left side of the painting.
Those last two points led to accusations of witchcraft against the teenage artist.
"I feel like she did a really good job finding excuses to defend the things she put on," said a local woman, Katelyn Thompson, at the school board meeting. "None of us are that stupid."
Another local woman, Danielle Beight, said that the transgender flag on the mural was tantamount to promoting mental illness in children. "When adults pretend things that are like real life, it's a mental illness," she said. "We need counselors, we need medication that's going to help bipolar disorder, fix their brains." 
And one man actually accused the mural of being a message of hate toward Christians. 
"We and our administration should embrace that and get all of this hate material out of our schools," said Nate Thompson at the school board meeting. "Because it is hate material."
Is the Mural Immoral?
Despite the grievances of many, some students and parents came to the mural's defense.
 "I am a conservative, right-wing, gun-loving American," said a local woman named Tracy Hargreaves. "But I've never seen more bigoted people in my life. We have an array of people in this little town, and I'll be the first one to support our Christian families. But we're not the only ones here."
Another student who identifies as queer explained that, as someone who is bullied in school, the mural makes them feel included and seen. Directing their comments toward outraged parents, they said "maybe you should be more concerned with your children's behaviors, instead of what art is on the wall."
After the meeting, the district announced that they've reached an agreement with the artist to remove certain elements that weren't part of the initial design pitch, like the "demonic" mask and the Hamsa hand. The LGBTQ symbols – which were part of the initial design, and were approved previously – will remain.
Citing their commitment to "civility, respect, understanding and inclusion," the school says they simply will not tolerate "discrimination, harassment or bullying whether in word, deed or on social media."
What do you think? Were the symbols appropriate for a school mural, and were the reactions from local parents inappropriate?