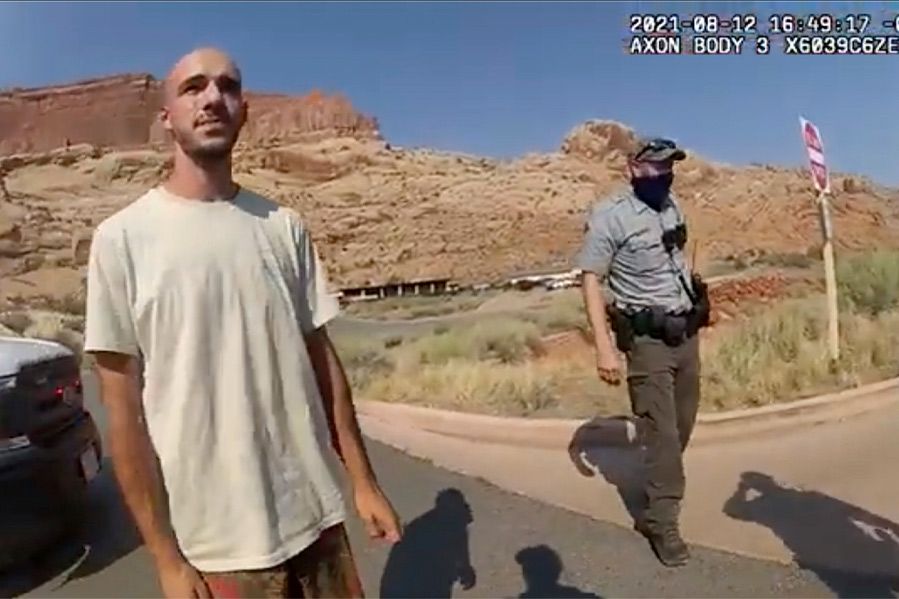 Update 10/21/2021: Dog the Bounty Hunter has called off his search after authorities discovered human remains believed to be those of Brian Laundrie. The remains, along with a number of the suspect's belongings, were found in a Florida wildlife area where Laundrie was thought to have been hiding. The FBI has since confirmed that the remains belong to Brian Laundrie. 
Brian Laundrie became a household name following the disappearance and murder of his girlfriend, Gabby Petito. As the story continues to dominate national news, Laundrie remains on the run.
With police getting nowhere, a famous bounty hunter was recently called in to help find his trail. Television personality Dog the Bounty Hunter made a quick assessment after taking up the case: Brian Laundrie is "demonic." Not only that, but he insists that the suspect's macabre taste in art and fiction are signs that the young man is a serial killer.
Were demons involved in the murder of Gabby Petito? Is one's taste in media indicative of murderous tendencies?
Is Brian Laundrie Demonic?
You might be familiar with Dog the Bounty Hunter, star of an A&E reality show of the same name that ran from 2004 to 2012.
He recently mounted his own manhunt for Laundrie, the boyfriend of Gabby Petito, who is a person of interest in her alleged murder. Petito and Laundrie were documenting their "van life" cross-country roadtrip when Petito went missing. Laundrie abruptly returned to Florida without her, then disappeared.
Dog, whose given name is Duane Chapman, is a devout Christian, and his spokesman said it was his Christian faith that led him to hunt for Laundrie. He researched Laundrie's social media as part of his investigation. His findings? Something "very dark."
In an interview, Dog stated that he was disturbed by what he found while searching Laundrie's social media profiles, including "demonic-looking things" on Instagram. "There are pictures of demonic angels standing there with the sword, and the throat bleeding," Dog recalled. "There is blood squirting from their eyes."
Prior to their trip, Laundrie and Petito were reading a novel by best-selling author Chuck Palahniuk together. That rang Dog's alarm bells in a big way.
"I'm thinking more and more about him being maybe a serial killer, not just a killer of Gabby. The books he read are unbelievable," Dog stated without evidence. "A couple of the books that he's been reading are 10 times worse than Dungeon & Dragons. This kid, Brian has taken those books, obviously to heart."
While it's clear that Laundrie has a particularly grisly taste in art, whether he's a serial killer let alone a killer at all is yet to be determined. 
But if he is, he wouldn't be the first killer to have an interest in the demonic.
"Demons Made Me Do It"
Cannibalistic serial killer Jeffrey Dahmer was obsessed with The Exorcist film series, in which a demon possesses a little girl. One of his escaped victims, Tracy Edwards, reported that Dahmer forced him to watch The Exorcist III, as he hummed and rocked back and forth throughout the movie. After his apprehension, Dahmer told detectives he watched the movie two or three times per week. And recounting his interview with Dahmer, Detective Dennis Murphy reported that Dahmer "felt the character in the movie was driven by evil, and he felt he could relate to the character because he felt he was driven by evil."
Serial killer Dennis Rader, better known as BTK, went further than an interest in horror films. Some 13 years after his initial 2005 confession, he explained he was downright possessed by demons during his killings.
How could a guy like me, church member, raised a family, go out and do those sort of things?" he pondered in 2018.  "I personally think, and I know it's not very Christian, but I actually think it's a demon that's within me… It entered me when I was young, and it basically controlled me."
Still, while many are quick to accept the "the devil made me do it" excuse, fans of gruesome and grisly art and film are quick to suggest that they're simply an easy scapegoat to explain the unspeakable.
No one blames Ted Bundy's murder spree on Volkswagen, for example.
What is your reaction?