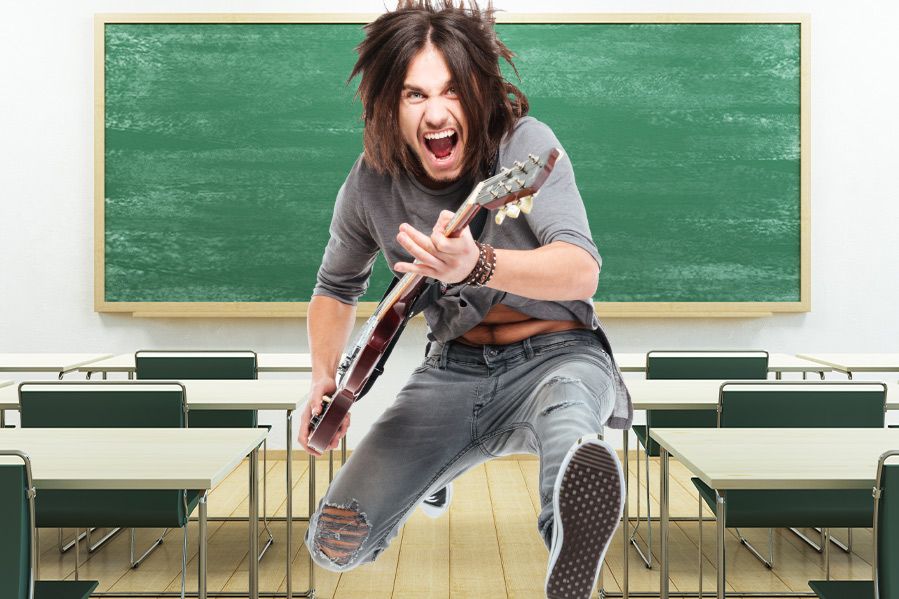 Can you get fired for being too metal? A group of parents want to find out, and are petitioning to remove their children's high school principal because she is reportedly a fan of the metal band Iron Maiden.
A group of Ontario parents created a petition to have Sharon Burns removed from her role as principal at Eden High School, arguing that her love of metal and throwing up devil horns with her fingers, visible on her Instagram page, represents a Satanic threat to the souls of their children.
Too Metal for School?
"We are deeply disturbed that the principal assigned to the school blatantly showed Satanic symbols and her allegiance to Satanic practices on her public social media platforms," read a petition put together by the concerned parents of St. Catharines, Ontario. "Our school is based on inclusion, and openly displaying Satanic symbols (on a public social media platform) that directly goes against the principles of the vast majority of families who represent the school, is not inclusive."
The "Satanic symbols" in question appear to be images on Mrs. Burns' Instagram, including her making the 'metal' gesture with her fingers, as well as a handmade '666' sign. A recent addendum to the petition claims that the grievance lay only in the 666 sign, and that Mrs. Burns' taste in music has nothing to do with it – it's the '666' and the devil horns that they find distasteful.
Students at the school, however, disagree. They started their own petition titled 'We Need Mrs. Burns,' where they say that the initial parental petition was about "judging" Mrs Burns for "liking the band Iron Maiden. That's it."
Her students say that Mrs. Burns "spreads nothing but love and kindness, and is probably one of the best and most enthusiastic principals the school has ever had." The counter-petition has some 5,000 signatures and counting. 
Shades of Satanic Panic
The controversy has reminded many of the so-called "Satanic Panic" of the 1980s and 90s, where everyone from metalheads to players of the roleplaying game Dungeons & Dragons were accused of Satanic ritualistic abuse because their hobbies were a bit off the beaten path.
And while back then controversy spread slowly, now, with the internet, the virtual pitchfork mob can be marshaled within minutes. Just look at the response to Lil Nas X's Satan Shoes, which were announced, released, and recalled in less than two weeks.
In the case of Mrs. Burns, however, the kids seem to be winning – at least for now. Their petition has many more signatures than the parents' petition, and their metalhead principal has yet to be fired or moved to another district. But that could always change.
What do you think? Should someone who works directly with students be careful about associating with Satanic symbols? Or is this controversy an overblown attempt to scapegoat a principal for having "unacceptable" music interests?