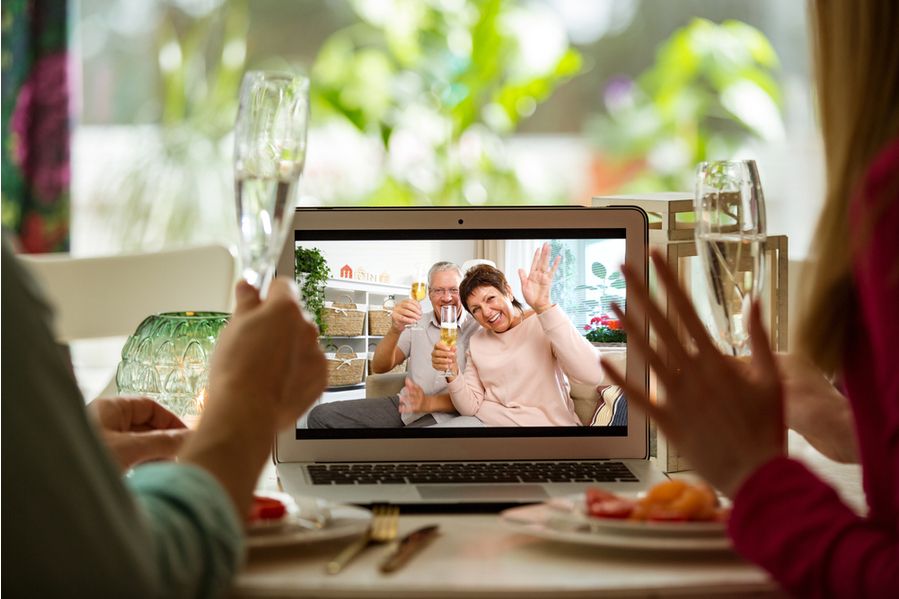 "Merry Christmas, Grandma! Can you hear me? Oh, sorry, I'm on mute!"
That scenario – once largely restricted to members of the military and other folks living overseas – is expected to play out all over the U.S. and the world this holiday season.
Whether you loathe obligatory holiday traditions, or look forward to them for months in advance, 2020 has thrown a wrench into the plans for these annual gatherings.
Staying Put for the Holidays
COVID-19 shutdowns are coming left and right, and many states are imposing strong restrictions on holiday celebrations. Public health officials are pleading with people to reconsider large holiday gatherings, particularly with family members outside of your immediate household.
But that advice goes against everything we crave about the holidays: quality family time, catching up with relatives, gathering closely and sharing a meal. Many older family members, especially, look forward to these occasions all year. 
Which could make for an awkward conversation with your family this year, if you're choosing to play it safe and stay home.
This situation has even become the topic of a Saturday Night Live skit:
Whether you have been looking for an excuse to be dismissed from the chaos that family traditions can bring, or you have legitimate health concerns due to the pandemic, you may be looking for a way out of this year's annual family gathering. 
Here are some points to consider if you are not planning to make the annual trek home for the holidays.
Let Those Planning Know as Soon as You Can
That said, once you've made your decision, let others know as soon as possible. The people who are planning for the celebrations that you typically attend, and are factoring you in, will appreciate the heads up. Even if you expect that the conversation will be met with sadness or even frustration, the very best policy is to let everyone know where you stand.
Be Truthful and Straightforward
Own your decision and be honest. It can be tempered with kindness, but honesty is the best policy. This is the best way to avoid getting yourself in more trouble by making up a lame excuse they will try to poke holes in. 
Announce your decision firmly and kindly so your family won't try to convince you to change your mind. If you have legitimate health concerns, let the people you love know by explaining that was what you based your decisions on. 
If you have other commitments, let them know there is something else you are excited to try this year. Focus on the positive. If you have plans to stay home, let them know you will miss them and make sure they know you will make plans to visit as soon as it is feasible to safely do so. 
Make an effort to connect in another way like offering to check in with the group via zoom if that is something you feel like you can commit to.
Stay in and Enjoy a Holiday at Home for Once!
This is a trying time for everyone, so give yourself permission to do what makes you relaxed and happy. What do YOU want to do this holiday season? Embrace the fact that this year you have more reasons than ever to skip a tradition that you may not enjoy in the first place. 
Have you been thinking about how nice it would be to spend a quiet holiday in the comfort of your own home? Go ahead and give yourself permission to enjoy it! Embrace your decision, and although sharing it may be difficult, you are an adult and you can make your own choices based on what is going to make you happiest – and keep your family safe. 
If that means you get the added benefit of avoiding crazy uncles and political arguments, all the better. We have all been going through enough in 2020, and you shouldn't feel bad about taking a year off.
You are Allowed to Put Health and Safety First
If you have underlying health conditions or there are others in your family who do, try not to let guilt and the feeling of obligation take precedence. Traveling and spending extended time in public during the largest disease spike we have seen since the pandemic began is not advisable. 
This is once in our lifetimes when staying away may mean we can continue to gather in the future. Tell your family you know it is disappointing but you would rather skip this one holiday to ensure that you are all around to celebrate in future years. 
Understand Feelings May be Hurt
Expect that your announcement may be met with some hurt feelings. Remember that the holidays mean a lot to many people, and not having a full gathering is a painful reality to come to terms with. 
Give your family time and space if they need it to process. Let them know that you hear them, even if it isn't going to change your mind. If they have differing beliefs on taking precautions to guard against COVID-19, you may just have to agree to disagree.
No matter what, the 2020 holiday season is going to look very different. If you decide that what is best for you is to stay home, then do it.
Taking the proper precautions – even if that means skipping these gatherings entirely – will go a long way to ensuring that next year's holiday gatherings can be fully attended, and safe for everyone.