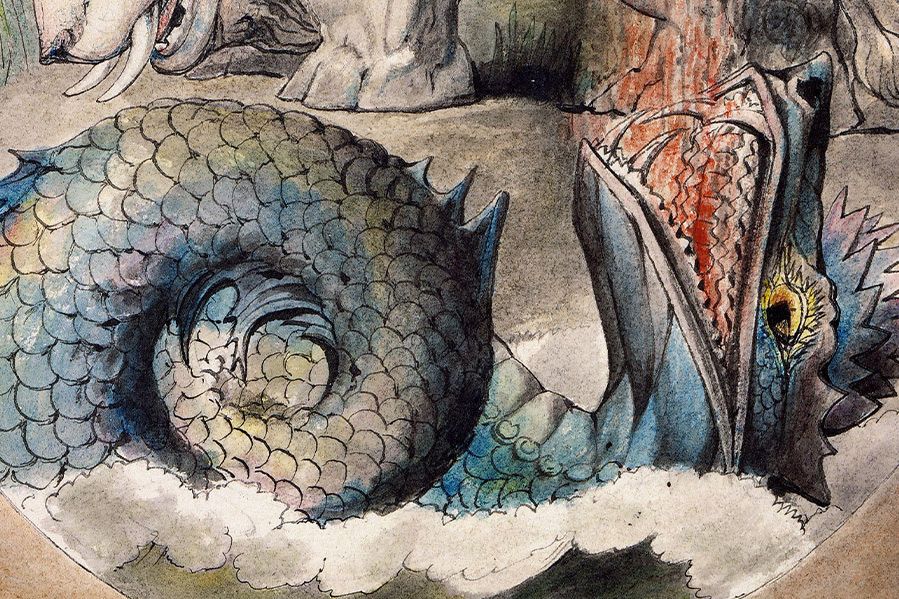 When it comes to fascinating and mysterious creatures, few can rival the allure of sea monsters.
How else could you explain the hordes of people gathering in northern Scotland this weekend for what will be the largest search for the Loch Ness monster since at least the early 1970s?
These beings of the deep have been the subjects of myths, legends, and tales for as long as humans have gazed upon the deep dark depths.
But did you know that many modern perceptions of sea monsters have their roots in ancient biblical texts? 
Whether monsters such as Nessie are directly inspired by biblical forebears is up for debate, but the fact remains that humans hunting (or running from) monsters of the high seas is a tale that dates back to the Old Testament – and perhaps even further than that. 
Sea Monsters in the Bible
The Leviathan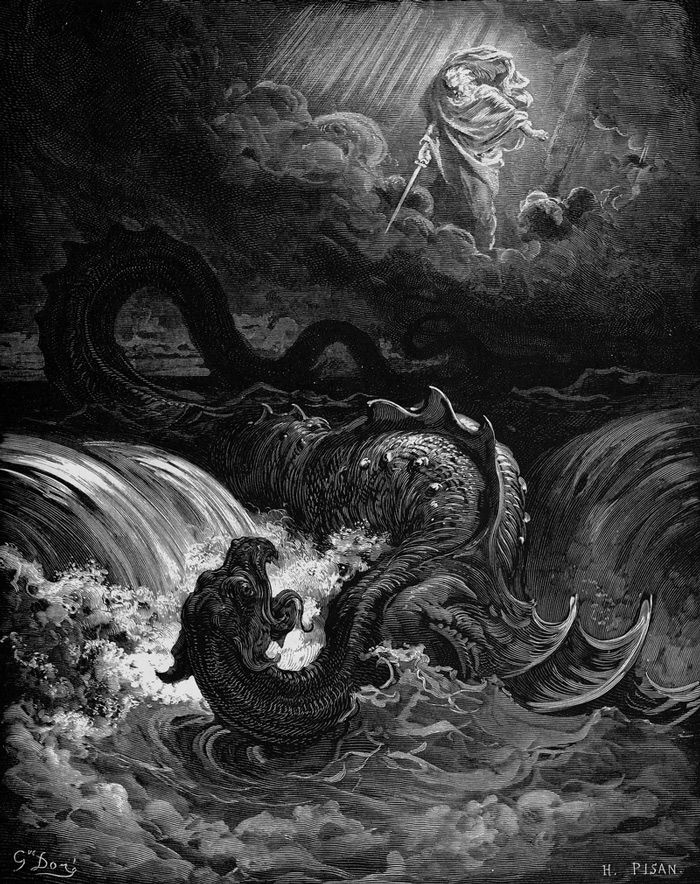 One of the most famous sea creatures in the Bible, the Leviathan is described in the Book of Job as a formidable creature with fearsome teeth, impenetrable scales, and the ability to spew fire. 
Leviathan appears in the Old Testament in Psalms 74:14, described as a multiheaded sea serpent. God kills the beast and offers it to the Hebrews as food. In Isaiah 27:1, Leviathan is portrayed as a serpent figure – a symbol of Israel's enemies – who will be struck down by God.
While many theories speculate its origins – ranging from a crocodile to a mythical beast – most scholars lean towards it being a large sea creature, perhaps an ancient whale or a giant sea serpent.
The Behemoth 
Though technically a land monster, the Behemoth is also worth noting, as it is often associated with the Leviathan.
The term "Behemoth" originates from the Hebrew word "behemet", signifying "beast" or "massive creature". In biblical context, "Behemoth" represents a demonic entity, symbolizing a tainted creature and unholy spirit. 
Detailed in the Book of Job, the Behemoth has a tail that moves like a cedar and bones as strong as iron, many believe it might be inspired by a hippopotamus, a dinosaur, or another large terrestrial animal.
Where Did These Stories Come From?
There are several popular theories regarding the origin of biblical sea monster stories.
The first is that early humans, upon seeing large sea creatures such as whales, giant squids, or large sharks, exaggerated their characteristics in tales, leading to the birth of sea monsters in religious and cultural narratives.
Another theory holds that in ancient cultures, chaotic and wild forces were often symbolized by the sea. Thus, sea monsters could have been metaphorical representations of chaos, disorder, or threats that early societies felt.
From Biblical Seas to Scottish Lochs
Fast-forward to modern times, and the legacy of these ancient Bible sea monsters can be found in various popular myths and tales:
1. The Loch Ness Monster
Perhaps the most famous modern sea serpent, Nessie of Loch Ness in Scotland has often been compared to ancient sea monsters. 
Interestingly, the first reports of the Loch Ness monster actually came from a religious figure. An Irish missionary named Columba reported speaking to villagers who saw a man dragged into the River Ness by a "water beast" in the year 565. 
The legend didn't explode until the 1930s, but these historical origins lent credence to the tale. 
While concrete evidence for the existence of Nessie is scant, that hasn't stopped people from avidly hunting for clues. 
2. Modern Sea Serpent Sightings
Across various cultures, there are reports of serpentine creatures in the sea, reminiscent of Leviathan. From "Ogopogo" in Canada's Okanagan Lake to "Selma" in Norway's Seljord Lake, these tales continue the tradition of mysterious sea dwellers that has existed since biblical times.
3. Sea Monsters in Popular Culture
Sea monsters have been staples in movies, literature, and art. Movies like "Clash of the Titans" or "Pirates of the Caribbean" feature sea monsters that, while fictional, carry the aura of ancient myths and biblical creatures.
Why Sea Monsters Intrigue Us
No matter their true origins, our fascination with sea monsters, from the biblical Leviathan to the enigmatic Loch Ness Monster, reveals something about the human psyche – a deep-seated curiosity, awe, and sometimes fear of the vast unknown. 
While we now have scientific tools to explore and understand our oceans better, the allure of the mysterious sea beast remains, reminding us of our ancient past and the timeless tales that have shaped our culture.