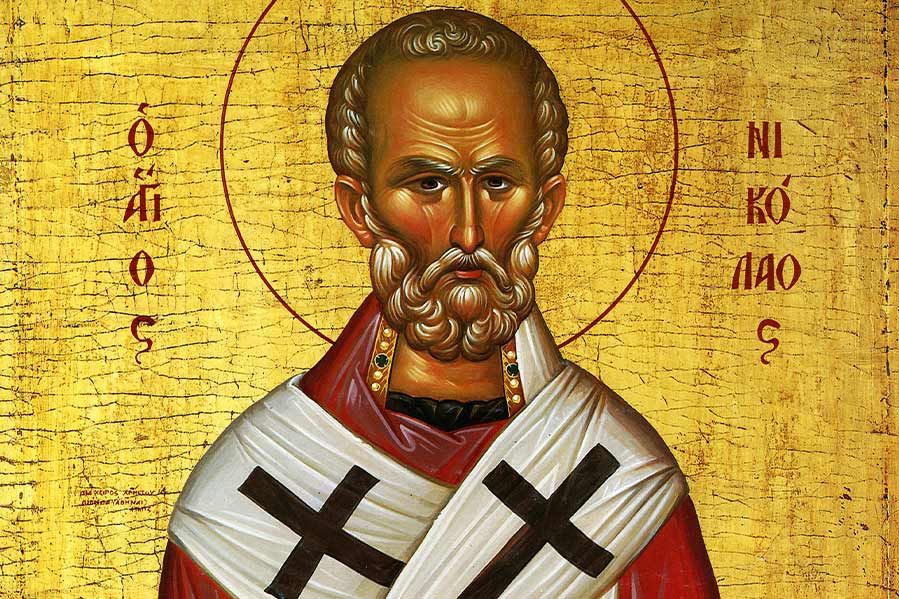 It's December, which means for much of the world, Santa's on his way, gearing up production at the North Pole for yet another very busy Christmas season. At home, we're all hanging the stockings by the fire with care, in hopes that Saint Nicholas will soon be there.
People are leaving out cookies and milk, eagerly anticipating presents, and generally indulging in the Christmas cheer.
What many might not know is that jolly old Saint Nick - Santa Claus - wasn't always so celebrated by Christians. If the Protestant reformers in the 16th century had their way, there'd be no Saint Nicholas at all. In fact, they practically tried to kill him.
Saint Nicholas of Myra
According to historian Gerry Bowler, Saint Nicholas was probably the saint that loomed largest in the minds of those living in the Middle Ages. Saint Nicholas was patron saint of a whole host of things: sailors, children, archers, students, brewers.
Like many early saints, we know very little about the historical Saint Nicholas of Myra, and much of what is known is borderline mythic. But one thing that is known is his penchant for gift-giving. Scenes of Saint Nick giving gifts were some of the most popular images in European frescoes of the time.
His Saint's Day is even a precursor to many elements of the modern day Christmas: Somewhere during the twelfth century on Saint Nicholas' Eve (December 6th), nuns started placing gifts in childrens' shoes and telling the children the gifts were from old Saint Nick himself. As Bowler puts it, "the saint became an enchanting night-time benefactor—kind of like today's Santa Claus, except with religious overtones."
A few centuries later, however, Protestant reformers sought to destroy both Saint Nick and Christmas - and they almost succeeded.
The Protestants (Almost) Stole Christmas
By the Middle Ages, Christmas had long been celebrated by Christians, who revered 'Christ Mass' both as an important day to worship God, as well as an opportunity to eat, drink, and be merry. A two-for-one deal, essentially.
On Christmas Day in 1550, leading Protestant reformer John Calvin was agitated by a larger-than-average crowd at his Geneva church. And he let the audience have it, chiding them as "poor beasts" for believing the Catholic "superstition" that Christmas Day is any more important than any other day, fearing that such reverence for any single day risked turning it into an idol.
As reformers who sought to remove everything extra-biblical out of Christianity, both John Calvin and Ulrich Zwingli abolished all the Rome-ordained feast and saints' days in their churches. They believed that God should only be worshipped in ways explicitly mentioned in the Bible, and there's certainly no mention of Christmas in the biblical text.
As writer David Swartz puts it, "Christmas, a relic of the cult of saints, was just too Catholic in its extra-biblical prescriptions."
These ideas were popular with many at the time. Geneva, for example, abolished all feast and saints' days, hoping for a return to worshipping God as ordained in the Bible, not the whims and fancies of mortal men.
Saint Nick - and all other saints - were on very shaky ground. 
Martin Luther Saves Santa
It was the other major reformer, Martin Luther, that can be largely credited with saving Saint Nick.
Luther disagreed with Calvin and Zwingli on the Christmas front, holding the belief that Christians can worship God in any way they like, so long as no biblical text expressly forbids their worship method of choice.
That meant that traditions like Christmas, feasts, and seasonal gift-giving were A-OK, because they brought glory to God, despite not being explicitly condoned in the Bible. Martin Luther himself was known as a bit of a seasonally festive man; He wrote Christmas carols and conducted Christmas services yearly.
Although apocryphal, it is believed that Martin Luther even invented the idea of decorating the Christmas tree. Christmas trees were already popular in 16th-century Germany, but it is believed that Luther came up with the idea of making them more festive by decorating them with candles.
Of course, Martin Luther still revered God over saints, so he pushed for the annual gift-giving day for children to move from Saint Nicholas' Eve to Christmas Day, so that, at the very least, the presents called to mind thoughts of God rather than the veneration of saints.
In the Netherlands, merchants also helped keep the Christmas tradition going. They held St. Nicholas fairs, and sold toys and sweets to parents to give to their children, even as Protestant reformers sought to shut them down.
The rest is history - Christmas, Santa, and general seasonal merriment were simply too popular to be destroyed. Seasonal Christmas markets began popping up all over Europe. Saint Nicholas adopted the red and white clothing and big fluffy beard of the Dutch Sinterklaas. And over time, Christmas drifted further and further from Christianity to the point that it is now largely a secular holiday divorced from its 'Christ Mass' origins. 
Ironically, that can in part be credited to devout Christians who liked the seasonal cheer too much to return the day to God, as Calvin and other reformers fought for.
How's that for a war on Christmas?