Discrimination is nothing new. People can be discriminated against because of their race,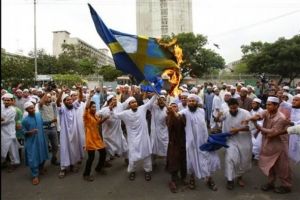 gender, age, religion, or sexual orientation. It can be a very difficult thing to deal with discrimination from someone simply because of who you are. Unfortunately, those who are of a different sexual orientation have seen a lot of discrimination, to widely varying degrees. This discrimination can be due to something called homophobia, which is a fear of those who are homosexual. Like most phobias, it doesn't make much sense, but unlike most phobias, most who are homophobic tend to lash out at those in the LGBT community with hate. Sometimes it's something as simple as an offensive slur, while sometimes it is something much more extreme. Such is the case for a 54-year-old man, who was allegedly brutally murdered by two teenagers after they found out his sexual orientation.
Muslim Refugees
The man encountered the two teenagers, Muslim immigrants from Morocco, at a park. The two teenagers, aged 16 and 19, had been travelling somewhat aimlessly throughout Europe before winding up in Sweden. Once the kind man found out that the two teenagers didn't have a place to stay, he opened up his home to them so they could shower, put on some clean clothes, and get some food to eat. During their park encounter, the man was wearing a wig and was dressed as a woman, which led the two teenagers to believe that the man was female. Back at the apartment, the teenagers claim the man took off the wig and made sexual advances at them. Claiming self-defense, the 16-year-old murdered him.
Self-Defense?
While the teenagers say the crime was self-defense, it seems highly unlikely that this is the case. For one thing, the man was brutally beaten and murdered, and a dead snake was draped around his neck. This is not indicative of a self-defense case. Instead, prosecutors believe this was a hate crime. They say when the man's wig fell off, the two teenagers came to their own conclusion that the man was gay, leading them to brutally murder him.
Hate Crime
Once the man was dead, the two teenagers robbed the place. Cell phone video taken at the crime scene shortly after the victim's death had been deleted by the teenagers, but police were able to recover it.
The video shows the two teenagers throwing the victim's belongings into their backpack.

During this time, they yelled obscene profanities regarding the victim's sexual orientation at his corpse.
This hate crime has become international news, partly due to the brutality and partly because of the pure hate that these two must have had in order to commit the crime.
Murder Charges
The 16-year-old has been charged with murder while the 19-year-old has been charged with protection of a criminal, also known as obstruction of justice. Hopefully, it won't take long for it to be decided that these two are guilty of their crimes so that justice can be served.
The Hate Has to Stop
No matter what religion you are or what you believe, we must learn that it is unacceptable to hate another human being simply for who they are. We live in a sad world when a man who was trying to help some teenagers down on their luck with some simple needs like food and clean clothes is brutally murdered by those same teenagers because of his sexual orientation. Even if we disagree with each other's lifestyle, we must learn to coexist. This world is a beautiful place, but it has been made ugly by all of the hate in the world. Think of how much the world would change if we could accept people for who they are, and love them regardless of their decisions. Remember the golden rule: treat others as you would like to be treated. Is it really that hard to implement? It isn't clear whether or not the faith of the two teenagers was directly responsible for their actions, but Islam is a notoriously anti-gay religion.
No religious faith should advocate hate or violence against another group of people. The world would be such a better place if we could preach and learn to love and celebrate one another for our differences.