Vatican City, Vatican This month, Pope Francis recently sent tremors through the Catholic Church. Bishops and other religious leaders gathered to discuss issues concerning families at the Synod. Though in the end, hardly any official doctrine was changed, one thing was made clear: the Catholic Church, like Los Angeles, is situated on a major fault line and constituents are waiting for "the big one".
In the official report, known as the relatio, Francis noted that homosexuals should be welcomed into the Church, asserting that they "have gifts and qualities to offer the Christian community."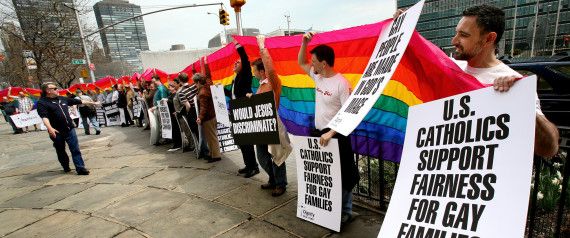 In the past, proposed statements would be voted on by the bishops in attendance, requiring a 2/3 majority for inclusion in the final draft. Not afraid to break tradition, the Pope declared that not only would his statements on lesbians and gays be included regardless of the outcome of the vote, but the vote tallies themselves would be noted to the side of each statement.
There is some feeling that the popular Pope Francis might be trying to make a more drastic move here. From his past questioning on an airplane, "who am I to judge [homosexuals]?" to the recent events at the Synod, the Pope is saying something radical about gays and lesbians.
Naturally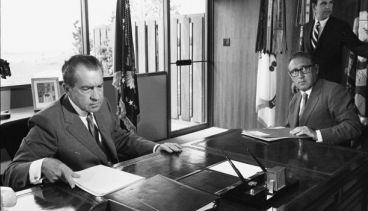 A few decades ago President Nixon in a secret recording, can be heard discussing his views on the history of gay people and the "gifts" some have offered humanity. "They're born that way. You know that. That's all and if you look over the history of societies you will find, of course, that some of the highly intelligent people Oscar Wilde, Aristotle, et cetera, et cetera, were all homosexuals." Nixon and the Pope are each nodding to historical accounts of same-sex relationships and homosexual behavior to make the point, since the dawn of time there have always been gays and lesbians.
In antiquity, many life-long relationships between males resulted from the teacher/student dynamic. The term "lesbian" itself is derived from a Greek poet born on the island of Lesbos that wrote on themes of love between women. Wall paintings in Italy are etched with images of men schtupping.
Plato wrote that relations between straight couples were crude as they were all about sex. The intellectual and romantic relationships between men were the highest form of love at the time.
Homosexual behavior is also observed in other animals than just humans. Many species engage in sex, courtship, affection, pair bonding, and parenting between members of the same gender. Many will remember Silo and Roy, the famous male chinstrap penguins in the Central Park Zoo that remained faithful to each other for years and raised a hatchling.
Both the history and widespread practice of these couplings points to something that should be obvious, and it seems Pope Francis may be tip-toeing towards this view: being gay is natural.
Death to the Sodomites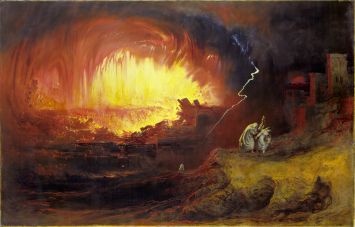 With a majority of American Catholics calling for the acceptance of homosexuals, why would so many bishops that supposedly represent them and run in the other direction, perhaps is it latent homosexuality?
Tradition is an obvious response, but this begs the question even further why is there a tradition on casting out gays and lesbians at this time when so many church elders have been involved with salacious sexual behavior?
One popular guess involves the tale of two cities, Sodom and Gomorrah which gave birth to the prohibition and abominations which, the church still holds to this very day. We all remember the basic story about Lot and his family being spared in the fiery destruction of Sodom and Gomorrah and thinking that it was homosexual behavior that god destroyed Sodom and Gomorrah for. One only has to revisit the Bible itself to find nothing of the sort. Odd, since the term "sodomy" is derived from the city of Sodom.
In Genesis 19:5, it is said that all of the men of Sodom formed a mob outside Lot's house and demanded to know the angels he was housing. In many of the 149 versions of the bible, the term know is swapped out for "have sex with", based on the separate concept of carnal knowledge, though that is an added interpretation.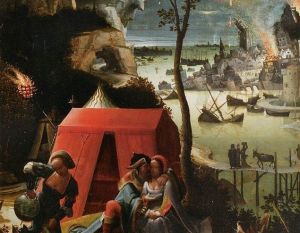 Lot, being the godly man he was, instead offers his virgin daughters to the supposed gay mob to rape his daughters. Why would Lot offer his daughters to gay rapists?
Interestingly enough, we don't even have to guess why God smote Sodom. Ezekiel 16:49 says "Now this was the sin of your sister Sodom: she and her daughters were arrogant, overfed, and unconcerned; they did not help the poor and needy. They were haughty and did detestable things before me. Therefore I did away with them as you have seen." As far as how anyone reads these passages and thinks "the moral here is to not have same-sex relationships, but offering your daughters to be raped is the godly thing to do". The actual story of Sodom and Gomorrah after Sodom's wife looks back when told not to, she's turned to a pillar of salt. The lesson to be learned from Genesis is that if everyone is dead and you want to carry on a family, God tolerates family incest.
"Did God Bless the Bastardly Children of Lot's Incest?"
'Our father is getting old, and there are no men in the whole world to marry us so that we can have children. 32 Come on, let's get our father drunk, so that we can sleep with him and have children by him' (Genesis 19:31 - 32)
The daughters proceed to get their father Lot drunk with wine then have sex with him. They do such a good job at getting their father inebriated that he does not know what they are doing to him (verses 33, 35). The two women become pregnant and eventually give birth to boys named Moab (father of the Moabites tribe) and Benammi (father of the Ammonites).
Spilling the Seeds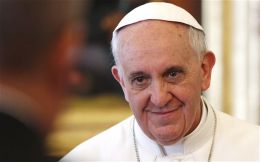 Jesus said nothing on same-sex relationships. We must turn to the Old Testament to find the sort condemnation akin to the views of the conservative bishops. Yet here it is couched between verses that also decry the eating of pork and the wearing of blended fabrics.
Pope Francis is winking and nudging that for some, homosexuality is natural, and like all of nature, it was created by God. Hopefully with overpopulation, adoption, and artificial insemination, the Church can see that same-sex couples are not an impediment to flourishing, and that conservatives should stop championing their exclusion to rights and privileges of equality. But just as it took them hundreds of years to admit the truth of Galileo and pardon him after condemning him for heresy, it is clear the Church is still a stick in the mud on the issue of homosexuality.