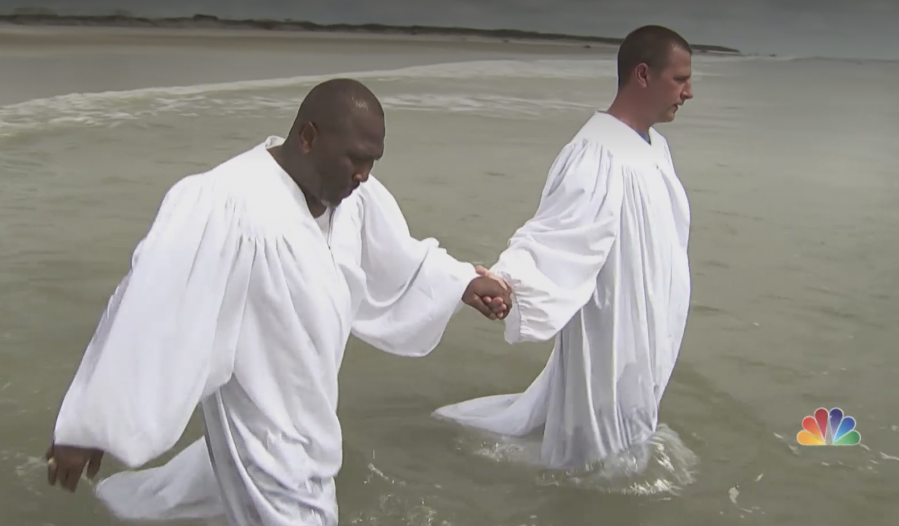 ---
For six years, Ken Parker was a full-on white supremacist hate monger - and he had all the fashion accessories to prove it.
There was the $170 green robe he dawned as a grand dragon of the Ku Klux Klan, a title he earned by recruiting new members in Georgia back in 2012 - the missing eyeholes in his hood a testament to his refusal to mask his beliefs. And then there was the black shirt with the two lighting bolts sewn into the collar - the toned down uniform an American neo-Nazi group rebranded to welcome Alt-Right types fearful of the swastika. That was the outfit Parker wore the day he and hundreds of other neo-Nazis gathered for the infamous "Unite the Right" rally in Charlottesville, Virginia last summer.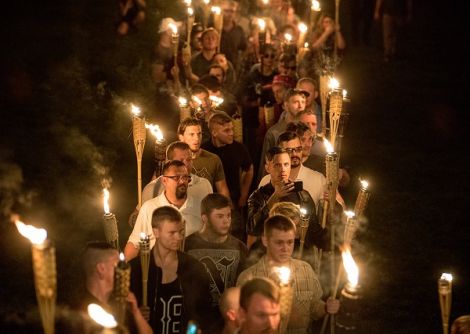 Parker felt his presence at the rally was needed to "stand up" for his white race. "It was thinly veiled [as an effort] to save our monuments, to save our heritage. But we knew when we went in there that it was gonna turn into a racially heated situation, and it wasn't going to work out good for either side," he said.
It definitely wouldn't work out well for 32-year-old Heather Heyer, who was run over and killed during the violent clashes between white nationalists and counter protesters that shocked the country. For Parker, however, it would mark the beginning of the end of a hate-filled existence.
A Change of Heart
It was in Charlottesville that he met filmmaker Deeyah Khan, who was shooting a documentary on hate groups called "White Right: Meeting the Enemy." Parker and his white supremacist buddies were catching their breath after the crowds had been dispersed by police when Khan approached them. As he explains:
"I pretty much had heat exhaustion after the rally because we like to wear our black uniforms, and I drank a big Red Bull before the event. And I was hurting and she was trying to make sure I was OK. She was completely respectful to me and my fiancée the whole time. And so that kind of got me thinking: She's a really nice lady. Just because she's got darker skin and believes in a different god than the god I believe in, why am I hating these people?"
Of course, Parker would still come across as unabashedly racist in Khan's film, spewing out his hate for Jews and gay people. But he started doubting those beliefs over the next few months; doubts that only intensified the day he met African-American neighbor William McKinnon III at a poolside cookout near his apartment complex.
After a lengthy discussion, the All Saints Holiness Church pastor invited Parker to the church's Easter service. Something clicked. Time passed. And before long, Parker stood before the mostly black congregation of his new church and spilled the beans about his past.
"I said I was a grand dragon of the KKK, and then the Klan wasn't hateful enough for me, so I decided to become a Nazi and a lot of them, their jaws about hit the floor and their eyes got real big. But after the service, not a single one of them had anything negative to say. They're all coming up and hugging me and shaking my hand, you know, building me up instead of tearing me down."
Coming to Jesus
Far from being shunned, Parker was baptized in the Atlantic on July 21, surrounded by the same people he had spent six years hating intensely, the same ones he had confronted that faithful day in Charlottesville just seven months earlier. This week, he started a months-long process to remove swastika, Klan symbol and Confederate flag tattoos.
"I do apologize. I know I've spread hate and discontent through this city immensely probably made little kids scared to sleep in their own beds in their own neighborhoods. You can definitely get out of this movement. I mean...I never thought I would get out."
Parker's message to others still running with the neo-Nazi crowd is simple: "Get out. You're throwing your life away."