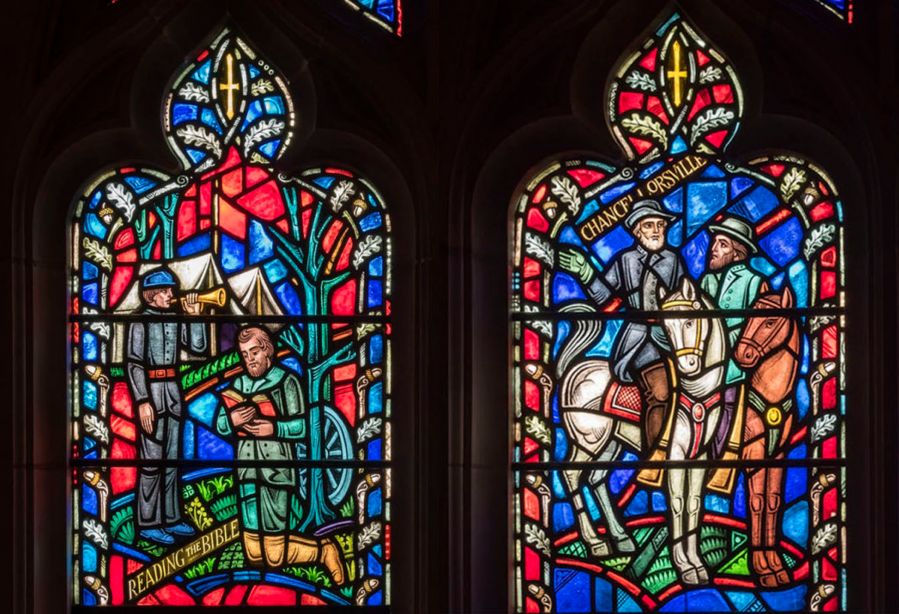 ---
In the wake of a national discussion about controversial monuments and statues, Washington National Cathedral in the nation's capital has decided to remove two stained-glass windows depicting Confederate generals Robert E. Lee and Thomas "Stonewall" Jackson. Church leaders agreed that the images sent the wrong message to parishioners, and ought to be replaced.
"This isn't simply a conversation about the history of the windows, but a very real conversation in the wider culture about how the Confederate flag and the Old South narrative have been lively symbols today for white supremacists. We'd be made of stone ourselves if we weren't paying attention to that," said one bishop.
Relics of the Past
The stained-glass windows were installed back in 1953, and there they stayed for over 60 years without controversy. Then, back in 2015, Dylan Roof walked into a church in South Carolina and murdered nine church-goers reportedly in the hopes of sparking a race war. It was this horrific attack that spurred officials at the Washington National Cathedral to first contemplate removing the Confederacy-themed windows. However, it wasn't until the recent events in Charlottesville that the church decided it was time to act. In a meeting held last week, church leaders voted "overwhelmingly" to remove the windows.
Criticism
Despite the majority being in favor, a number of church leaders opposed the removal, arguing that the windows should be contextualized as part of the cathedral's history. Removing the Confederate images entirely effectively whitewashes that history, they say. Opponents criticize this "revisionist history" strategy as a slippery slope. Once we start taking down monuments and memorials, where do we stop?
Erasing History or Making History?
For those who support the removal, keeping the windows in place is antithetical to the cathedral's claim of being a "spiritual home for the nation."
"As difficult as it is to remove something that was dedicated in a sacred space, we felt it was a Christian imperative and our moral responsibility," remarked one church official.
Furthermore, many Americans in favor of removal insist that taking down Confederate statues and monuments is not erasing history but rather making history. For this group, a nation free of Confederate monuments signifies a nation that is finally ready to fight racism within its borders.
But therein lies the question: will removing such monuments help to heal the country of its bloody and racist past?
An Uncertain Future
If there's one thing we can be certain of, it's that the controversy over Confederate memorials won't be ending anytime soon. Supporters of the effort insist that each monument to come down is a step in the right direction. But their opponents hold that painting over the dark moments in American history will do nothing to solve our current problems, and may actually have unintended side effects.
For their part, officials at the Washington National Cathedral have sent a clear message by removing the stained-glass windows. In their mind, such images have no place in a house of worship.
Do you agree?