Ahmed Mohamed, the boy who made a clock at home and wound up being arrested and questioned for it is now demanding $15 million from the city of Irving and its school district. His lawyers are seeking $5 million from the district and $10 million from the city. If they don't comply within two months, or 60 days, they plan to file a lawsuit.
The Homemade Clock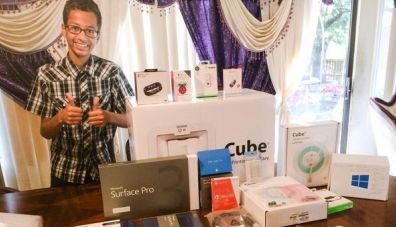 Mohamed claims he was trying to make a clock at home to impress his teacher. However, he was in for a surprise when he took it into his school.
His engineer teacher was the first person to see the clock. He told Mohamed the clock was nice, but advised he leave it in his backpack for the remainder of the day.

When Mohamed got to English, he pulled the clock out a second time. He plugged it in and set a time. The clock started beeping.

His English teacher became alarmed and notified the principal.

Police were called, and Mohamed was ultimately arrested and taken in for questioning.

He was eventually released, but suspended from school for three days.
After the suspension, Mohamed's father announced his plans to either home school his son or place him in a private school. All of the children in the family were removed from the school district. There are some concerns by how he was treated, as he had to leave the school in handcuffs, have a mug shot taken, and endured several hours of questioning from police officers. There are some claims that he was not read his Miranda rights, and he says the police did not let him contact his parents during the questioning process. His father said Mohamed was having a hard time sleeping, wasn't eating well, and that the entire event had led to a very difficult time for the family.
After the incident, social media sites went crazy discussing the case, with many people siding with Mohamed after his treatment. He got so much attention that President Obama personally invited him to the White House via his Twitter account, and he received generous support via scholarships and television appearances, as well as a small mountain of gifts from tech companies.
He attended Google's prestigious science fair for young inventors. Olivia Hallisey, the 16 year old winner of the event, devised a portable rapid test for Ebola. Other contestants designed a diagnostic tool to detect Alzheimer's at earlier stages, invented an automated method for finding and characterizing gravitationally lensed quasars, and designed a more reliable way to transport vaccines to remote locations in developing countries. Mohamed was the VIP guest despite not inventing anything, but for building a clock.
Many tech-savvy critics argue that he may not have even built anything. Anthony DiPasquale, webmaster for artvoice.com, explained that at first he felt sympathy for the young student but as he took a closer look at images of Mohamed's clock, he began to suspect some dishonesty.
He points out that the circuit board has a silk-screened "M" logo on it, and found it perfectly matched a mass-produced Micronta clock from the 1980's that is available on eBay. He also says the switch to select between 12 or 24 hour time is a good indicator that Mohamed simply removed the inner workings from a commercial clock radio and put it inside of a small briefcase and claimed it as his own "invention".
Treated Wrongly?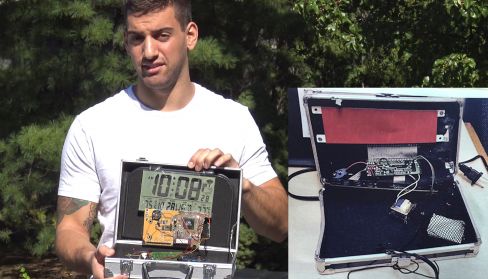 Should Ahmed Mohamed have been dishonest, or at worse, baiting school officials to see this as a danger to students, there is no excusing the Islamaphobia as a direct response in the public. Mohamed received a lot of threats to the family's email address, and their personal home address was even publicized. After that happened, they felt they had no choice but to leave their home. They are currently residing in Qatar, thanks to a scholarship Mohamed received.
While it is best that teachers take precautions if they perceive any danger to students, regardless of the religions of anyone involved, the question remains that if school officials truly thought there was a bomb on campus, why was it not removed while the student was questioned?
Part of the concern people have is the fact that Mohamed may have been singled out because of his religion. Mohamed and his family are Muslim, and some feel he was targeted due to his religion.
Just Doing Their Job
Whether or not Mohamed was treated fairly is for you to decide. He brought a clock into a school that resembled a bomb. Not only that, but he pulled it out a second time after his first teacher recommended he leave it in his backpack. In addition to pulling it out, he plugged it in and set a time on it in order to make it begin beeping.
It's a shame he and his family had to leave their school, leave their home, and move to an entirely different country. Yes, it is important for the case to be investigated so it can be determined whether or not he was treated properly. However, the fact that the family is not willing to release the details of what happened when he was questioned is enough to raise eyebrows. While the Mohamed family may deserve an apology, asking for millions of dollars in restitution is a bit much to ask.
It's important to rebuke so many people that are judging all members of the Islamic faith based on how they feel about some individuals. It is also important to point out that you can have a positive or negative view of an individual without making any sweeping judgments about all members of a group.