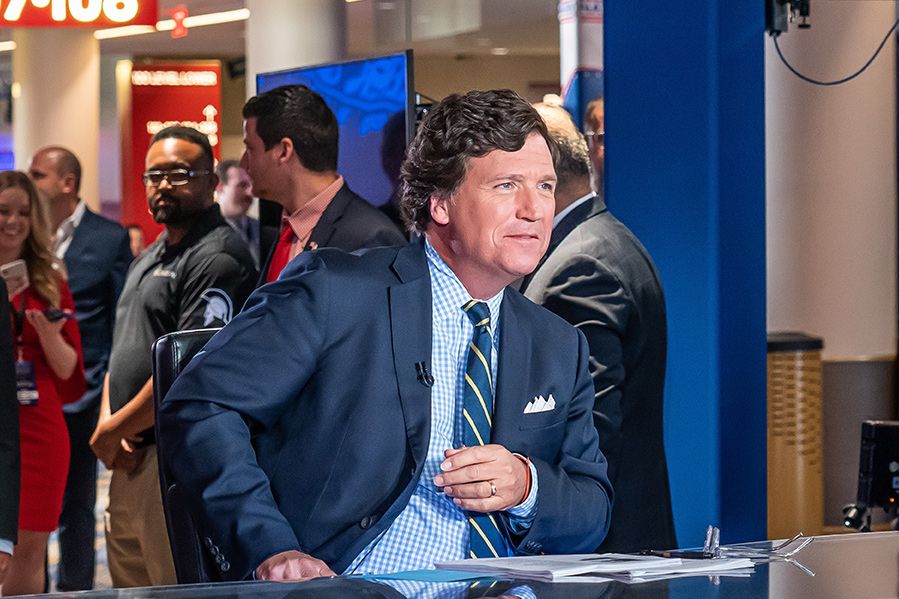 The surprise firing of Tucker Carlson from Fox News shook the television world last month.
Carlson was far and away the most viewed pundit on cable news, and his shock firing resulted in a palpable viewership loss for Fox News – at least in the short term.
As rumors swirl around why he was let go, some Christians say they have the answer: It was demons.
Spiritual Warfare at Work?
"I don't like it when the devil wins," said evangelical influencer Lance Wallnau of Carlson's firing. "Tucker is a casualty of war." 
Which war, you might ask? The spiritual war. For some evangelical leaders, Carlson's as-of-yet unexplained firing represents the latest front in a literal holy war, and it is proof positive that demonic influence has seeped into spaces once thought to be impermeable.
"We know that Tucker Carlson was a victim of demonic power," explained Mississippi Pentecostal preacher Shane Vaughn to his online followers, "and these demons are bringing America under attack."
Vaughn insists that Carlson's firing is demonic in origin, and that demons influenced the powers that be to silence a man he says is being used by God as a prophet and had experienced "visitation by the Holy Spirit." 
"Satanic powers will never allow their true agenda to be exposed by such a powerful platform," Vaughn says. Not even Tucker Carlson was powerful enough to successfully fight back, it seems.
Prophecy in Action
If you think Shane Vaughn is the only one chalking up Tucker Carlson's firing from Fox News to the demonic, think again. Pastors and evangelical leaders from around the country have hinted at or outright stated that they believe it was Satan at work.
Some, however, are using the firing as a way to tout their own prophetic credentials. Pastor Hank Kunneman of Lords of Hosts Church in Omaha, Nebraska claimed that he actually foresaw Carlson's sudden departure in a recent Sunday sermon:
Another self-styled prophet, Julie Green, says she also foresaw Carlson's firing (as well as Don Lemon's ouster at CNN), describing it as "one of the prophetic words I had received" and that it was "prophetically on point" with things she's foreseen.
Devilish Workplace Misconduct?
However, not everyone is convinced that demons were the driving force behind Carlson's firing. 
Carlson had been accused of workplace harassment by a colleague – an accusation that has led to an embarrassing lawsuit. Reports also emerged of troubling text messages that Carlson allegedly sent that the news network worried could threaten its reputation. 
Speculation abounds, but the answers remain unclear. Do God and Satan have a vested interest in the employment status of cable news pundits? 
Tucker Carlson's firing: Is it demons or the market at work?