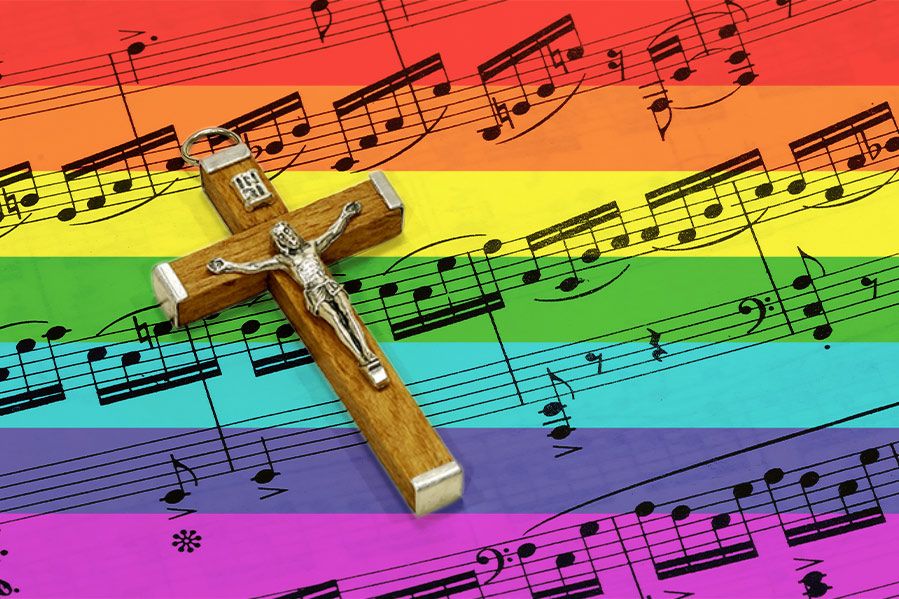 A Christian singer is condemning the very industry he works in, saying that the Christian music industry - which has an image of being welcoming and wholesome - is anything but for LGBT performers.
Trey Pearson, lead vocalist of Christian rock band Everyday Sunday, who came out as gay in 2016, said in a recent Facebook post that "there is a dark cloud over the Christian music industry," that many performers are gay but can't come out due to fear they'll damage their career, and that Pearson himself has lost friends in the industry due to his own homosexuality.
Unsurprisingly, Pearson himself suffered enormous career backlash when he came out in 2016. Fans dropped him. A Christian music festival dropped him from their lineup. 
If you're looking at those who've made their careers in Christian music, it's no surprise that very few are members of the LGBT community. Can you still be a Christian musician and be gay?
Personal and Career Repercussions
Pearson's Facebook post explains the frustrations he's felt as an LGBT artist. "I know there are artists in the Christian music industry that are closeted, and some who are friends of mine. I love them so much," he says. "And I'm also pissed off."
https://www.facebook.com/treypearson/posts/10158867372357280
In the post, he details how many Christian musicians struggle with same-sex attraction, but can't or won't come out for fear of reprisal. He mentions how he lost friends for his own coming out. And he says that if the industry supported closeted musicians coming out, the "whole gross world of the Christian music industry" might actually change. 
Not the First
Pearson is hardly the first Christian artist to face career repercussions for being gay. Singer-songwriter Jennifer Knapp was on a meteoric rise in the late 90s and early 2000s, with two Grammy-nominated albums by her mid-20s. But she stepped away from the industry suddenly and without explanation, and rumors began to swirl that she left because she was gay. And in 2010, she confirmed the rumors were true.
"I'm aware that the evangelical community has problems with divorce and many other facets of their artists, let alone homosexuality," she told CNN.  She mentioned that part of her exile was because she wasn't ready to come out - and didn't want to "hoodwink" her audience into buying music from someone living a life they don't approve of.
Similarly, Christian musician Vicky Beeching also faced backlash for her own coming out, to the point that she had to move back home to the UK from America for fear of her own safety. Even before she came out, her hidden sexuality was literally destroying her. She underwent an exorcism in an attempt to remove her attraction to women, and suffered an autoimmune disease brought on by the stress of suppressing her same-sex attraction.
Uphill Battle
It's clear that there's a tough road ahead for LGBT Christian musicians. Any Christian musician who comes out will likely face backlash online from fans and career repercussions within the industry. Hiding your sexuality can cause massive anxiety and personal pain.
It's quite a pickle for LGBT performers to be in, but there have been strides. Even when Trey Pearson was dropped from the Christian music festival Joshua Fest, the members of Five Iron Frenzy pulled him on stage during their set to perform anyway. And with the internet, the barriers for getting your music out there is lower than it's ever been.
Still, the barriers are real for musicians in the contemporary Christian scene that come out as gay. As Trey Pearson says, "I love seeing the world change, but damn, we have a long way to go."
What do you think? Are LGBT performers and Christian music compatible? Will things ever change?